Grammy award-winning British vocalist Sam Smith performs in Macau for the first time at MGM Theater of MGM COTAI on October 19 and 20, 2018.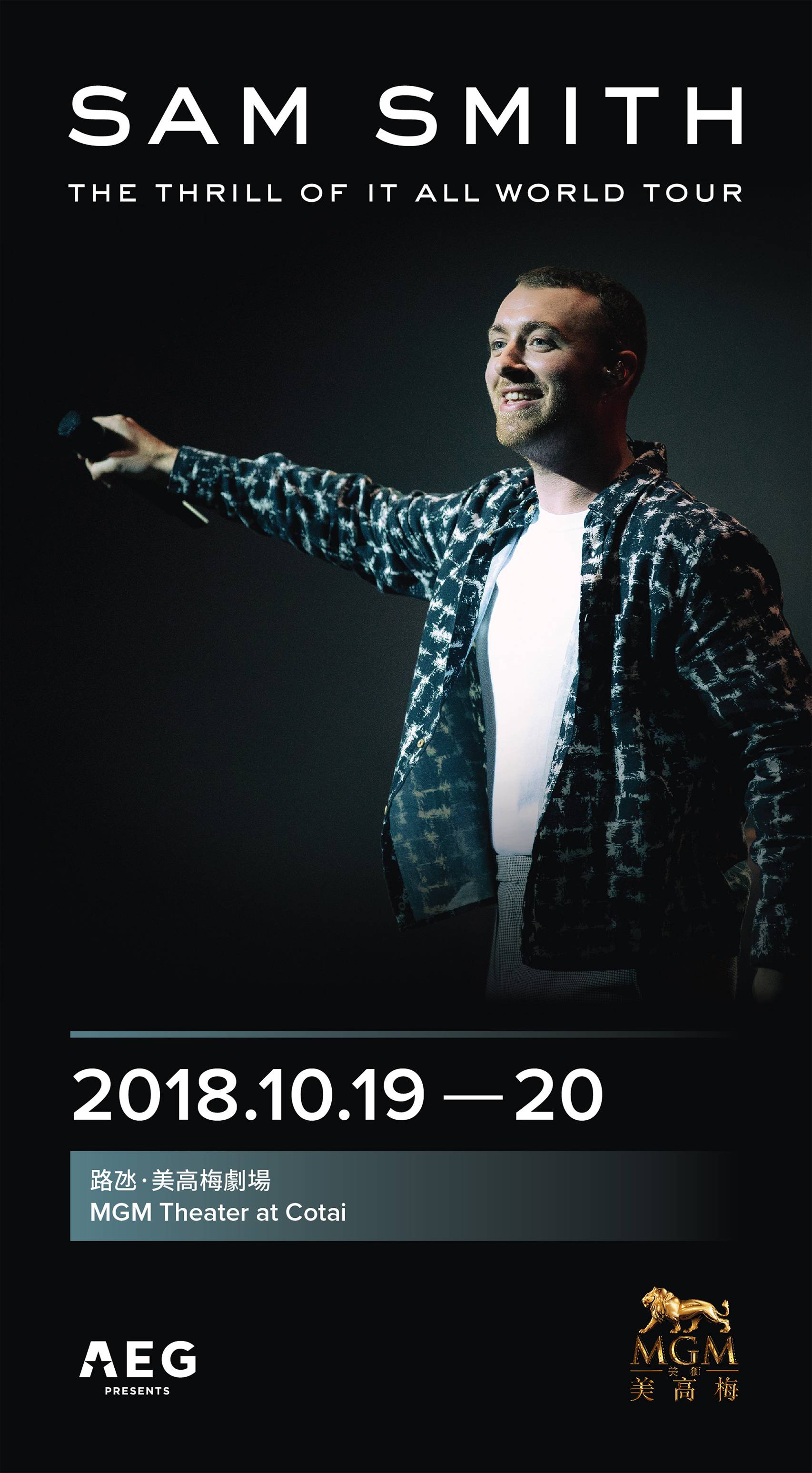 "The Thrill of It All" Asian leg of his tour sees Smith performing in Singapore, Manila, Seoul, Tokyo, Osaka, Macau, Shanghai, Beijing and Bangkok throughout the month of October.
In October 2012, Smith catapulted to fame when he was featured on Disclosure's single, "Latch". Two years later, he released his debut studio album, In the Lonely Hour, featuring "Stay with Me" which went on to become an international sensation, reaching number one in the UK, the world is left in the grip of fever by selling over 14 million records worldwide. In 2015, Smith garnered many prestigious accolades, winning four Grammy Awards; a Golden Globe Award and an Academy Award for the Spectre theme song, "Writing's on the Wall"; two accolades from the 2015 Brit Awards and three awards from the 2015 Billboard Music Awards.
Smith comes to Macau after the recent release of his second studio album, The Thrill of It All. Since its release in November last year, it hit the top of the UK Albums Chart and the US Billboard 200. Alongside worldwide sales of over 4 million records, the album's lead single, "Too Good at Goodbyes", reached number one in the UK and Australia, and became Smith's sixth UK number one single.
About AEG Presents
AEG is the world's leading sports and live entertainment company. AEG Presents is dedicated to all aspects of live music, including producing and promoting global and regional concert tours, music events and world-renowned festivals. AEG Presents promotes more than 10,000 shows annually worldwide. The current and recent concert tour roster includes artists such as Celine Dion, Ed Sheeran, Rolling Stones, Katy Perry, Elton John and Shawn Mendes.
About MGM Theater, MGM Cotai Macau
MGM Theater is Asia's first dynamic theatre designed by Scéno Plus, a leading performing arts and entertainment design firm. It is immersive, flexible and its agility allows the hosting of concerts, resident shows, corporate events and more. MGM Theater seats up to 2,000 people in more than 10 spectacular configurations. It is also the world's first theatre to feature a GALA revolving seating system in a 360-degree format surrounding stage. At a flick of a switch, this innovative seating system can be customized for the needs of any event, and within minutes, the theatre can be transformed from an intimate dinner setting into a full-blown concert hall.