👉 Confirmation within 24 Hours
👉 Receive Tickets via Express Delivery
👉 All Attendees Require a Ticket
👉 Show Lasts 70 mins (no intermission)
👉 Children Under 1.2 m Not Permitted
👉 No Cancellation
"REFLECTION", seven dancers from Xiexin dance theatre. Their self-expression and exploration of life and life. The whole work is full of the smell of youth. It is also full of their thinking and understanding of the world in front of them. Let's foresee the future and find each other in their "REFLECTION".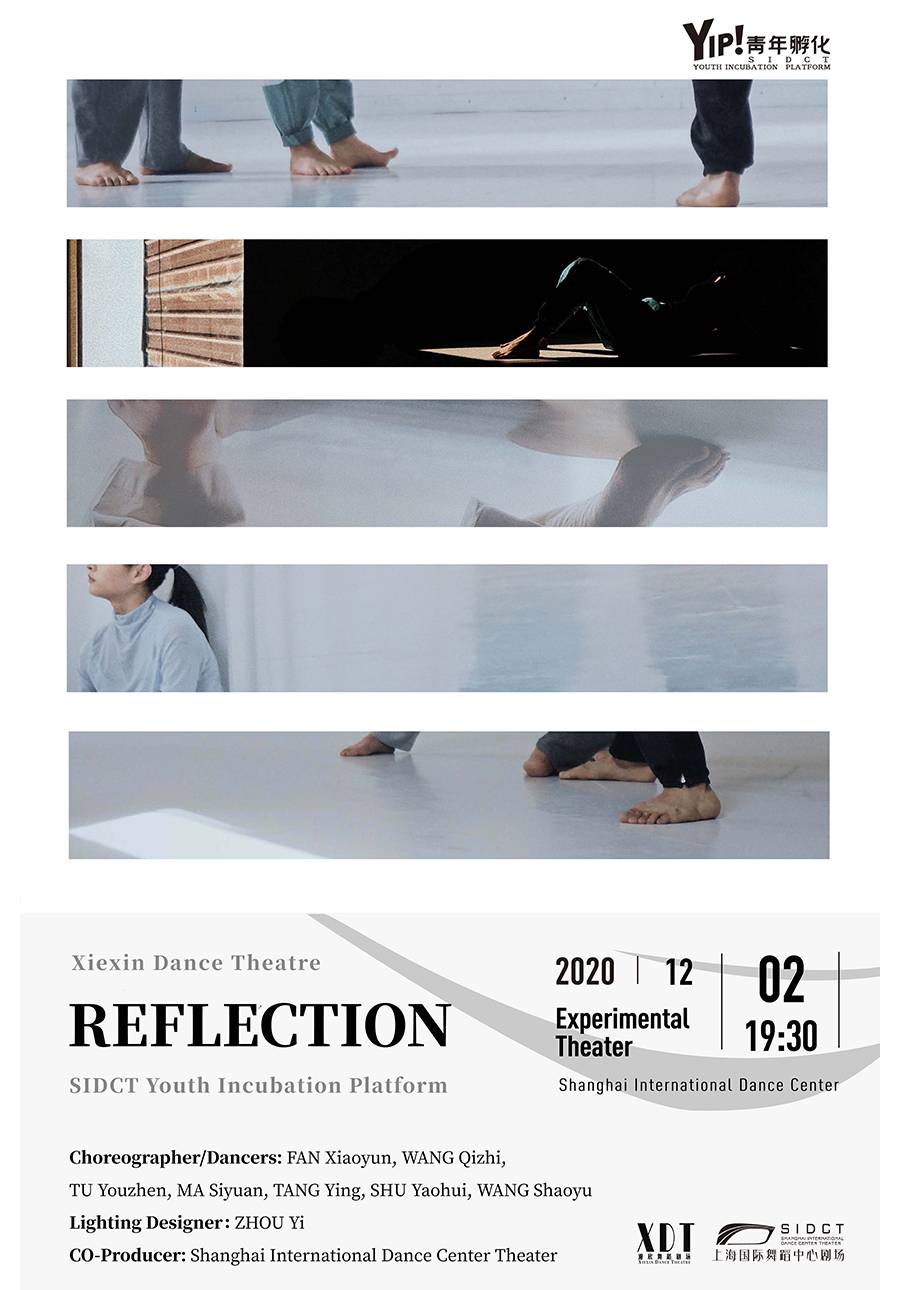 Xiexin Dance Theatre
The Xiexin Dance Theatre focuses on body research, contemporary dance education and the creation of original works of contemporary dance. Since its establishment in 2014, dance group gradually developed into the backbone of the development of contemporary dance in China. Xie Xin, the artistic director, has won many gold medals in contemporary dance competitions at home and abroad. The works have been invited by Kuopio Dance Festival in Finland, Colors Dance Festival in Stuttgart, Germany, Summer art festival in Paris, France, Steps2020 Dance Festival in Switzerland, Oriente Occident Dance Festival in Italy, Wiesbaden Theatre Performance Season in Germany, Sibenik Dance Festival in Croatia, Split Dance Festival, Hong Kong Art Festival, Xianggang City Contemporary Dance Festival, Peiqing Plan China Contemporary Dance biennial, Chinese Spring Art in Beijing Festival, National Grand Theatre Chinese Dance 12 days and so on performance invitation.
Medium and long works are: "HARMONIC SERIES", "From IN", "UNKNOWN", "Obsessive", "Special Moment", "Ripple", "......After......", "Listen to the Body", "Floating Flow Mark", "Face 2 Face", "Face 2 Face II-Time·Design·Boby". Small works are: "Plus", "Falling", "Murmur", "Monent", "My Other Me", "the Nearest Far", "Flow Mark" The troupe future will annually invite internationally renowned choreographer who came to China for contemporary dancers created new works, and teach workshops. Committed to the construction of an international contemporary dance exchange platform, focusing on the creation of international cooperation projects and high-quality presentation.
Credit
Choreographer: Fan Xiaoyun, Wang Qizhi, Tu Youzhen, Ma Siyuan, Tang Ying, Shu Yaohui, Wang Shaoyu
Dancers: Fan Xiaoyun, Wang Qizhi, Tu Youzhen, Ma Siyuan, Tang Ying, Shu Yaohui, Wang Shaoyu
Lighting design: Zhou Yi
CO-Producer: Shanghai International Dance Center Theater