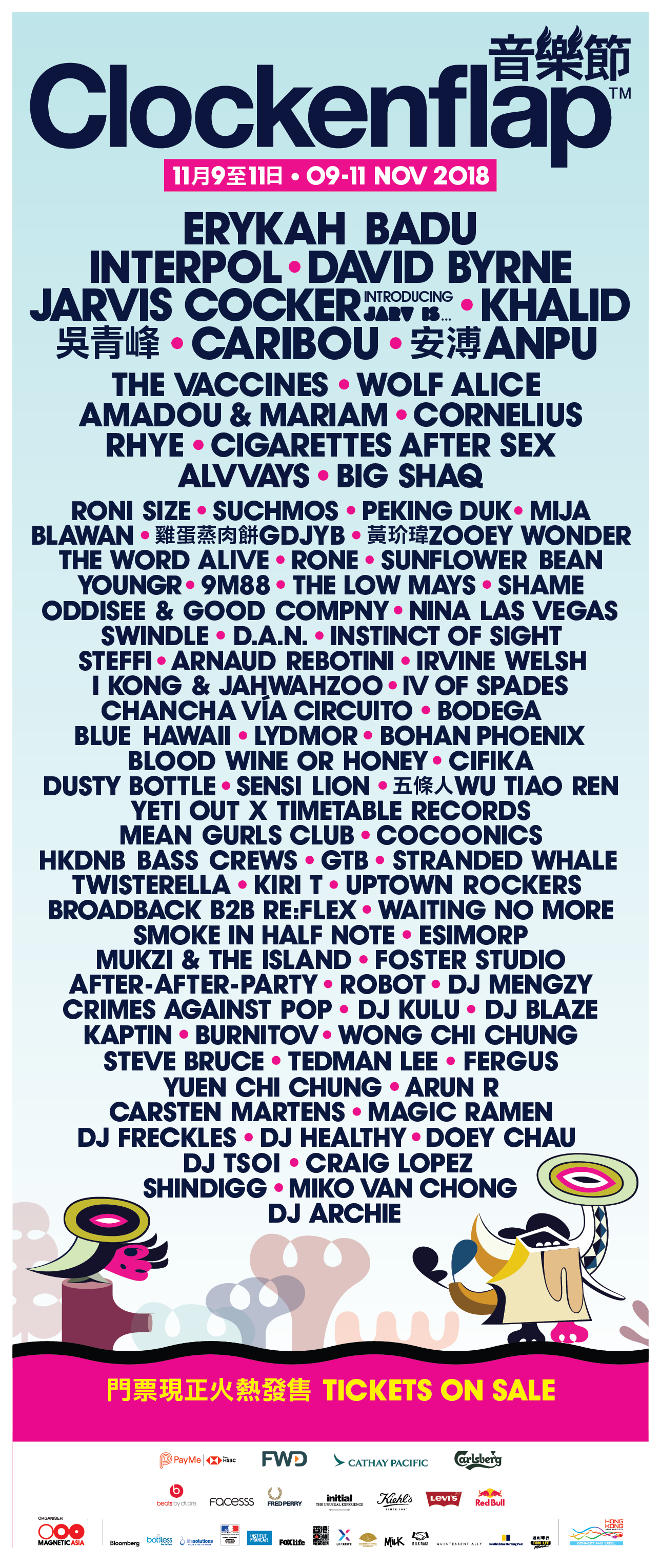 CLOCKENFLAP ANNOUNCES FULL LINEUP, INCLUDING JARVIS COCKER, CIGARETTES AFTER SEX, SUCHMOS, IRVINE WELSH AND MUCH MORE
Asia's premier music and arts festival releases the much-anticipated full lineup and a complete list of attractions for its 11th edition on November 9 to 11

Clockenflap, Hong Kong's biggest music and arts festival, today revealed the eagerly awaited full lineup and complete list of attractions for this year's event, which takes place from November 9 to 11 at Central Harbourfront. Among the 51 new acts to be announced were British indie legend JARVIS COCKER, ambient pop collective CIGARETTES AFTER SEX, Breakout Japanese stars SUCHMOS and Trainspotting-author-turned DJ IRVINE WELSH. In total around 100 top international, regional and local acts will perform across 6 stages, while the festival will also feature a cornucopia of Instagram-worthy installations, outlandish interactive experiences and lively family-oriented entertainment.
Other new acts just added to the lineup include BIG SHAQ, 黃玠瑋 ZOOEY WONDER, THE LOW MAYS, INSTINCT OF SIGHT, GTB, 五條人 WU TIAO REN and many more.
MUSIC: FROM INTERNATIONAL ICONS TO ASIA'S BEST NEW MUSIC – LIVE!
With six distinctive stages to choose from – including the HARBOURFLAP STAGE, FWD STAGE, YOURMUM STAGE BY RED BULL, ACORN/ROBOT STAGE, SILENT DISCO POWERED BY FWD MAX, and CLUB MAX BY FWD – and a deeply diverse array of genres, music legends and cutting-edge acts from around the world, Clockenflap has something to delight the music lover in everyone. This year's supremely eclectic lineup includes 29 acts making their Hong Kong debuts, 6 Asia-exclusives and 7 Clockenflap-exclusive sets.
THE LEGENDS: ICONIC ACTS & ALL-TIME GREATS
This year's Clockenflap features four legendary acts who are renowned for their incredible live performances: iconic New York indie band INTERPOL; the incomparable former Talking Heads frontman DAVID BYRNE; former Pulp lead singer and his new band JARVIS COCKER INTRODUCING JARV IS…; and Grammy-nominated Malian duo AMADOU & MARIAM.
GUITAR HEROES: INDIE IDOLS & ALT-ROCK REBELS
Back by popular demand following their raucous 2014 Clockenflap debut, London-based garage rockers THE VACCINES lead the indie invasion at this year's festival, closely followed by 2018 Mercury Prize-winning genre-benders WOLF ALICE. Fans of dreampop can look forward to atmospheric sets from Brooklyn-based trio CIGARETTES AFTER SEX and Toronto indie darlings ALVVAYS, as well as the neo-psychedelia of Brooklyn's SUNFLOWER BEAN. At the noisier end of the spectrum are Phoenix metalcore hellraisers THE WORD ALIVE and London post-punk provocateurs SHAME, while Manchester indie-pop hero YOUNGR and New York art-punks BODEGA are among the year's most hotly tipped breakout acts.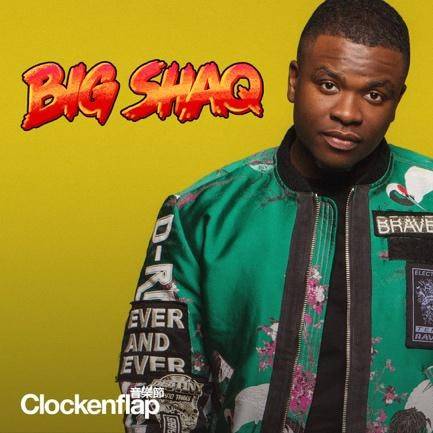 URBAN MAESTROS: HIP-HOP BEATMAKERS & CUTTING-EDGE R&B
The prodigious talent behind the brilliant 'American Teen', US R&B sensation KHALID leads a cutting-edge collection of hypnotic MCs and hip-hop beatmakers at this year's festival. Also flying the flag for contemporary urban music are Cfanadian alternative R&B outfit RHYE, tongue-in-cheek UK grime star BIG SHAQ, Washington, D.C.-based hip-hoppers ODDISEE & GOOD COMPNY and reggae-influenced South London grime DJ/producer SWINDLE.
ASIAN SENSATIONS: THE BEST & BRIGHTEST ACTS FROM AROUND THE REGION
Committed to showcasing the finest musical talent from around Asia, Clockenflap welcomes a host of trailblazers from the region. Taiwan is represented by 吳青峰, the frontman of veteran indie rockers sodagreen and renowned solo artist; sultry jazz/R&B chanteuse 9M88; acclaimed singer-songwriter 安溥 ANPU; and folk songstress 黃玠瑋 ZOOEY WONDER. From Japan, there's maverick multi-instrumentalist CORNELIUS, who has been described as "the Japanese Beck"; jazz-and-funk-inspired indie outfit SUCHMOS; electrifying Tokyo alt-dance trio D.A.N. and hotly tipped Manila newcomers IV OF SPADES. Avant-garde electropop chanteuse CIFIKA is flying the flag for Korea, while Hubei -born, US-raised rapper BOHAN PHOENIX and Haifeng indie-folksters 五條人 WU TIAO REN highlight the breadth of China's musical spectrum.
THE GAMECHANGERS: PIONEERING INNOVATORS & MODERN TRAILBLAZERS
Championing acts that have left an indelible mark on music or are pushing things forward, Clockenflap welcomes live electronic innovator CARIBOU back to Hong Kong for the first time since 2010, and veteran Chinese-Jamaican reggae star I KONG is performing alongside Chengdu reggae band JAHWAZOO. Danish electronic chanteuse LYDMOR will be giving fans a taste of her futuristic sound, while Argentinean DJ/producer CHANCHA VÍA CIRCUITO will be demonstrating why he's been dubbed 'South America's answer to Massive Attack'.
DANCEFLOOR MASTERS: INFECTIOUS BEATS FROM TOP DJs & ELECTRONIC ACTS
When the sun goes down, Clockenflap turns up the beats: get ready for a dose of dancefloor dynamite from anarchic Australian electro-house outfit PEKING DUK, genre-splicing US DJ MIJA and UK industrial techno trailblazer BLAWAN. Also bringing the noise will be hugely influential drum'n'bass pioneer RONI SIZE, acclaimed French electronic artists RONE and ARNAUD REBOTINI, Dutch born techno queen STEFFI, Australian house DJ/producer NINA LAS VEGAS, Trainspotting-author-turned DJ IRVINE WELSH who will be speaking at the Hong Kong Literary Festival and Canadian electronic duo BLUE HAWAII.

HONG KONG'S GOT TALENT: GREAT ACTS PUTTING THE LOCAL SCENE ON THE MAP
Acclaimed all-female math-folk-rockers 雞蛋蒸肉餅 GDJYB make a triumphant return to Clockenflap on the back of appearances at the Iceland Airwaves Music Festival, the Noise Pop Festival in San Francisco and the Synchronicity Festival in Tokyo, while Hong Kong's underground music scene is well represented by controversial hip-hop collective THE LOW MAYS and post-hardcore-influenced five-piece INSTINCT OF SIGHT. Also showing the depth of the local scene are groove rockers DUSTY BOTTLE, eclectic beatmaker COCOONICS, shogaze outfit TWISTERELLA*, indie-pop chanteuse KIRI T, veteran DJ crew UPTOWN ROCKERS, WAITING NO MORE, SMOKE IN HALF NOTE, singer-songwriter MUKZI & THE ISLAND and Asia Soundsystem host DJ MENGZY.
CLOCKENFLAP EXPERIENCES: INTERACTIVE ATTRACTIONS FOR ALL THE FAMILY
Clockenflap is about so much more than music: throughout the festival site, you'll find a myriad of interactive installations, Instagram-friendly attractions and weird and wonderful experiences that will help you leave the stresses and strains of daily life behind while absorbing fresh ideas and having a whole lot of fun with friends old and new.
As well as the FWD STAGE, which showcases cutting-edge artists from an unprecedentedly diverse selection of genres and locations, and festival favourite SILENT DISCO POWERED BY FWD MAX, there's also CLUB MAX BY FWD, where Clockenflappers can enjoy exuberantly offbeat cabaret style performances during the day and the coolest DJs plus glowing DANCERS once the sun goes down. By day, festivalgoers can lay back on beanbags and enjoy performance from Japanese award-winning magician TANBA, ABLE MABLE (Circus and physical theatre), contemporary choreographer SHING MAK'S B BOY BATTLE, DIDIER THÉRON's AIR performance, the astounding VENIAMIN'S HUMAN SLINKY, acclaimed UK comedy mime artist LES BUBB and Taiwanese contemporary circus troupe FOCA (福爾摩沙馬戲團). For those who want to get involved in the action, there's also a yoga workshop with celebrity yogini CHAUKEI NGAI.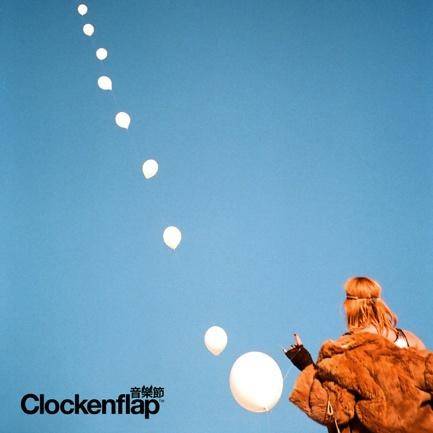 As ever, the festival site is peppered with fantastical sights and intriguing installations, and this year's must-see landmarks include: BALLOON CHAIN, a gigantic constantly changing sculpture made of helium-filled balloons; a giant inflatable GARDEN that offers the perfect backdrop for silly selfies; SPIKEY, a huge inflatable dome covered in glowing spikes that also serves as the stage cover for the Acorn/Robot stage; LOTUS TEMPLE, a six-metre high inflatable structure inspired by the lotus flower and Goa, India; BE•A•RING, a unique interactive experience and chill out zone made from rotating columns and optically illusive mirrors; THE NOSE KNOWS, a mysterious olfactory-inspired installation that emits a range of intriguing odours; REVERSCOPE, a curious reflective contraption inspired by periscopes; and TENTACLES, the fantastical waymarker that has become a much-loved Clockenflap signature.
Festivalgoers can also explore the installations created by Clockenflap's Art Open Call winners: ACOUSTIC LIGHT is a kinetic installation activated by audio sensors, which translate and visualise the environment through a composition of carefully counterbalanced moving parts; PERI-PERISCOPE, meanwhile, offers a surreal and amplified amalgamation of all the dazzling lights and visuals that can be seen across the festival site.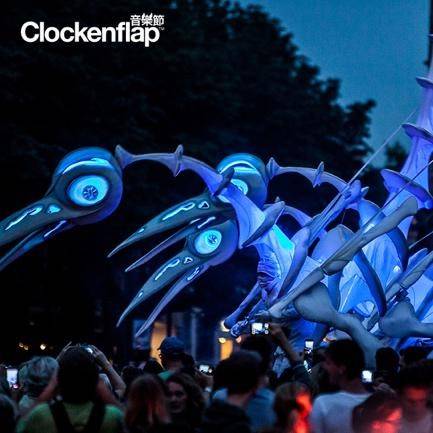 ROVING SURPRISES: TRACK DOWN CLOCKENFLAP'S WANDERING WONDERS
You never know who you might bump into at Clockenflap… Look out for the curious characters roaming through the festival site including: THE EYE, a giant roving eyeball complete with blinking eyelid and glowing heart; BIRDMEN, a trio of huge luminous bird-like creatures that wander inquisitively among the crowd and are sure to be one of the most photographed attractions at this year's festival; and PINKY DISCO, the mobile pedal-powered DJ booth on wheels that was a huge hit with fans last year.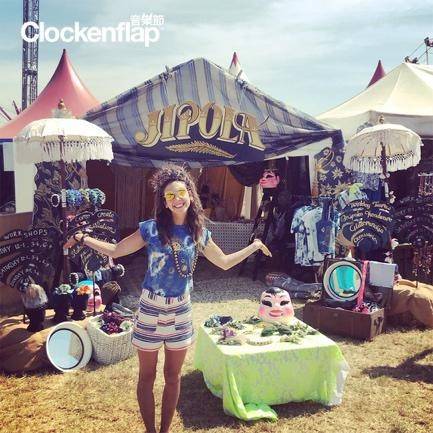 ALL THE FUN OF THE FEST: GET PLAYFUL & CHANGE YOUR LOOK
Getting into the festival spirit has never been easier thanks to our collection of creative attractions. A florist specialising in headpieces and crowns for the wild and free festival folk, Jipola has created a special range of statement pieces for Clockenflappers; initial gives guests the chance to try the spectacular art of marbling on tenugui, which can be used as a bandana or scarf, courtesy of Japan's Dirty Workers Studio; while Facesss beYOUty Station offers free touch-ups from professional makeup and hair artists to give attendees striking new festival looks. Or why not personalise your clothes and accessories: Levi's® Tailor Shop will be there again this year to provide customised hot stamping badges service to all festivalgoers to their denim products, what's more, an interactive game and interesting photo booth accompany with the hyped Airstream will also be there to enhance the festival atmosphere; Give Joy. Give Kiehl's offers a wonderful surprise for all festival goers; and Fred Perry – Black / Champagne / Champagne serves up a ping pong game alongside workshops allowing festival-goers to make their own heat press drawstring bag.
For the first time, Hong Kongers will also have the chance to emulate their music heroes by performing live at Clockenflap thanks to #TakeTheStage by Cathay Pacific. Aspiring music talents will be chosen by the Clockenflap music team in the build-up to the festival, and allocated a slot to perform on stage on one of the three days of the festival. They will also receive a complimentary ticket for the day they are chosen to play, while there will be prizes on offer for the best performers. Come and join in the fun, register at here before October 29 for a chance to showcase your talents at Clockenflap.
RECHARGE YOUR BATTERIES: TAKE FIVE TO EAT, DRINK & CHILL
Everyone needs a breather, and there's no shortage of shaded spots around the festival site to grab a drink, a bite to eat or to simply chill out in relaxed surroundings. The Team at OKRA (owned by renowned chef MAX LEVY) will exclusively launch their new project Sausage Commitment at Clockenflap. Focusing on house-made, smoked sausages with a specifically Asian flavour profile, Commitment aims to change the way Hong Kongers think about sausages. At Food Bazaar, chow down on a wide selection of tempting cuisines or refreshing drinks from over 20 handpicked suppliers within easy reach of the main stages, while Kuuchi Café offers a laidback picnic vibe where festivalgoers can enjoy a cupcake, coffee or other light refreshments. Alternatively, revive your senses at the Red Bull Bar with a signature Red Bull mixed drink, or sample a refreshing HK Yau craft beer.
Explore and shop at MILK MART, a merchandising platform established by MILK magazine, a high-quality craft market with 22 intriguing booths, and be sure to check out the PayMe Cha Chaan Teng, where you can buy classic Hong Kong snacks and drinks, charge your phone or just chill with friends. And if you need to split the bill or pay back a friend, you can do it all with the PayMe app. Or why not relax your body and mind with a Gong Meditation, a unique sound therapy experience that uses gong sounds and vibrations to bring about healing, or by watching Videotage, Sensoria-themed curated animation between acts on the LED screens at the two largest stages.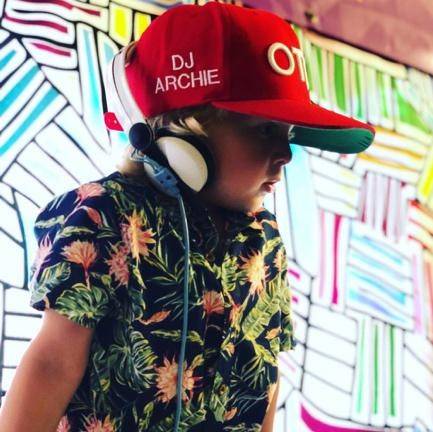 The Acorn/Robot Stage at Future Fields will once again host a range of family-friendly activities throughout the day, including: slapstick escapology from The Noname Family Circus Presents Danny Danger In The Danny Danger Dangerous Danger(sic)Show; mesmerising close-up magic from Ferdinand; bouncing basslines from the incredible three-year-old DJ Archie; yoga-based fun from The Whoopee Club featuring May Nogoy (Soultrains) and Dee Cheung (SUPYoga Hong Kong); and creative art and music workshops with The Children's Discovery Museum. There will also be performances throughout the weekend from Clockenflap regulars such as local children's entertainment favourites Rumple & Friends and much-loved UK children's songs performer Nick Cope.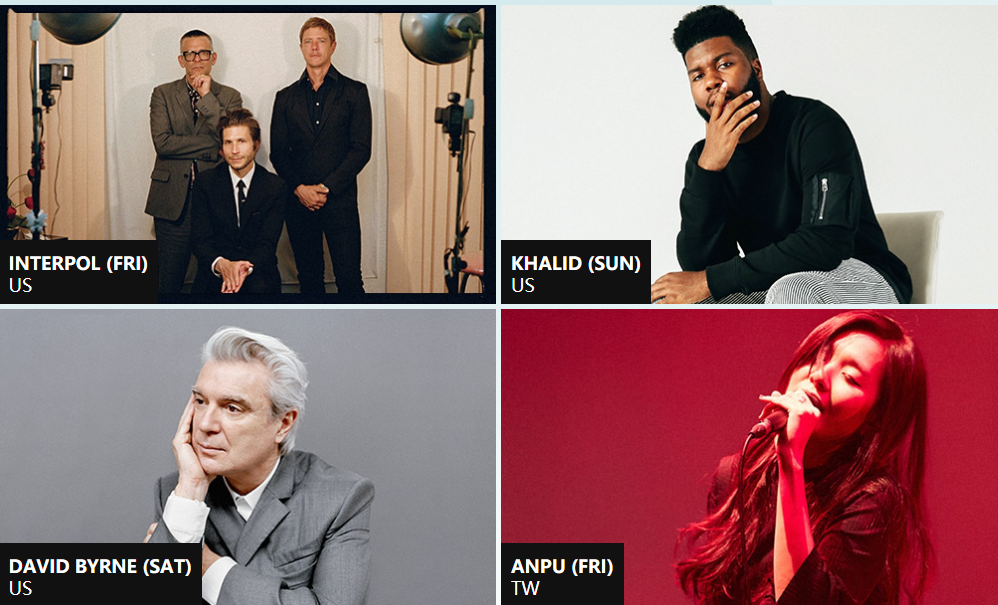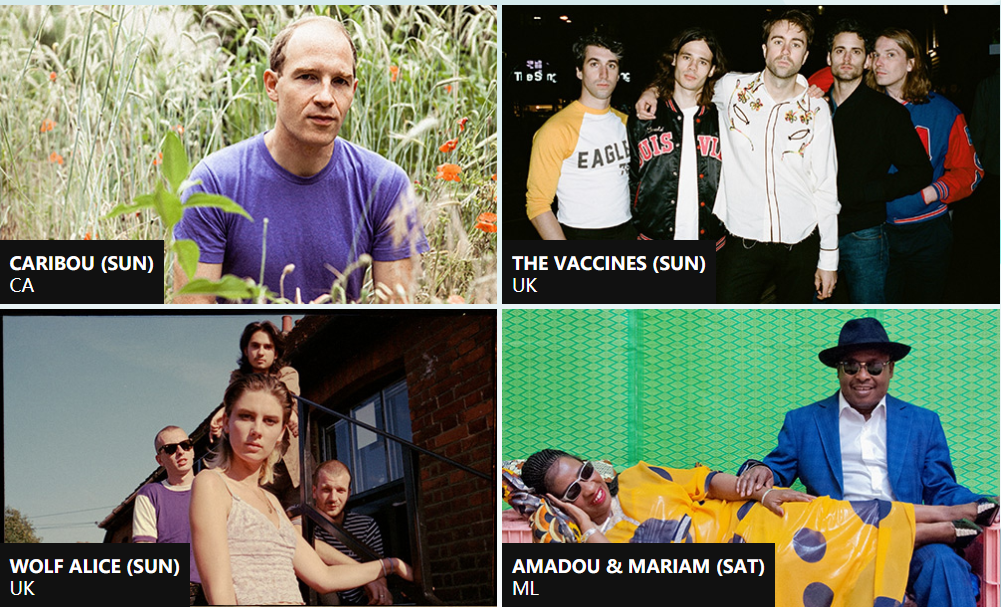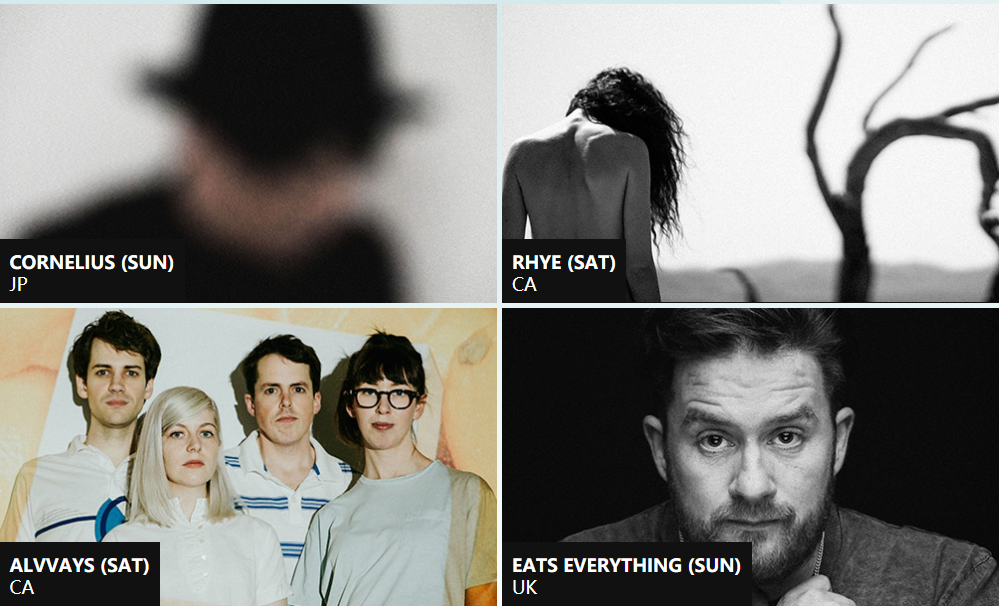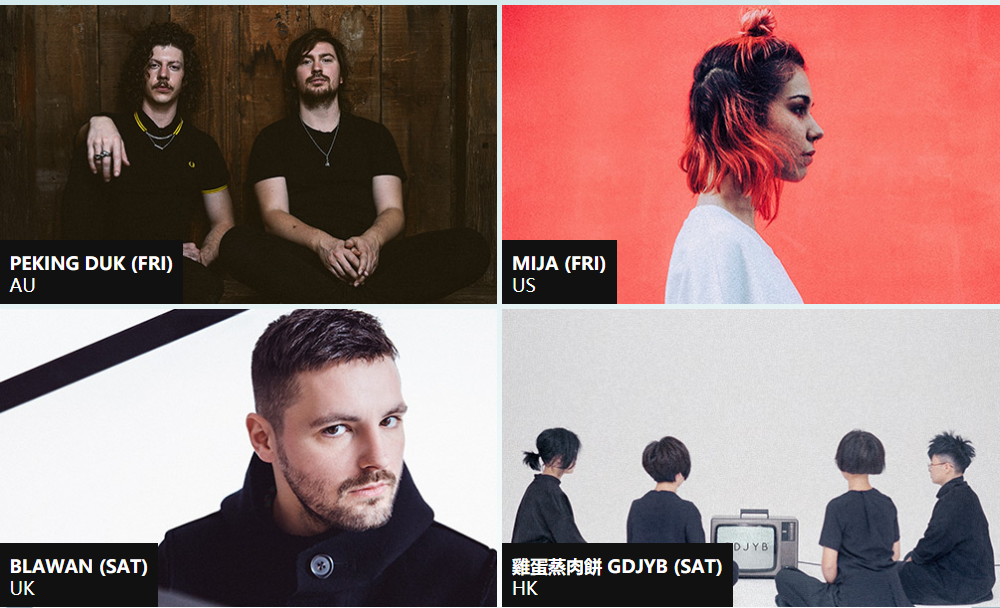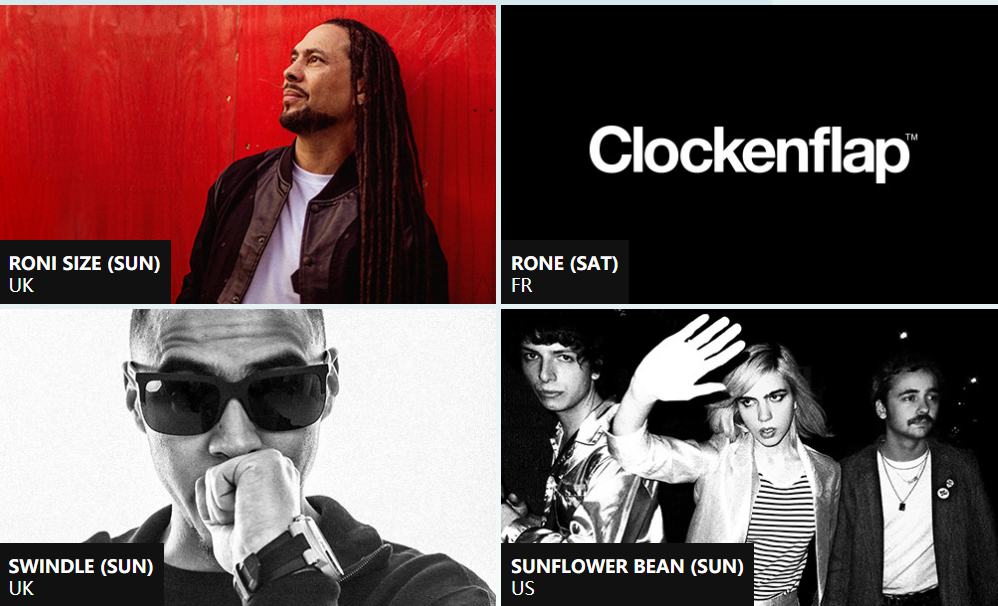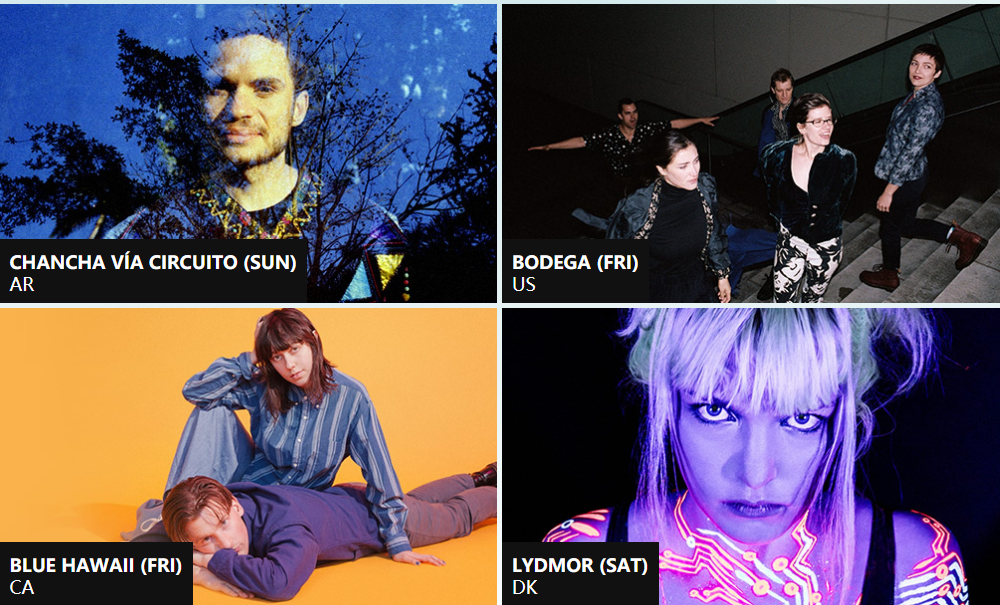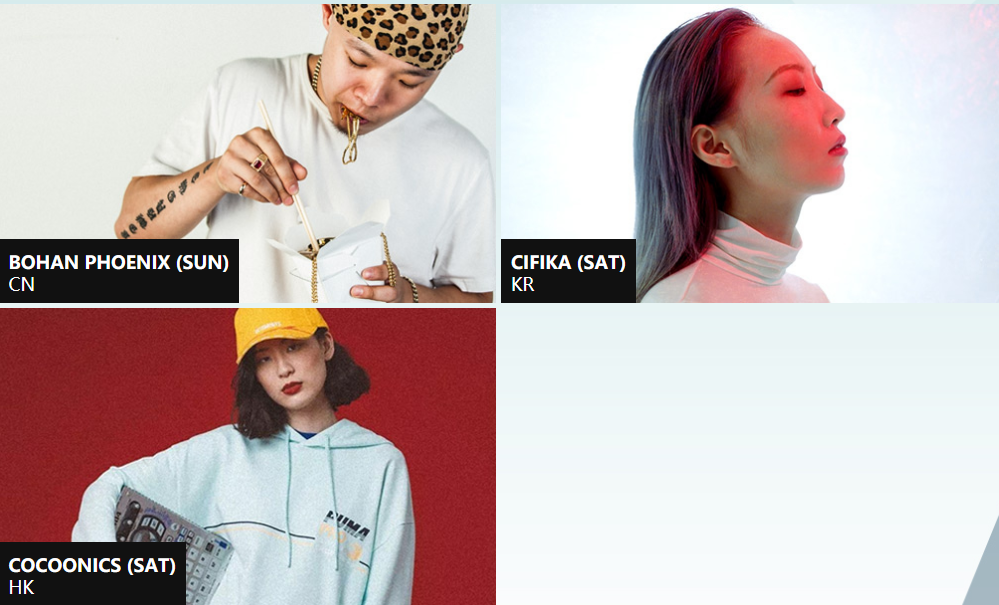 CLOCKENFLAP 2017 HIGHLIGHTS