Date: Every Wednesday
Time: 19:00 - Midnight
Price: RMB 85
Age: minimum 18 years old. Bring a photo identification (passport, ID Card, Driver's license).
Dress Code: No flip-flops, sandals or open-toed shoes.
Crawl Itinerary:
8:30 to 8:55pm: Meet Up at the Happy Valley Racecourse Entrance G, by turnstiles

9:00pm: Official Welcome inside the Happy Valley Racecourse

9:00pm - 10:30pm: Explore Happy Valley Racecourse

10:30pm: Ride the trams to Wanchai nightlife district

11:00pm: Bar #1

12:00am: Bar #2
Meet-up:
​Time: 8:30pm to 8:55pm
Address: Entrance G, No. 79 Wong Nai Chung Road, Happy Valley
Closest MTR Station: Causeway Bay, Exit A
Once you've arrived, look out for our staff in the bright pink t-shirts by the recyclable bins as shown in the picture below. You will be greeted with a mini-icebreaker game, and a food or beer voucher. You're then free to explore the racecourse before our welcome speech back near the entrance at 9:00pm!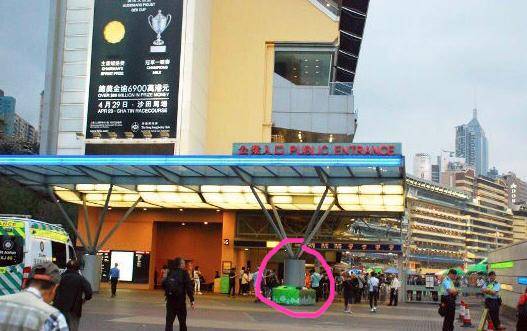 FAQ:
1. What is the Hong Kong Pub Crawl?
Hong Kong Pub Crawl is a nightlife events provider. Their events are synonymous with fun, off-the-beaten track venues, excellent drink deals, and meeting folks from all over the world.

2. What do I get joining your crawls?
• A team of experienced crawl masters hosting you
• Professional photographer to record your epic night out
• Free welcome shot at every bar
• Standard drink deals at all participating bar venues: $40 for 2 beers, $30 cocktails
• Free betting guidebook plus tutorial
• Free entry into HKJC Happy Valley Race Course
• 1 free beer voucher usable at the HKJC (valued at $50HKD)

3. Who is this event for?
People from all walks of life are welcome, whether you're a backpacker, exchange student, local, lone-traveler, you name it.

4. Why should I join?
• Value for money (no entry fee for bars and clubs, cheaper drinks everywhere we go, and more)
• Meet friends from all over the world
• Experience iconic Hong Kong activities
• Have your epic night out photographed

5. What's the itinerary for the night, and which bars do you go to?
In general, you would stay at each bar for just shy of 1 hour (allowing time to travel from bar to bar). Hong Kong Pub Crawl's policy is to NOT disclose the bars that they attend until the night of the crawl to encourage all guests to be on time and arrive before we head off to the second bar. Each bar is specially hand-picked by their team, is off-the-beaten-track, and they rotate between a large roster of bars each week.

6. Is there a dress code?
Within reason, anything is suitable. We ask guys to not wear shorts or flip-flops to avoid problems at the clubs.

7. Do I need to bring ID?
Yes, absolutely.

8. How many people normally attend?
The crowd size varies each week, averaging 70-120 most weeks on Thursdays, and 30 – 60 on Wednesdays. Our current record is 250 people and waiting to be beaten!

9. What if it rains?
HK Pub Crawl runs the Thursday crawl, rain, hail or shine. For Wednesdays, they follow policies of the Hong Kong Jockey Club.