- Confirmation within 24 Hours
- Book in Advance
- Receive E-ticket via Email
- Gain Admission with E-ticket
- No Cancellation
---
SHANGHAI, China – November 2019 – This November 28th, bring together your friends and family to celebrate a traditional Thanksgiving, complete with homemade turkey, Bayonne ham, cranberry sauce, giblet gravy, and a whole host of other holiday favorites in our modern Manhattan-style brasserie.

Seasoned with homemade herbs and spices for 48 hours and slowly basted over several hours, our iconic roasted turkey is expertly prepared to ensure a crispy golden-brown exterior and a succulent interior. Ideally paired with a side of cranberry sauce, turkey stuffing, gravy, and fresh seasonal vegetables, this holiday favorite truly is a must for anyone looking to enjoy a taste of home this Thanksgiving.

Served alongside fresh seafood selections including poached scallops, queen crabs, and sashimi, as well as an amazing charcuterie, Australian Wagyu beef, roasted leg of lamb, mashed pumpkin and hazelnuts, a range of freshly prepared pasta and seasonal thanksgiving desserts including pumpkin tarts and pumpkin crème Brulee, there's something for everyone to enjoy this holiday season.

Available for just one night only (5:30 pm – 10:00 pm, November 28th) for RMB 688 per adult and RMB 388 per child (aged 6-12) at Grand Brasserie. Those looking to upgrade and indulge in a holiday tipple or two can enjoy free-flow sparkling wine, red wine, white wine and local beer for an additional RMB 188 per person, while those looking for a Thanksgiving they'll never forget can enjoy free flow Perrier-Jouët champagne as well as red wine, white wine and local beer for just RMB 288 per person.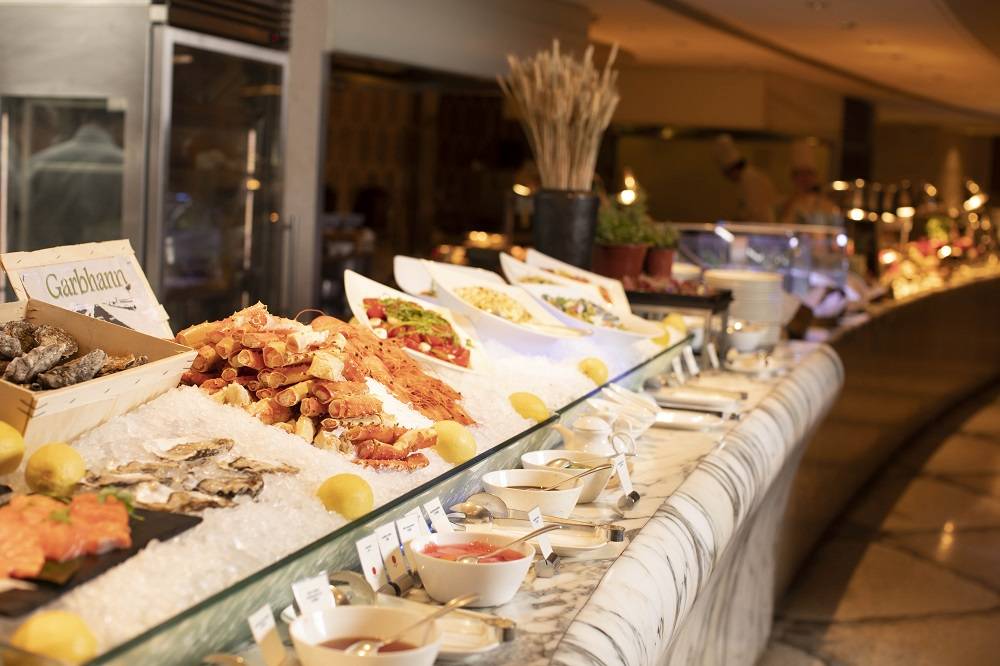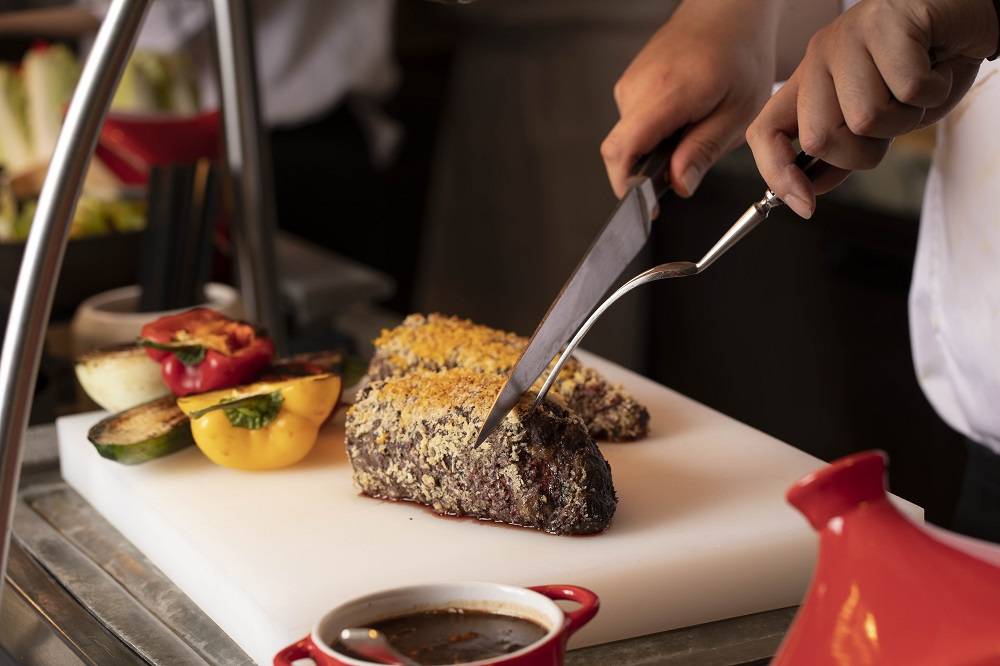 Thanksgiving Buffet 2019
Cold Selection
Appetizer
Smoked salmon
Smoked octopus carpaccio with couscous
Condiments: Red onion, caper and lemon
Tomato and mozzarella, basil sauce
Green asparagus mimosa
Beef tataki with parmesan cheese and truffle oil


Salad
Honey roasted pumpkin Coleslaw salad
Greek salad with mushrooms
Carrot and celery salad Sweet potato and apple salad
Mixed beans and quinoa salad
Charcuterie
Pate en croute, foie gras, duck rillettes, Bayonne ham, salami,
Condiments: olives, cornichon, cocktail onion,


Seafood on Ice
Poached scallop, sea conch, tiger crab, queen crab, tourteaux crab, Dalian crab, prawn
Sashimi: salmon, tuna, octopus, sea clam
Imported oysters
Condiments: Lemon, classic Mignonette, Horseradish, Cocktail Sauce
Pickle ginger, sewed salad, wasabi soya sauce
Caesar's salad station
Romaine lettuce
Condiments: Caesar dressing, Thousand Island dressing, crispy bacon, tuna
Marinated olives, parmesan cheese

Vegetable garden
Mixed baby leaf, lettuce, endive, frisee, cherry tomato,
Bell pepper, carrot sweet corn, onion, cucumber, boiled egg
Garlic bread


Dressings
Red wine vinaigrette, balsamic, herb, Italian dressing, non-oil dressing (aoshiso, Chinese)
Selections of vinegar, oil


Cheese Board
Brie, Gruyere, goat's cheese,Manchego, Cheddar, Gouda
Cracker, mixed nuts and dried fruits
Soup Station
Lobster bisque


Carving
Australian Wagyu beef, red wine sauce
Rotisserie turkey, giblet gravy and cranberry sauce
Turkey stuffing
Roasted lamb leg
Pasta Station
Pasta: Penne or spaghetti
Sauce: tomato sauce, bolognaise sauce, sauce carbonara
Condiments: olive oil,Parmesan cheese, tabasco,condiment


Hot Selection
Slow braised OX-tail stew,pumpkin,cinnamon
B.B.Q pork sparerib
Roasted salmon lemon butter sauce Baked mixed mushrooms, garlic bread crumbs
Sautéed string beans and bacon
Mashed pumpkin with hazelnuts
Seafood Jambalaya
Sautéed Brussels sprouts with maple balsamic and cranberry


Dessert
Wild berry Panna Cotta
Mango coconut roll
Pecan brownies
Macaroon selection
Hazelnut opera cake
Bitter chocolate crumble tart
Pumpkin cheese cake
Rainbow choux tower
Tiramisu
Chocolate fudge cake
Tradition Pumpkin tart
Salted butter pecan pie
Mini Pumpkin cream brullee