"Brimming with rhythm and neat, fast footwork…this is dancing that is precise and polished, delivered with spontaneous zest"
- The Times
"Inventive construction, clear pacing and joyous performances means the show created for children never flags"
-The Irish Times
"Brilliant and original…Glittering with more homemade inventions and
brassy-coloured
toys than an 80s sci-fi movie"
- The List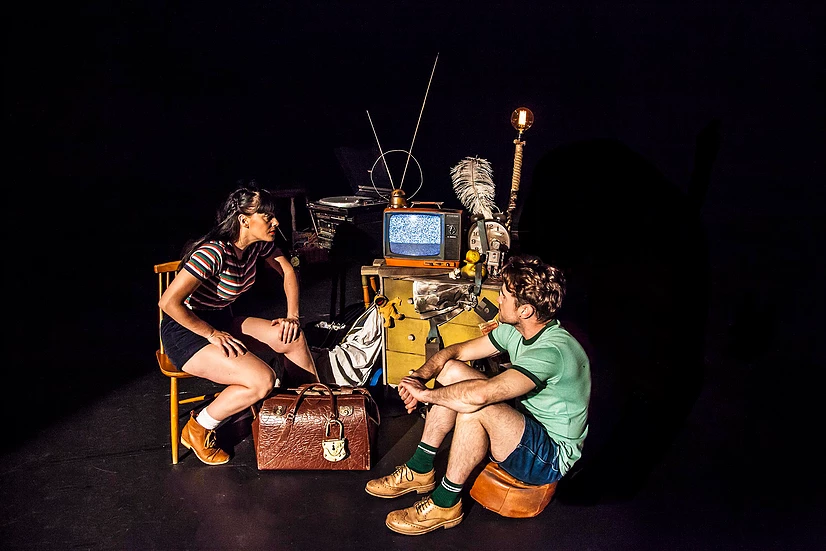 Into the Water is a foot-stomping, hand-tapping show set in a magical wasteland, where anything is possible and friendship is everything. Packed with dance and percussion, this playful hour sees hands and feet fly at breathtaking speed, in a cheerful jumble of rhythmic precision and folk-filled fun.
Drawing inspiration from the story of Líf and Lífþrasir, the only survivors of the nordic mythological apocalypse, this modern retelling unfolds when two strangers find their feet through made-up games and toe-tapping fun. Originally commissioned and produced by Coreo Cymru in partnership with Theatr Iolo and supported by the Arts Council of Wales Lottery Fund.

Choreographed/performed by Suzanne Cleary & Peter Harding
Produced by Coreo Cymru and Jonny Reed
Projection design by Jonny Reed
Lighting design by Hristo Takov
Set and costume by Eleri Lloyd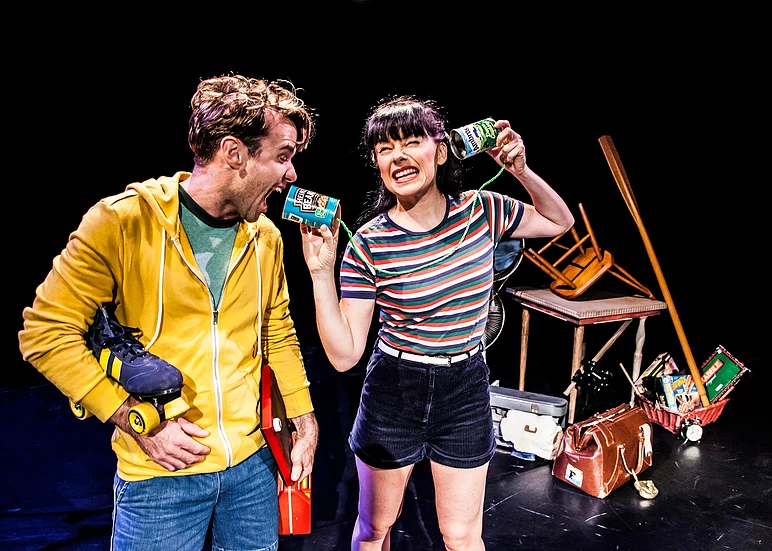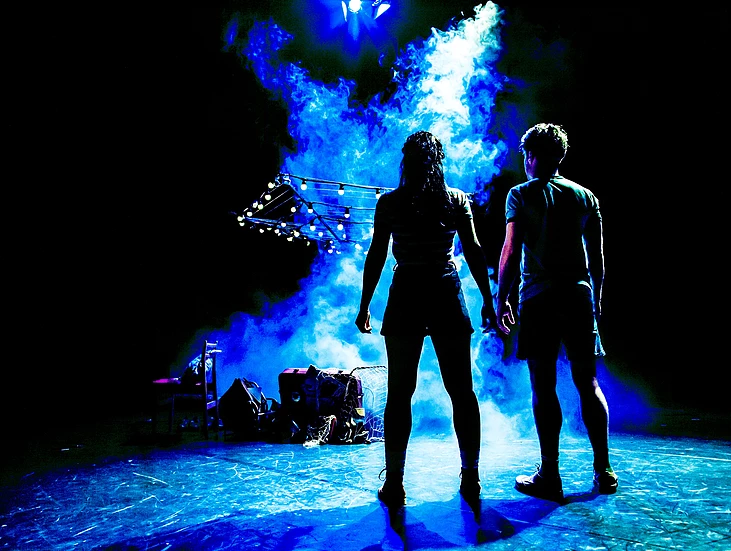 About Up & Over It
We are Suzanne Cleary (Cork, Ireland) and Peter Harding (Cardiff, Wales) and we first met on the competitive Irish dance circuit accumulating, World, North American, All Scotland and Great British championship titles. We later joined Riverdance (UK, Europe, New Zealand, principal understudies; US Tour, Broadway), going on to perform in numerous Irish dance productions before premiering as Up & Over It in our five-star Edinburgh Fringe show in 2009.

Since then we've presented work at dance festivals and theatres around the world while choreographing work for stage and television. We've enjoyed success from our continuing collaboration with Welsh producer and video artist Jonny Reed, with over 12 million views online, alongside film selections for international festivals. In 2010, we went viral with a dance short filmed in our living room and have since appeared on chat shows, commercials and on the global Got Talent franchise.