A dark thriller as well as a profound study of the nature and allure of evil, "Macbeth" was TNT theatre Britain's first Shakespeare production and the troupe has presented the play in 31 countries and 267 cities worldwide since its premier performance in 2000. This full-blooded production unleashes the vital power of Shakespeare's dark masterpiece, blending a highly physical style, a well-integrated musical score and a dynamic interpretation of the Shakespearean verse that has generated enthusiasm from audiences and critics alike.
As with many of Shakespeare's works, the plot is universal. A warrior - Macbeth - encounters three witches who predict that one day he will be king. Unable to resist the temptation, Macbeth and his wife secretly murder the king and claim the crown. To hold onto power they will kill anyone who stands in their way, even their best friend. But their evil comes back to haunt them as ghosts and witches rise against them and a good warrior escapes their clutches to claim revenge for the slaughter of his family. The Macbeths meet a just and terrible end that is amplified by madness and despair. A new king is crowned, but will the witches return and sow further seeds of ambition and evil?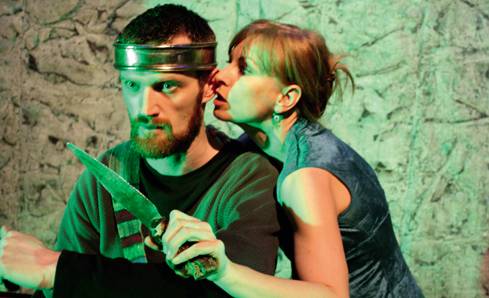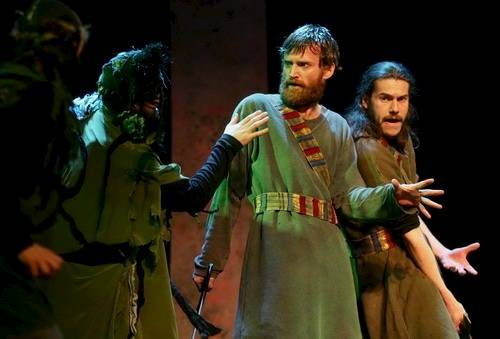 Performance: TNT Theatre Britain
TNT theatre was founded in 1980 in Britain and since has established itself as one of the most popular international touring theatre companies in the world. The artistic director of TNT is Paul Stebbings, whose work has won many awards at, for example, the Munich Biennale, the Edinburgh Festival, the Tehran Festival and from the government of Singapore. Other notable festivals in which the company has participated are the International Off-Broadway Festival in New York, the Tokyo International Theatre festival and the summer festival of the British National Theatre. TNT has also collaborated on co-productions with major venues such as the Athens Concert Hall and the St. Petersburg State Comedy Theatre. The company style aims to integrate all the performing arts. TNT productions always include a specially commissioned score by a leading composer. The director always works with a choreographer and the ensemble actors are chosen for their ability to cross the disciplines of theatre, music and dance.