Introduction

He is a successful singer, actor and musician; 
he is a top Asian superstar who has not only reached the pinnacle of the entertainment industry, 
but also has stood for 20 years without fading; 
he is rigorous, dedicated and has a very high artistic level. 

An artist who has made outstanding contributions; 
e is a mythical figure known as a living legend in the 1990s with his extraordinary taste and 
artistic achievements; A good guy that everyone compliments on.
Leslie Cheung, native of Meixian County, Guangdong Province and born in Hong Kong, 
is a famous actor, singer and musician who is influential in the global Chinese community and in Asia. 
He was one of the hall-level singers in the Chinese music scene in the 1980s; 
in 1991 he won the Best Actor in the Hong Kong Film Awards; 
in 1994 he won the Best Actor in a Foreign Language Film by the Japan Film Critics Association for 
"Farewell My Concubine", and broke the mainland literature and art The film's box office record in the 
United States has successfully entered the international film industry; 
in 1999, it won the "Golden Needle Award", the highest honor in the Hong Kong music industry. 
He has starred in famous films such as "Rouge Buckle", "A Chinese Ghost Story", 
"The True Story of A Fei", "Farewell My Concubine", "Evil in the East and West Poison", "Happy Birthday", etc...
The reason why we fall in love with someone, there is still an initial reason, 
is the so-called "motivation".
Some people love his love songs, some people love his energetic songs and dances, 
some people love the Twelve Young Master's smile, and some people love He Baorong's bohemian. 
The Koreans love his heroic character, the Japanese are obsessed with his Farewell My Concubine. 
He loves him for his art, he must be the happiest, and he likes to be called Artist. 
Tony Leung said that he loves him "true", Tony Leung loves him "no more than five minutes to be angry", 
Brigitte Lin loves him "I will be nice to you in the future", 
Maggie Cheung must feel that her brother is seriously appreciating her art.
So many reasons to love him above, but so what. 
There are too many artists in this world, just like crucian carp crossing the river, 
especially there is a question on Zhihu, saying, 
"Are people like Leslie Cheung being praised because of their death?" 
I don't like this topic, but this question can explain everything. 
Some people die and disappear without a trace; 
some people will be missed by fans for a few years; 
but Leslie will be remembered forever, I don't say he is the only one, 
but he can do such a star Rarely.
Because he is himself.

Because of Leslie Cheung, April 1 is no longer a holiday.
Performing groups:

Shanghai RJ Jazz Big Band is one of the oldest and largest jazz bands in China. 
It is not only committed to the promotion of jazz, but also can perform different splendor in pop music. 
On April 1 this year, the Shanghai RJ Jazz Orchestra will perform the 15 most classic works of his brother 
Leslie Cheung's music career for the audience in the form of a small band.
The wind continues to blow - special concert in memory of my brother Leslie Cheung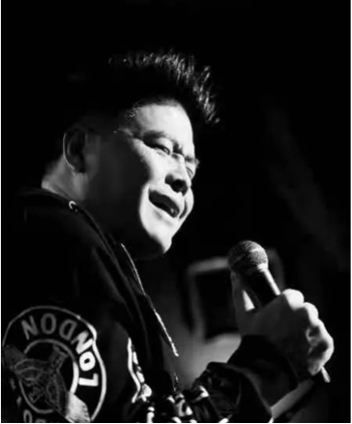 Specially invited male singer Li Haiyun
Under the tutelage of Ms. Sun Liang from Shanghai Opera and Dance Theater, 
she has participated in the Casio singing competition for many times, 
and has won individual and group excellence awards; 
won the 1996 Pioneer Cup National Karaoke Competition National Finals Outstanding Singer Award; 
once served as a special guest singer of Oriental TV. 

From 1996 to 2004, he participated in many evening performances of Oriental TV. 
In 1998, he participated in the recording of Zhengda's "Nostalgic Golden Melody", 
"New Song House" and other programs", 
and also sang the theme song for Oriental TV "Happy Apartment". 

In 2003, he sang the theme song "Tired Survivor" for the Taiwan TV series "A Cheng"; 
in 2003, he was the backing singer of Taiwanese singer Jiang Yuheng's concert in Shanghai; 
in 2004, he began to perform in Zhuhai and Macau, and in 2006, 
he performed for the Zhuhai International Air Show She sang the theme song 
"Zhuhai Blue Sky Festival in the World", 
and sang the 20th anniversary theme song "Special Love for Special You" for 
Zhuhai TV Station in the same year. From 2008 to 2012, 
he performed at the StarWorld Hotel in Macau and other places. 
In 2021, he recorded the promotional song "Dawn" for the Zhuhai Traffic Police, 
the 2021 Zhuhai Air Show song "Waiting All the Way", 
and in 2022, he recorded the promotional song "Go To Tomorrow" for the Zhuhai Traffic Police.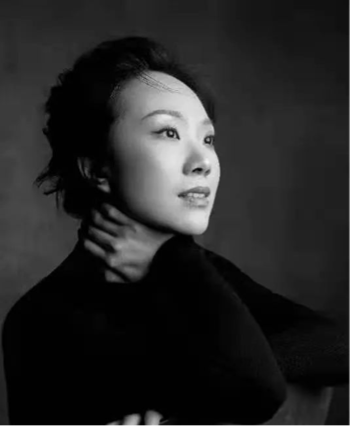 Female singer Miao Mengchu

Singer and musical actor, graduated from Shanghai Conservatory of Music with 
a bachelor's degree in Music and Drama, 
and received a master's degree in Musical Theatre from the Royal Academy of Music. 
He has played a number of major roles in Disney's Chinese version of 
the musical "The Lion King" and "Beauty and the Beast"; 
as Blanche in Miao Shi Culture's "Moon and Sixpence"; 
the seven-act life musical "I, Don Quixote" Aldonza in the Chinese version of The Sound of Music; 
Elsa in the Chinese version of "The Sound of Music", 
and the heroine Hua Mulan in the 2020 musical "Mulan" of Xi'an Performing Arts Group.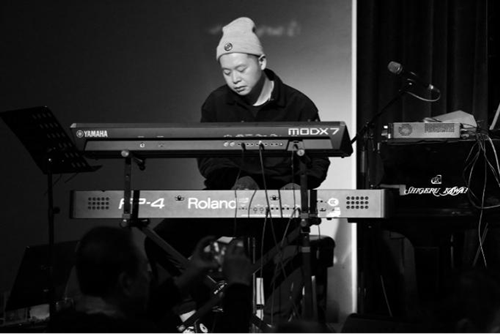 Specially invited keyboard Tang Qianyuan

Shanghai professional keyboard player and arranger. Graduated from the 
Music Education Department of Shanghai Conservatory of Music. 
2017 Ballantine's "Live Your True Self" event cooperating artist - 
Hua Chenyu, Zheng Xingqi 2017 Ningbo Qixin Lawn Music Festival 
cooperating artist Tang Hanxiao "Let me stay with you" 2017-2018 participated 
in the recording of "Music" with Chen Xiukan, Zhang Jia and others 789" short video. 
Cooperative artists - Meng Nan, Yu Chaoying, etc. 
In 2019, they were invited by Shanghai Modern Sky to participate in the Lark Big Band. 
In 2019, the "Mengniu True Fruits" event co-operated with artist Xiao Zhan. 
A Guilty Flower" as the arranger and co-artist-The Landlord's Cat, 
2021 Mango TV-Sister Riding the Wind and Waves 2-"Go Ride the Wind and Waves" as the arranger.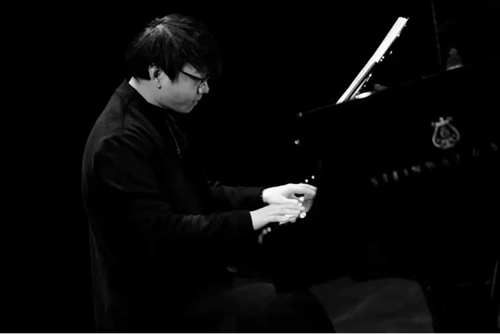 Piano Han Xu

Young classical and jazz pianist, a master student of jazz piano at 
Shanghai Conservatory of Music. In 2007, he began to study piano. 
In 2014, he won the first place in the Jiangxi Provincial Music Unified Examination. 
In 2015, he was admitted to Nanjing University of the Arts to study classical piano. 
In 2019, he was admitted to the Shanghai Conservatory of Music for jazz piano. 
He is studying for a master's degree and is under the tutelage of Chinese jazz pianist Professor He Le. 
He will join the orchestra in 2020 and participate in various performances. 
He is currently the head of rhythm and sound and the composer-in-residence. 

Personal original jazz masterpieces include: "Inner Passion", "Fly me to the place where you are", 
"Rosy Prospect", etc., and have performed in many places and will release their first solo album 
"Inner Passion" on QQ Music in October 2021. 
In July 2021, his first original piece of jazz big band "Mysterious Man" (Mysterious Man) 
was successfully premiered by the RJ Jazz Big Band at the Lincoln Jazz Shanghai Center. 
In November 2021, at the 10th anniversary concert of RJ's founding, 
the famous singer Liang Xinyi sang the big band version of "Rainy Day" adapted by him.
Guitar Hu Yiwei

Professional guitarist and singer, he has loved music since childhood, 
and is good at jazz and rock. In 2009, he formed the industrial metal band 
"Dante Hell" as the lead singer. In 2013, he toured the country. 
In 18 years, he formed "sky rock" as guitarist and vocalist.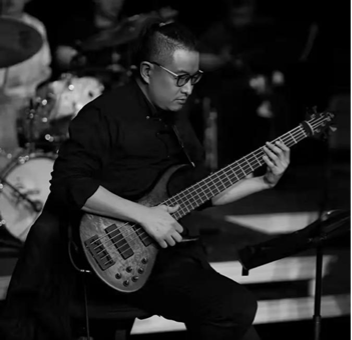 Bass Shen Yifan

Joining the orchestra in 2021, he is a well-known bass player and bass player in Shanghai. 
He is the bass spokesperson of Wowell in East China. 
He has participated in various music festivals, 
Shanghai TV and Shanghai Oriental TV for many times. 
His live performance skills are superb and appealing. 
Strong, and has cooperated with many celebrities in the entertainment industry. 
Special bass player for Shanghai TV "Shanghai Popularity King" and special bass player for TV drama "Light". 
Chen Bolin is the designated bassist of the Mao live Shanghai concert, the Shanghai local band tour, 
the Okamoto boy China tour Shanghai station guest musician, 
and the Shanghai Musical Instrument Exhibition's Chinese demo musician.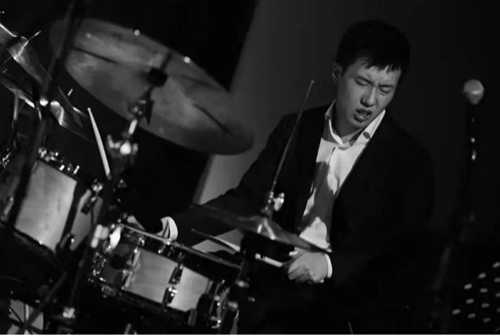 Drum Shi Xu

Jazz drum player, educator, contracted artist of Nine Beats, 
spokesperson of Paiste Eraser, spokesperson of Evans drum head, 
executive director of Shanghai Percussion Association, 
Deputy Director of Teaching and Research Department of Shanghai Percussion Association, 
visiting professor of Qingdao Percussion Academy. Join the band in 2021. 
Graduated from the Queen's College of Music with a master's degree in jazz drum performance, 
he has been invited to participate in teaching demonstrations and 
performances all over the country, and has been well received. 
He has performed on the same stage with many foreign masters such as 
Dom Famularo, Lucas Van Merwijk, Ian Forman, Antonio Hart, etc., 
and has been praised and affirmed by foreign masters. 

A 2017 national tour with Richard Sussman, 
a jazz piano professor at the Manhattan School of Music, was highly praised. 
He has been active in jazz stages in Shanghai and Beijing all year round, 
and performed at JZ Club, Blue NoteShanghai, Lincoln Jazz Shanghai Center 
and other jazz landmarks. He has been invited to perform at major music festivals such as 
the Jazz Shanghai Music Festival, Jing'an Jing'an-Jazz Spring Music Festival, 
and Strawberry Music Festival for many times. 
Since 2020, he has served as the drummer of the Golden Melody Award jazz vocal group Mr Miss; 
as the drummer of the touring band of famous players Gong Ziqi, Jin Shengquan, Li Xiangzhe, etc. 

In 2018, he won the first place in the band group of the first "Jazz Master Band Competition" 
hosted by Music China and JZ Music.

Repertoire

Side
Love at the time
When the wind rises again
A Chinese Ghost Story
Who makes you crazy
Fate       
Unintentional sleep
Miss you 
Blame you too beautiful
Right and left hand when love is a thing of the past
Affectionately embrace
The wind continues to blow
(Subject to the actual live performance)