Enjoy this exclusive deal from 247tickets, up to 23% discount off the normal price!
Enjoy the exotic flavors of Thai cuisine prepared by guest chefs from the Hyatt Regency Hua Hin.
Week One
APPETIZER & SALAD
Rice Crackers, Minced Pork, Shallots, Coconut Milk, Peanut Dip
Shrimp Crackers, Chili Paste
LIVE - Som Tum Thai
Spicy Green Papaya Salad
Som Tum Khao Pod
Fresh Sweetcorn Salad, Cherry Tomato, Peanut, Chilli
Gai Tord Hat Yai
Deep-Fried Chicken, Hat Yai Style, Sweet Chili Sauce
Yum Woon
Spicy Glass Noodle Salad, Minced Pork, Tomato, Onion, Celery
Phla Talay
Spicy Seafood, Lemongrass Salad
SOUP
LIVE - Khao Soi Gai
Chicken, Fresh Egg Noodles, Crispy Noodles, Chili Paste in Curry
HOT DISHES
Hor Muk Goong
Steamed Curried Fish Mousse
Pla Rad Prig
Deep Fried Fish, Chili & Tamarind Sauce
Moo Tod Kra-Thiem
Deep-Fried Pork Neck, Garlic, Pepper
Gaeng Phed Ped Yang
Roasted Duck, Pineapple in Red Curry
Gaeng Massaman Nua
Beef Shank in Massaman Curry
Gai Yang
Thai Style Grilled Chicken, Chili & Tamarind Sauce
Khao Suai
Steamed Jasmine Rice
DESSERT
LIVE - Khao Niew Ma Muang
Sweet Sticky Rice with Ripe Mango
Khao Niaow Sang Khaya
Sticky Rice Topped Coconut Custard
Phuerk Num Ka-Ti
Taro with Ice, Coconut Milk
Bua Loy
Dumpling in Warm Coconut Milk
Sa-Go Piek
Sago with sweet coconut cream
Week Two
APPETIZER & SALAD
Rice Crackers, Minced Pork, Shallots, Coconut Milk, Peanut Dip
Shrimp Crackers, Chili Paste
Gai Tord Sa-Moom Prai
Deep-Fried Chicken, Thai Herbs with Chili Sauce
Nua Daed Diew
Deep-fried Dried Beef with Chili Sauce
Yum Som O
Fresh Pomelo, Cashew Nuts, Toasted Coconut Salad
Larb Moo
Minced Pork, Mint Leaves, Shallots, Coriander Salad
Yum Talay
Spicy Seafood, Celery, Tomato Onion Salad
SOUP
Tom Kha Gai
Spicy & Sour Chicken Soup, Galangal, Coconut, Lemongrass
HOT DISHES
Pla Nueng Ma-Nao
Steamed Seabass, Chilli, Garlic, Lime
Pla Mung Phad Phong Ka-ri
Stir Fried Calamari with Yellow Curry
Gaeng Kiew Waan Moo
Pork in Green Curry
Gaeng Kari Gai
Chicken in Yellow Curry
LIVE - Phad Thai Goong Sod
Stir-Fried Rice Noodles, Shrimp, Peanuts, Tamarind Sauce
Khao Phad Subparod
Pineapple Fried Rice, Shrimp and Pork
Khao Suai
Steamed Jasmine Rice
DESSERT
LIVE- Khao Niew Ma Muang
Sweet Sticky Rice with Ripe Mango
Kluay Buad Chee
Thai Banana in Warm Coconut Milk
Tub Tim Krob
Coated Water Chestnuts in Iced Coconut Syrup
Khanom Yok Ma-neeing
Tapioca Pearls Pudding
Woon Ma-Praw Orn
Coconut Jelly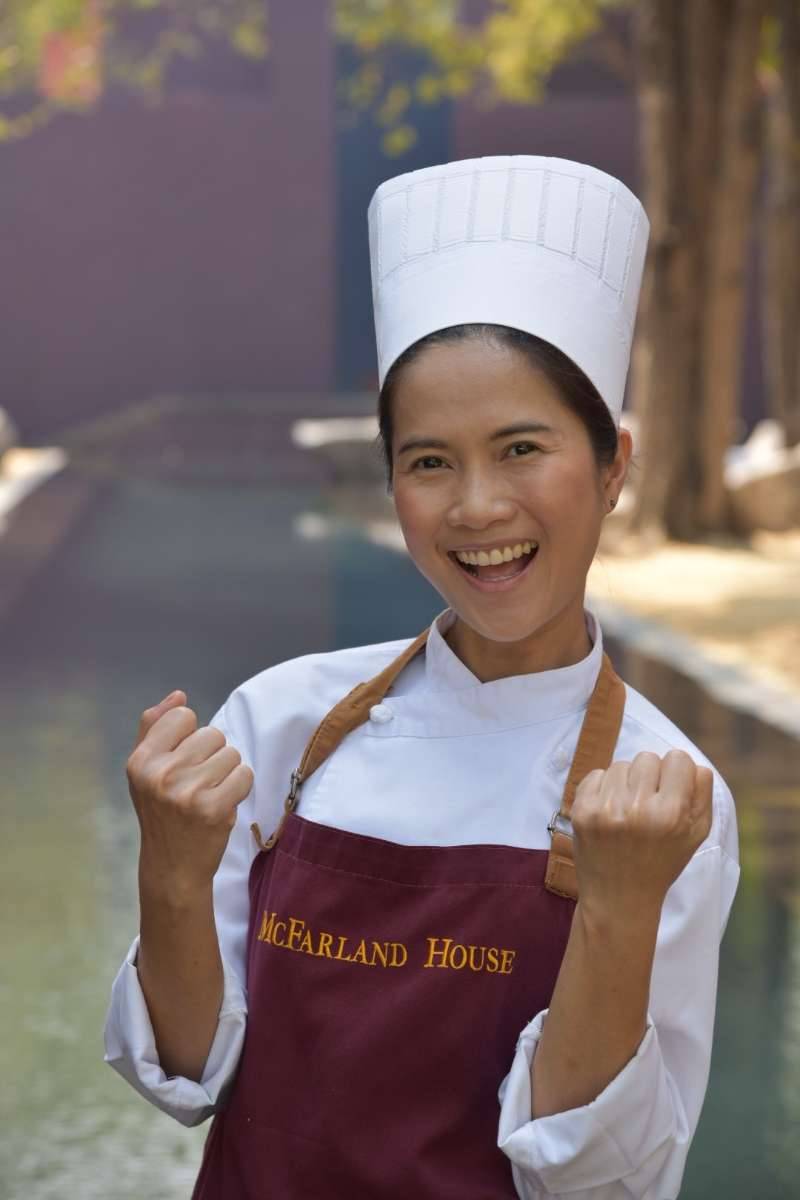 CHEF JIB
Ms Theerarat Jaisuk
Chef "Jib" was born in the small town of Phetburi located between Bangkok & Hua Hin

Chef Jib has more than 14 years of experience as a chef in both Thai & western cuisine. She started as a Thai specialist and then later developed her skills in European cuisine. But Chefs Jib's true passion will always be cooking authentic Thai cuisine.

Thai cuisine is special for Chef Jib because of the variety of dishes and unique flavors. She loves that all the Thai provinces have unique specialities. She is an avid "foodie" and loves eating so this was the perfect reason for her to become a chef!

Chef Jib enjoys swimming in her spare time as well as listening to Thai pop music and shopping for the latest fashions.

Khun Jib's favorite Thai dishes are Som Tum Thai (Green papaya salad) and Phad Thai (Stir Fried Rice Noodles): they are her ultimate comfort foods.

"Thai cuisine is very unique, rice is a major part of most dishes. Thai cuisine has many different tastes ranging from sour, salty sweet and spicy. The cuisine is known for the use of herbs, spices and fresh ingredients. Each dish is handcrafted and prepared with care. We take pride in our unique cuisine" - Chef Jib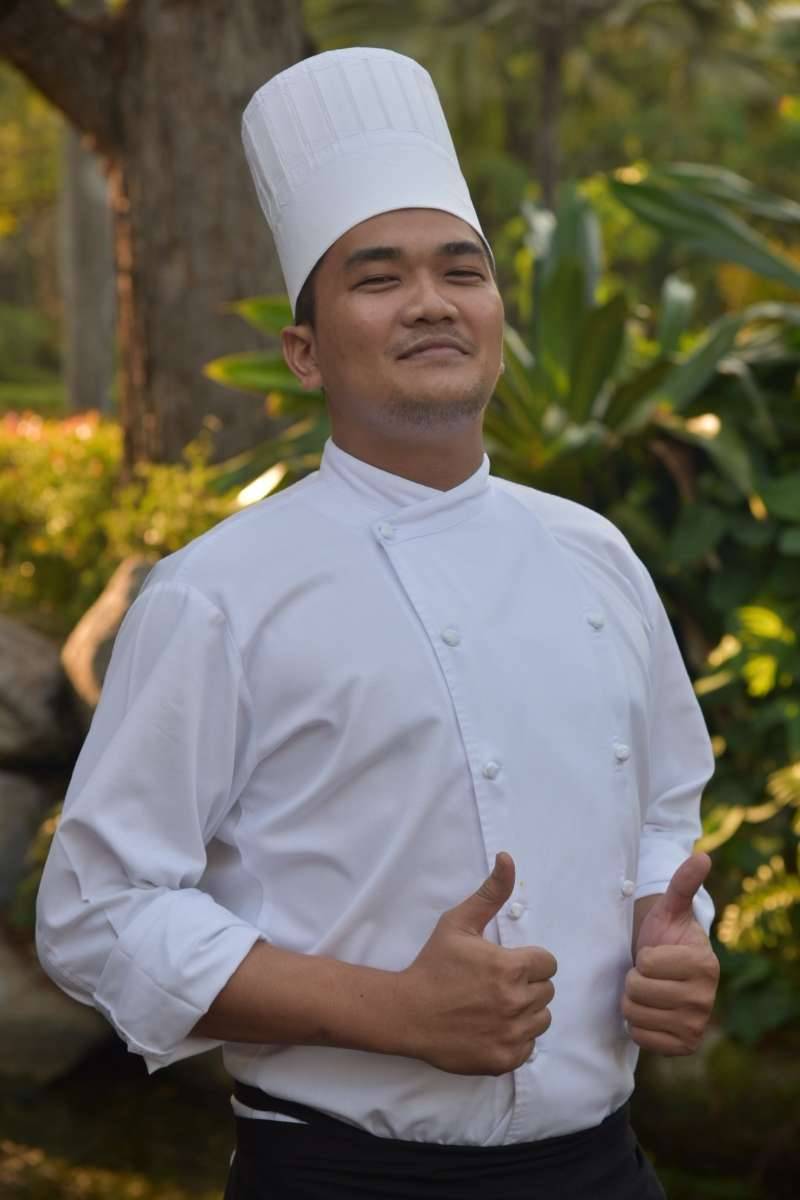 CHEF JAK
Mr Prajiak Pothale

Khun Prajiak or "Jak" was born and raised in Hua Hin, Thailand.

He has more than 12 years of experience working as a chef specializing in authentic Thai cuisine. He is currently the Chef de Partie at Talay Thai, the speciality restaurant at Hyatt Regency Hua Hin.

Chef Jak enjoys fishing in his spare time especially when he can catch fresh local seafood to cook at home for his friends and family. His passion to become a chef first began as a young man cooking for his family; they enjoyed his cooking so much that this inspired him to become a professional chef.

Chef Jak loves the variety and unique flavors of Thai cuisine, especially all the fresh herbs and natural ingredients – this is what makes Thai food special.

Khun Jak's favorite dish to eat is "Tom Yum Goong Nam Khon" a deliciously spicy, sour and creamy shrimp soup. For Khun Jak, this dish is the "taste of Thailand."

Chef Jak is extremely proud of Thailand's cuisine and he loves sharing it with the world.