👉
Negative nucleic acid test results within 48 hours is required for admission
---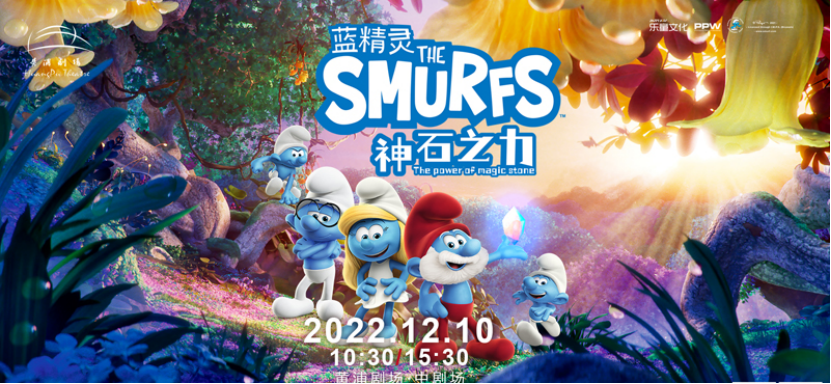 Shh!
Here's an invitation from the other side of the mountain
the other side of the sea, where a group of lively and clever
mischievous and sensitive friends are waiting for you to complete these tasks -
the Smurfs' stage show
In the name of sincerity, courage, indomitable devotion and dedication
The Smurfs: The Power of the Magic Stone
will awaken you with a guardian's heart and a creed
to defend the good and defeat the evil.
Adventure 1: Find the Stone! Surrounded by dense forests, the Smurfs' village is a beautiful home for the Smurfs to work and play. Just outside the village, the adventurous Dreamer unwittingly discovers the Guardian Stone, the greatest treasure of the Smurfs. How can they awaken this sacred stone and make it work its magic? The Smurfs have tried all sorts of ways, but none of them have worked. At this moment, however, unbeknownst to all those racking their brains, their sworn enemy, Gargamel, is planning an evil plot ......
Adventure 2: Find your partner! Despite their similar appearance, each Smurf has a unique and vibrant personality! Some are brave but reckless, some are witty but arrogant, some are fussy but sober, and some are tolerant and kind. ...... They're all different and full of laughs, and live in the freedom of the big, lush forest. Come and become a Smurf buddy! Learn to work together and use your brains, be brave and kind, and care for each other on their adventures!
Adventure 3: Find yourself! Growing up is a big adventure and a journey of acceptance. "Who am I?" This question will always need an answer. And in the adventure with the Smurfs, each child can see a reflection of themselves. Scared when things get tough? That's normal! Got into a fight with your partner? Don't worry! Follow the Smurfs, inspire budding wisdom and define your true self with tacit friendships and great character.
[Main Characters]
Smurfette: Originally a "creation" of Gargamel, Smurfette has been taught by the Smurfs to be righteous, but she always holds a grudge against her origins and tries to prove to everyone that she is a real Smurf.
Papa Smurf: Wise and calm, Papa Smurf is the leader and patron of the Smurfs. In times of danger, he is their guardian and is willing to give everything to protect them.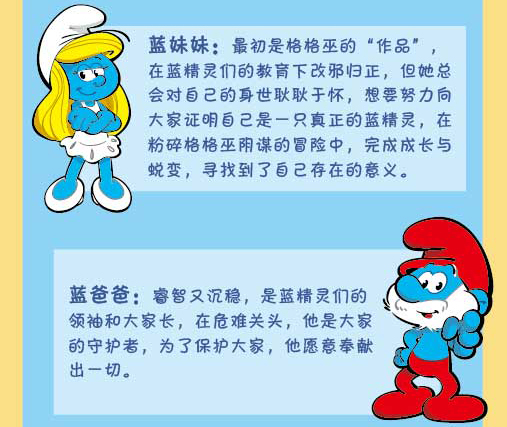 Brainy Smurf: Papa Blue's assistant, with his distinctive black-rimmed glasses, he is often clever and a show-off, but when it comes to the real thing, he acts timid and cowardly.
Hefty Smurf: A sturdy guy who likes to show off his great physique, he is very brave and will not hesitate to stand up for himself in critical situations.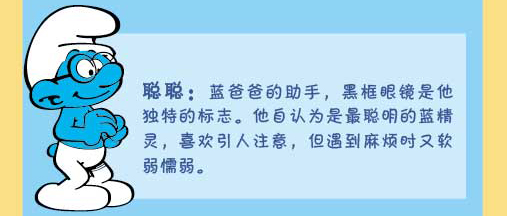 Grouchy Smurf: He seems to have nothing but praise for people and things, so he is not well liked, but in fact he is cold on the outside and warm on the inside, always caring for everyone.
Dreamy Smurf: He is a dreamer and an amateur explorer, but most of his adventures have ended in failure, but this time he has been a great success in his quest to find the secret behind the Guardian Stone.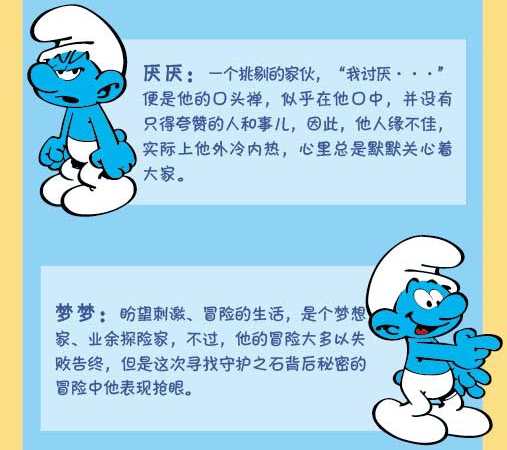 Clumsy Smurf: always seemingly clumsy and unproductive, with nothing to offer, he is always trying to prove his worth in the family.
Gargamel: an evil warlock, an outright villain, an ambitious schemer who dreams of wiping out the Smurfs and extracting their energy to make powerful magic.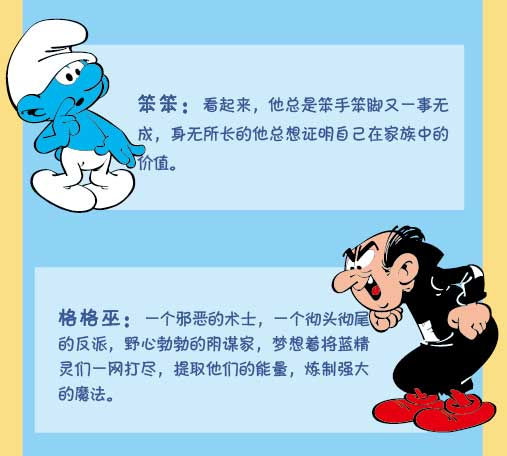 Azrael:A bad-hearted cat who is both Gargamel's pet and minion.