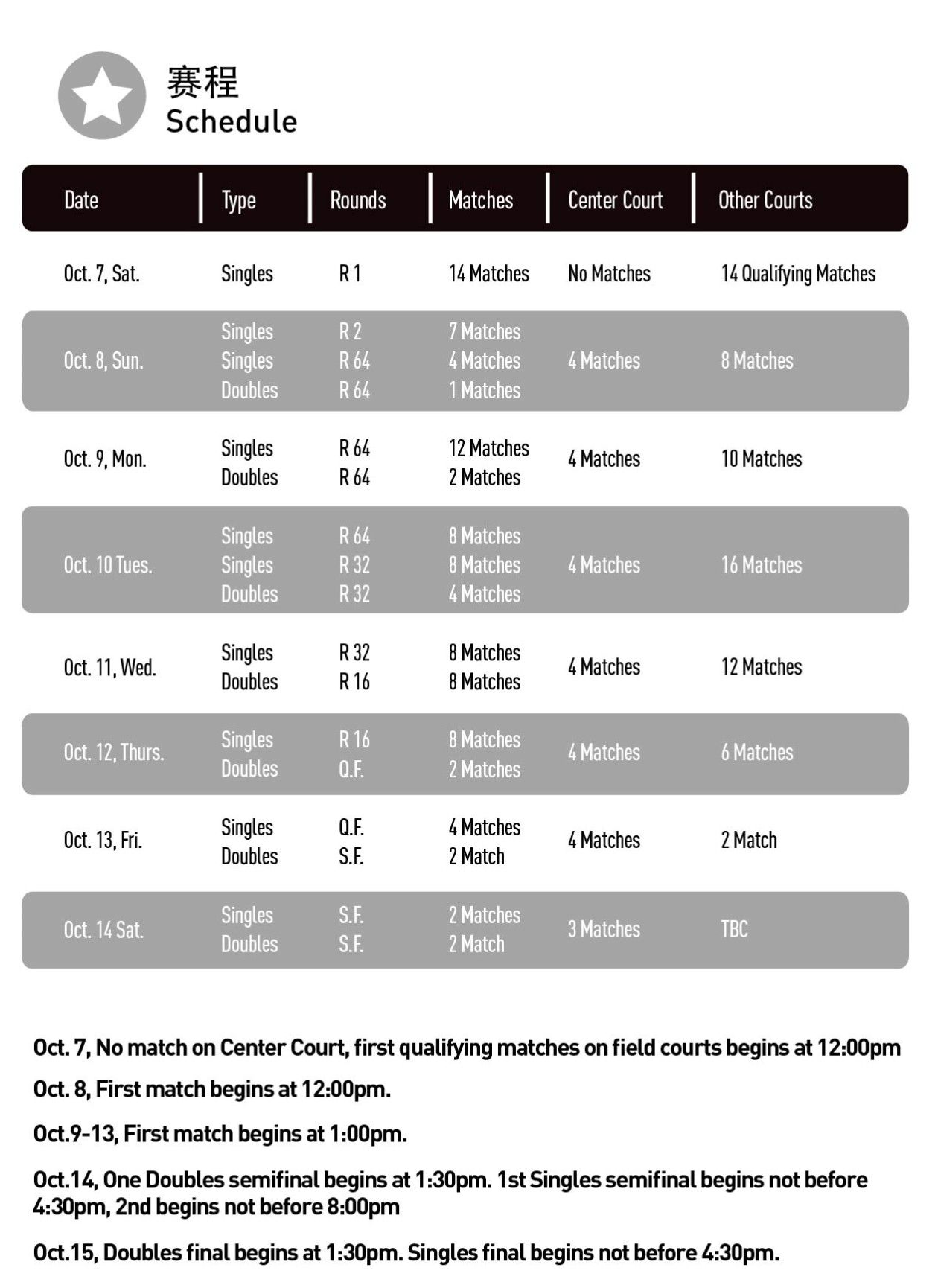 Children and infants under 3 years old are not admitted, while children under 16 years old are admitted at discounted prices and should be accompanied by adults.
Your centre court tickets allow access to all other courts in the complex. One adult can't purchase more than two children tickets.
Limited Early Bird A Tickets Available for Oct 8 - Oct 10.
10/8 A Ticket: 120 RMB (normal price: 260 RMB)
10/9 A Ticket: 100 RMB (normal price: 260 RMB)
10/10 A Ticket: 110 RMB (normal price: 260 RMB)

ADULT PRICE
10/8-10/12
A+ Ticket: 460 RMB / A Ticket: 260 RMB / B Ticket: 160 RMB
10/13
A+ Ticket: 680 RMB / A Ticket: 480 RMB / B Ticket: 280 RMB / C Ticket: 280 RMB
10/14-10/15
A+ Ticket: 1580 RMB / A Ticket: 1080 RMB / B Ticket: 780 RMB / C Ticket: 480 RMB
Full Week Tickets
A+ Ticket: 4500 RMB / A Ticket: 2800 RMB / B Ticket: 2000 RMB

CHILD PRICE

10/8-10/12
A+ Ticket: 230 RMB / A Ticket: 130 RMB / B Ticket: 80 RMB
10/13
A+ Ticket: 476 RMB / A Ticket: 336 RMB / B Ticket: 266 RMB / C Ticket: 196 RMB
10/14-10/15
A+ Ticket: 1106 RMB / A Ticket: 756 RMB / B Ticket: 546 RMB / C Ticket: 336 RMB