👉 Ticket code sent via text message starting with【SMG LIVE】
👉 Each Attendee Requires a Ticket. Children under 1.2m must be accompanied by their parents, infants are not allowed, and children should be reminded not to make any noise during the performance, otherwise the concierge will ask them to leave.
👉 No Cancellation
---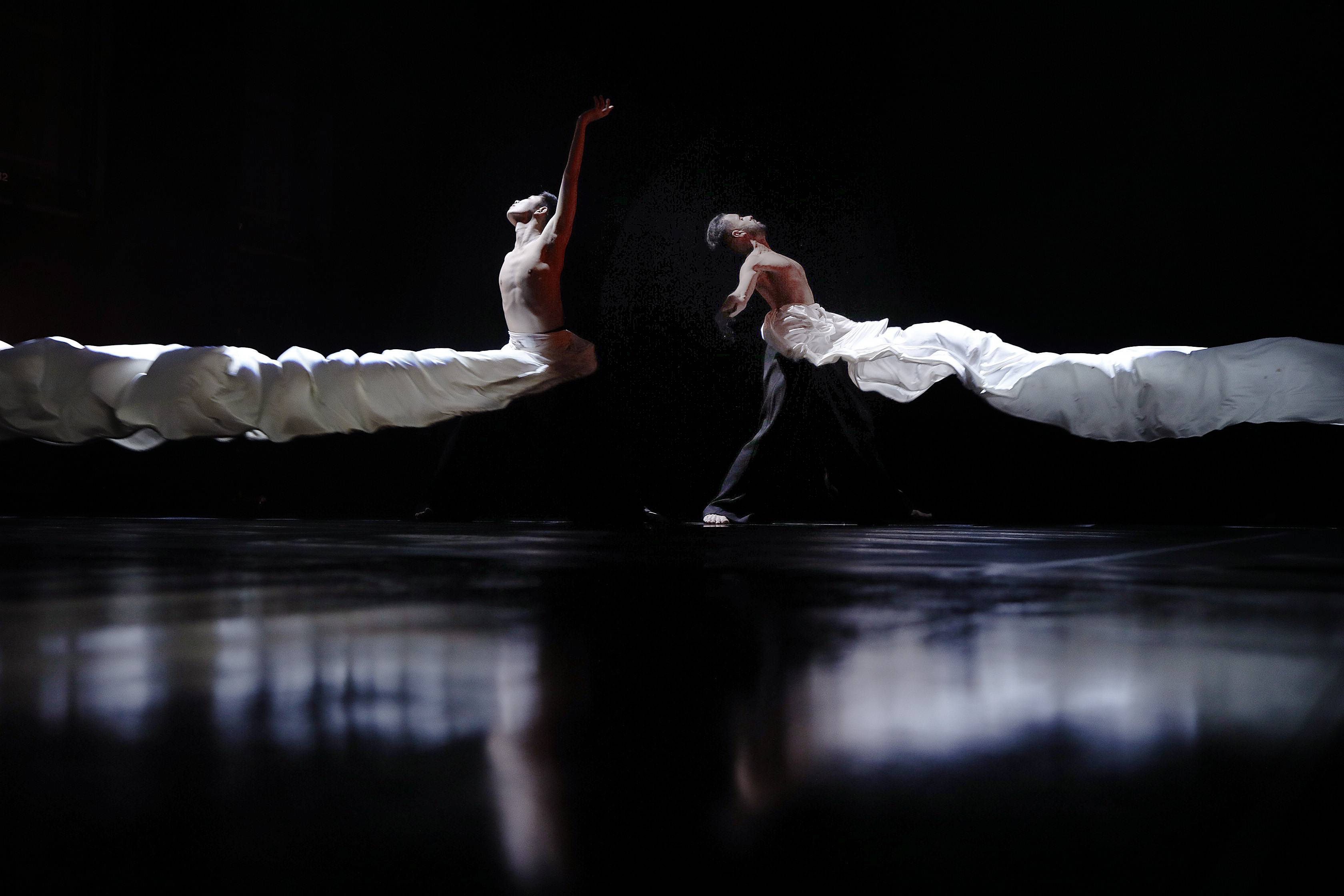 Introduction
Presented by Aakash Odedra Company and Bagri Foundation, Samsara is a duet created and
performed by Aakash Odedra with Hu Shenyuan.
Samsara is inspired by the many monks believed to have attempted the long pilgrimage that eventually led to the classic 16th Century Chinese story Journey to The West. Their journey was both literal and metaphorical, physical and spiritual. With universal themes of self-development, strength, fear and love, Samsara explores the journey individuals take to become themselves. With obstacles to overcome and demons to face, we leave behind many versions of ourselves and learn to love these versions while finding love for others.
Drawing on contemporary dance, Chinese folk dance and the classical Indian dance form Kathak, Samsara is an expression of cultural exchange where epic, mythological storytelling merges with personal experience from two globally opposite perspectives. Samsara traces a path across lands and through time, and explores the idea that if we let attachments go, and allow love or light in, we may find a place of truth and peace.
Both Aakash and Hu are regarded as the finest examples of their culturally specific forms of dance in their native cultures, UK/India and China respectively. Aakash has garnered worldwide attention for his impeccable and virtuosic kathak performances and Hu is one of the outstanding performers of his generation, dancing for big name Chinese choreographers Yabin Wang and Yang Liping. Their desire to perform is undiminished and they have found that despite not sharing a common spoken language (we have an interpreter in the room to help with technicalities), their bodies yearn to share movement, stories and to explore these ineffable frontiers between themselves. They are both aware of their own cultural histories and have a deep understand and respect of each other's cultures. Whilst India and China share historical trade routes, philosophies and poetry, creative exchange is a small obstacle to overcome.
With a new score composed by Nicki Wells and played live, a highly visual landscape by
designer Tina Tzoka and lighting design by Yaron Abulafia, Samsara is touching, beautiful and
readable for audiences. The World Premiere was held at Asia TOPA, Melbourne, Australia on
5 March 2020.
Choreographers and Dance Artists
Aakash Odedra
Aakash Odedra is a dancer, choreographer and teacher. Born in Birmingham, UK and trained in the classical Indian dance styles of Kathak (Nilima Devi, Leicester and Asha Joglekar, India) and Bharatanatyam (Chitraleka Bolar, Birmingham and Chhaya Kantaveh, India). Aakash formed Aakash Odedra Company in 2011 as a vehicle for commissioning solos and to develop his own choreographic work. His debut full length solo Rising featured new short works created for him by Sidi Larbi Cherkaoui, Akram Khan and Russell Maliphant. As choreographer he was commissioned to create a piece for James Brown: Get on the Good Foot (Apollo Theater, New York) and the Opera God's Little Soldier (Theater Freiburg), The Queen's Diamond Jubilee celebrations and the closing of the London Cultural Olympiad. Aakash has received numerous awards and bursaries, including a Dora performance award (Canada), Danza&Danza award (Italy), Audience Award Dance Week 2013 (Croatia), Infant Award 2014 (Serbia), Bessie Award (Best Male Performer, 2014) and a Sky Academy Arts Scholarship.
Choreographers and Dance Artists
HU Shenyuan
Hu Shenyuan is an independent dancer and choreographer. He graduated from the Dance Academy of Central MinZu University before working in Beijing for LDTX Dance Company from 2012 to 2014. As a dancer, he played Yu Ji in Yang Liping's dance work Under Siege to great public acclaim. In 2017, Hu became the first young artist supported by Yang Liping Art Foundation, created his work Roving and established his studio Hu-Hu Dance. Hu's choreographic works include Roving, The Moonlight Rainbow, So Close, With, ID, Ego, and Super-Ego and The Flower of Freedom. Several of his creations have been selected for the exhibition unit of the China Youth Dance Talents Training Program. His many awards include Best Performance Award at the 4th Beijing International Ballet and Choreography Competition; the Silver Award from the 16th Italian Rome International Choreography Competition and the Jury Chairman's Award at the 15th Seoul International Dance Competition in 2018.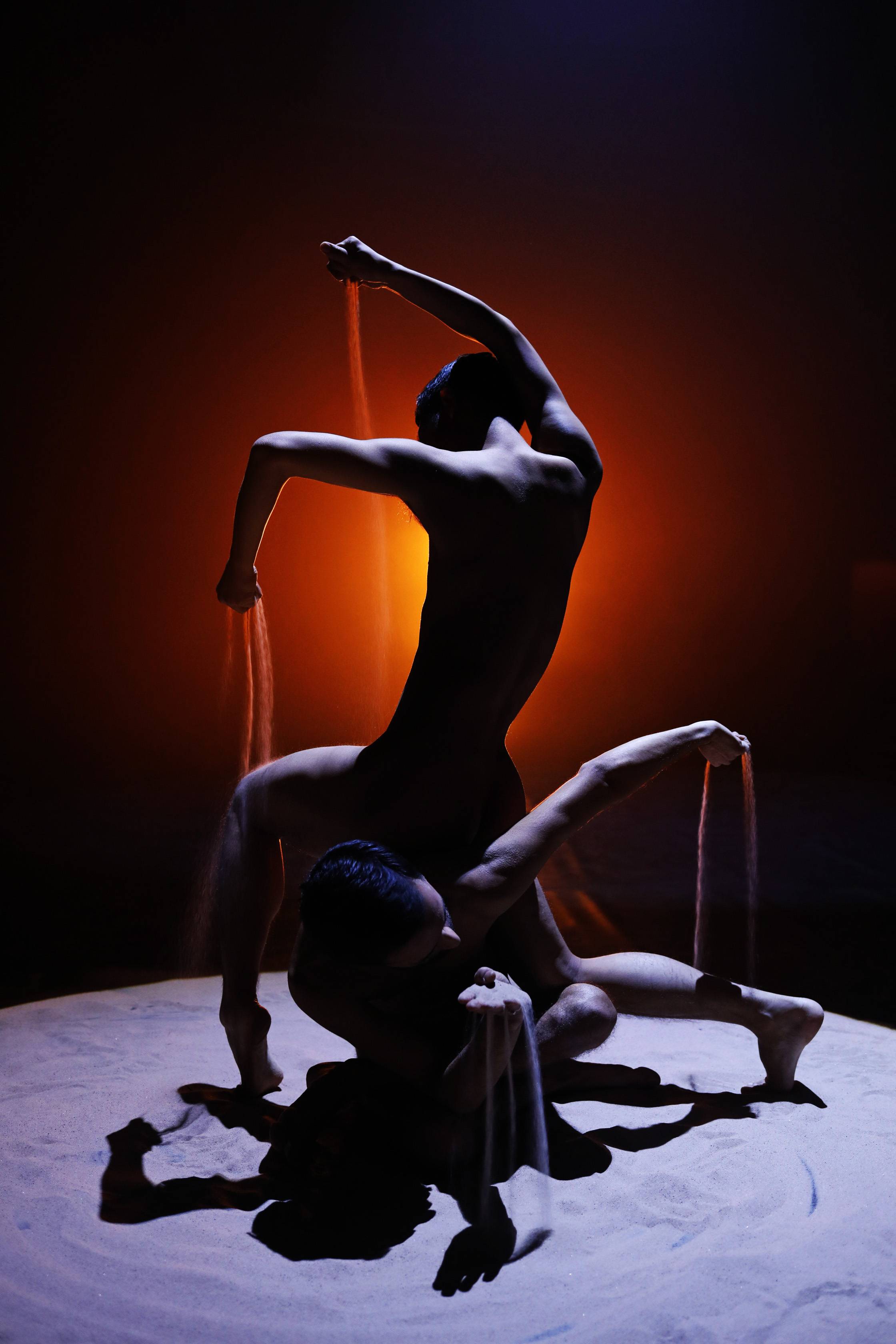 PRESS On Samsara
Sydney Morning Herald 5 ★ ★ ★ ★ ★
"discover perfect, wordless harmony in exquisite dance"
"It offered one gorgeous moment after another."
"The musical composition by Nicki Wells was masterful, featuring live performers. Drummer Beibei Wang's passionate embodiment of her music was a performance in itself, and Michael Ormiston's Mongolian Khoomii singing was sonorous."
"The marvellous attunement between the dancers was even more incredible considering the two share no verbal language - from India and China respectively, their partnership was
enabled by interpreters and bodily understanding through movement."
The Scotsman 5 ★ ★ ★ ★ ★
"Billed as a contemporary dance duet, Samsara is so much more than that. Although in this
instance, that would be enough – so utterly compelling are the two men performing it – but the stage is also alive with music, an art installation and lighting design so beautiful, it is almost a show in itself."
The Guardian 4 ★ ★ ★ ★
"he speed at which Hu Shenyuan's hands race across Aakash Odedra's body is mesmerising. Spider-like in their virtuosity, they almost don't seem real. It's one of many moments of
ingenious connection between the two accomplished dancers in this atmospheric performance of Samsara."
"...a dancing duo to electrify your soul"
On Aakash Odedra
"His dancing combines classical rigour with a mercurial, adventurous lightness" - The Guardian on Aakash Odedra
"He combines power and gentleness, discipline and freedom in an astonishing package of
vibrating mercurial energy that is showcased throughout the evening." - Strait Times Singapore
"Rising reveals an exceptionally agile dancer who, it appears, has no trouble slipping between styles, effortlessly multilingual." - New York Times
"AakashOdedra transfixes and transports his audience, receiving a deservedly rapturous
response." - Sydney Morning Herald
On HU Shenyuan
"HU Shenyuan's performance was mesmerizing" - Limelight on Under Siege
"Hu Shenyuan is outstanding as the self-sacrificial concubine Yu Ling. He moves with an eerie suppleness, the delicate, voluptuous coils of his body evoking a rare hot-house beauty. His farewell duet with his defeated lover is infinitely, exquisitely sad." - The Guardian

Create Team
Artistic Director:Aakash Odedra
Choreographers and Dance Artists: Aakash Odedra & HU Shenyuan
Dramaturg:Lou Cope
Composer:Nicki Wells
Lighting Design:Yaron Abulafia
Set:Tina Tzoka
Costume:K H Lee
Producer:Anand Bhatt
Presenter:
Aakash Odedra Company and Bagri Foundation
Commission Institution:
Arts Council England​
Asia TOPA, Melbourne, Australia​
Birmingham Hippodrome, UK​
Curve Theatre, Leicester, UK​
Chaillot, National Theatre De Danse, Paris​
Shanghai International Dance Center​
Royal Ballet, London​
Support By Jacob's Pillow