The Ritz Bar & Lounge presents the bespoke afternoon tea experience – Moment of Bliss Afternoon Tea in collaboration with the luxury historic English brand Wedgwood. Taking inspiration from local Shanghai flavours and Wedgwood's Sweet Plum tea set, Executive Sous Chef Xian has crafted a vivid range of sweet and savoury delights to satisfy your cravings at leisure.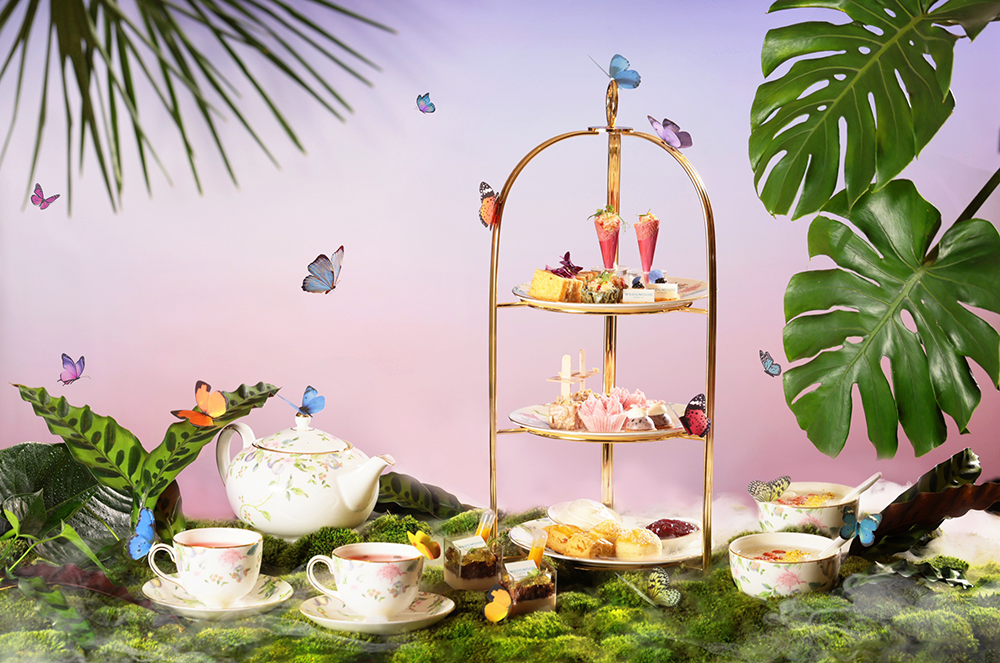 This elegant afternoon tea brings guests to a peaceful garden, highlighting beautiful features in Shanghainese and western fusion style such as Poached Lobster Quinoa Salad, Shanghainese Baby Prawn Jelly and Smoked Sauce Seabass Tea Sandwich; sweet bites include local Peony Puff Pastry, Bird's Nest Osmanthus Panna Cotta, Red Glutinous Rice Mascarpone Dome, and Baked Green Tea Pound Cake Dip Chocolate Peanut. As inspired by the key Wedgwood pattern – the classic sweet plum orchid from the 18th century, Chef Xian has adorned the tea set with plum essence, highlighting Sweet Plum Crab Meat Ice Cream Cone. Adding an additional layer to the delectable set, a Chinese refined Wine Brewing Sago Dumpling Soup with Peanut and Black Sesame Dumpling is served in Wedgwood bowls.
To complement the dining experience, each dainty set will be served in classic Wedgwood's Sweet Plum collection of 18th century plum motifs tableware. The white, fine bone china is decorated in a pretty motif of soft, floral pastels accented by a lustrous gold banding.
Guests of the premier co-branded afternoon tea will be eligible to receive a complimentary Sweet Plum mug.