⚠️ Please book your ticket At Least ONE day in advance.
👉 Receive E-ticket via Email within 24 hours
👉 Each Attendee needs a Ticket
👉 Free for Children under 1m (one adult with one child)
👉 No Cancellation
---
The young man from Malaga
Growing into a 20th century artistic genius
If Picasso's life is a dramatic show
it begins in Magala
Picasso Museum Málaga, Fundación Picasso
202 authentic works of art on a large scale exhibiting
1 gouache and ink self-portrait for the first time in China
4 oil paintings, 142 prints, 46 ceramics
and 9 rare silver salt photographs (by Robert Capa)
A true restoration of the genius' growth and artistic career
A different Picasso
With passion and imagination
The "artist of artists" who conquered the world
Picasso Solo Exhibition in China - Shanghai
Childhood, all about bullfighting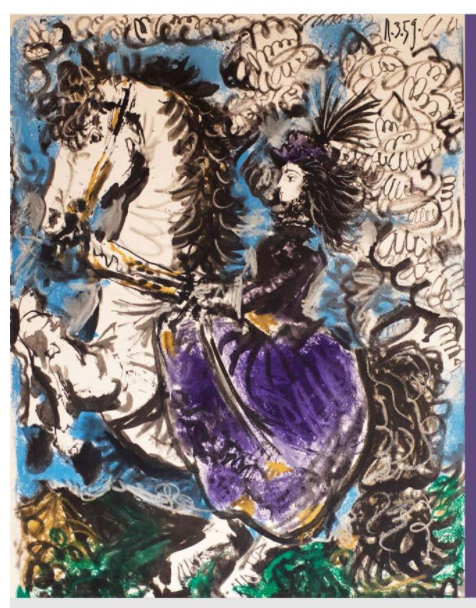 Pablo Picasso, Toros y Toreros, 1961, lithography, 27x37cm
In his hometown of Málaga - the bullring was always crowded with bullfighting enthusiasts.
From an early age, Picasso loved bullfighting, so his father, Jose Ruiz Blasco, brought him to the arenas of Málaga and La Coruña.
The image of bulls and bullfighters fascinated the young Pablo from the very beginning;
his fascination with bulls and the world of bullfighting remained with him throughout his life and became a recurring theme in his work.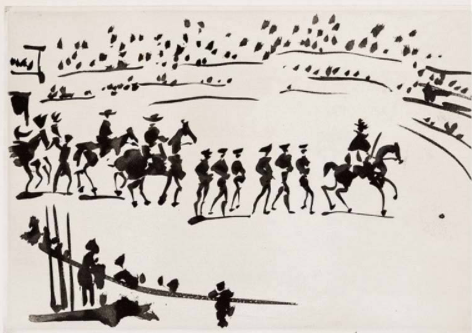 Pablo Picasso, Tauromaquia, 1959, aquatint with sugar and drypoint, 27x37cm
The exhibition features two important bullfighting series, one is his illustration of the biography of the bullfighter José Delgado of Seville,
and the other, even living in the south of France, where bullfighting was difficult to see, Picasso found ways to meet bullfighters and watch them perform,
which led to his friendship with the bullfighter Luis Miguel Dominguín,
for which Picasso also left an elaborate print.
Picasso left behind elaborate prints of this great friendship.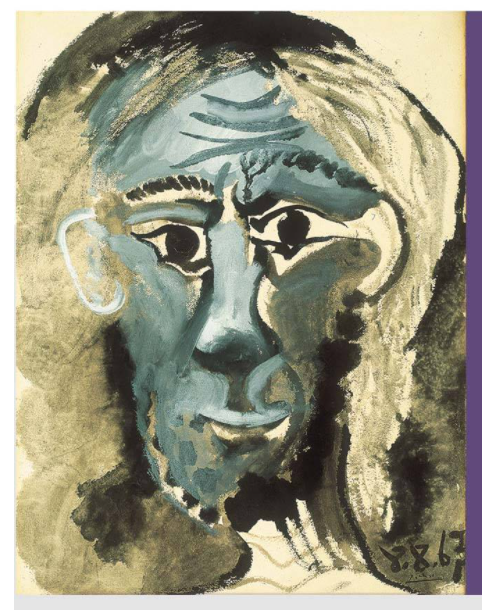 Pablo Picasso, Self-portrait, 1967, Gaouache and India Ink, 75x56.5cm
Picasso's self-portraits were the subject of his work throughout his life, but they are not common.
From the age of fifteen to the year before his death, he intermittently created a dozen self-portraits, which,
although few in number, demonstrate Picasso's perception and evaluation of himself at different stages.
In his later years, Picasso's work showed more and more oriental connotations, the staining of water
Chinese and Oriental art as a whole, as well as Eastern philosophy and ideology, were deeply influenced by Picasso's genius and were incorporated into his creations.
Limited Paintings, The Barcelorna Collection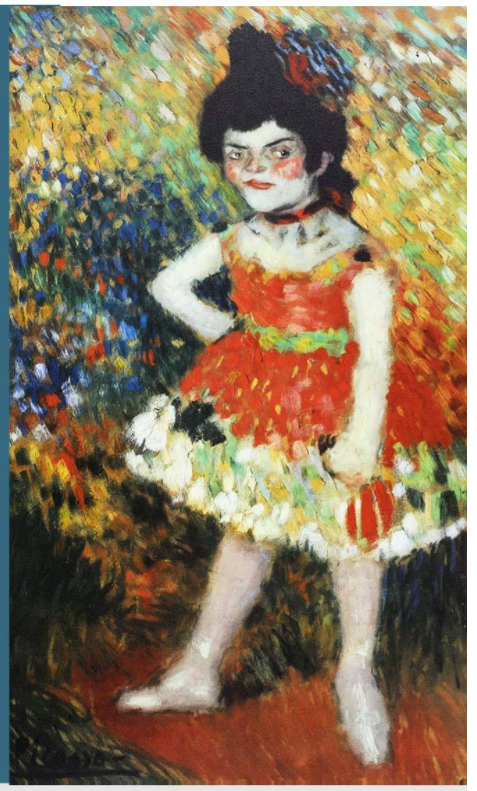 Pablo Picasso, La Denseuse naine, 1901/1966, Lithograph in colours, made after the original work, 75.5x55cm
Picasso was deeply attached to Barcelona, where he not only completed his studies but also initiated his modernist style of painting.
On Picasso's 85th birthday, the Picasso museum Barcelona carefully selected a number of oil paintings from the collection as
templates and produced a limited number of color prints, inviting Picasso to sign them himself, which are all now known as the Barcelona series.
End of the blue period, a street artist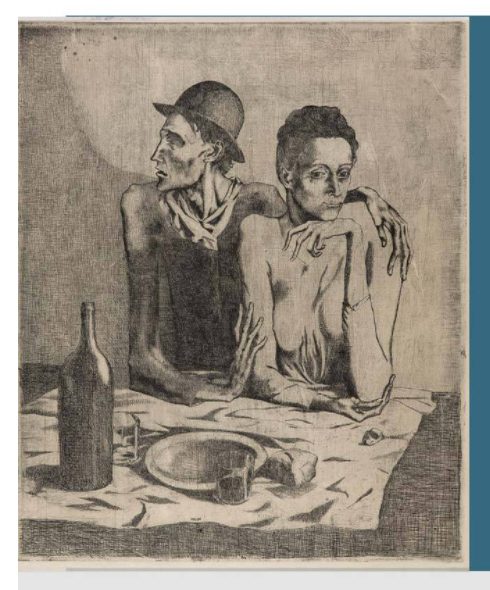 Pablo Picasso, Le Repus Frugal, 1913, lithography, 46.3x37.7cm
The "Wandering Artist Series," Picasso's earliest prints on the subject of the human body,
is presented in this exhibition as a complete set, typical of Picasso's work at the end of the Blue Period.
In 1904, Picasso moved to Paris and lived in the Montmartre region, a popular bohemian area inhabited by people from all over the world who often had few economic resources.
Picasso interacted with them, depicting scenes of poverty and disease.
At that time, many artists settled in, and the neighborhood became the city's literary hotspot in a very short time.
At the foot of Montmartre Hill was the Circus Medrano, which he enjoyed watching with his friend, the famous poet Apollinaire, and many others.
Picasso admired the free and independent soul of the wandering artist.
In 1913, the famous printer Ambroise Vollard bought almost all of Picasso's prints produced between 1904 and 1906,
and the Wandering Artist series was Picasso's first collection of prints.
A genius studio diary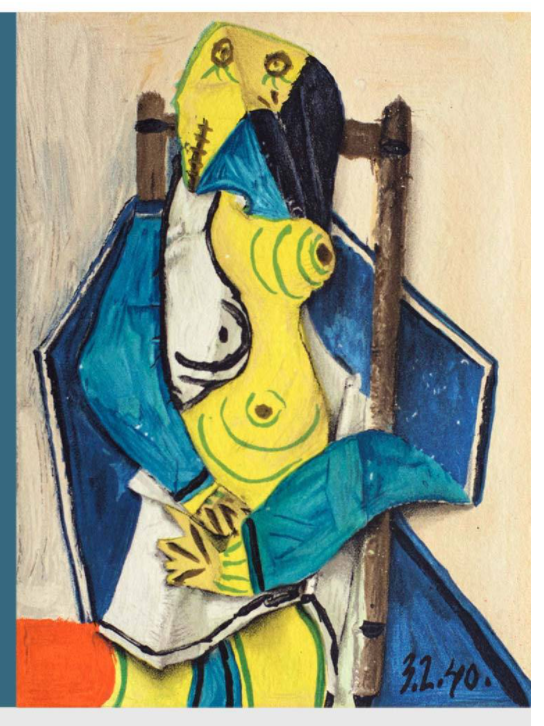 Pablo Picasso,Dans l' Atelier de Picasso-Figure(5/23 lito), 1957, lithography, 32.2x43.5cm
Picasso's Studio series presents a selection of works created in 1957 in Picasso's California studio,
a large family workshop that he purchased in 1955, known for its isolation and excellent views of Marina Bay.
The paintings in the studio series are from the book of the same name, which is accompanied by a book by Jaume Sabartes, Picasso's secretary and friend for more than 30 years.
In it, he discusses the artist's family and his personality.
This series of paintings has no clear subject matter but is a free diary-like record of the artist's thoughts during this period.
Many of his favourite still-life subjects from the Cubist period can be seen,
as well as his long-standing Cubist experiments with the human body,
and images that are inextricably linked to such masterpieces as The Maid of Avignon and Guernica.
An old boy of Art:
Experimentation with ceramics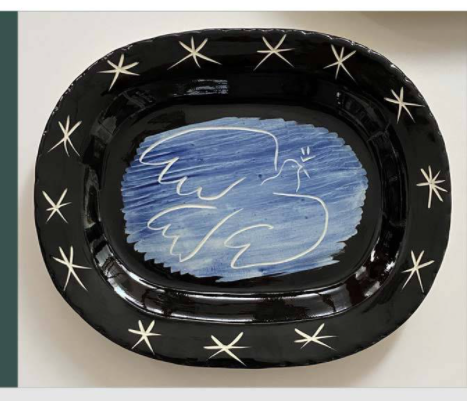 Pablo Picasso, BRIGHT DOVE, 1953, Rectangular dish, 32x39cm
If there is one thing that explains Picasso's complex personality, it is his curiosity, his great desire for new knowledge and experimentation.
This new technique of ceramic production brought him the perfect combination of expressiveness and speed of painting, as well as the method and mastery of three-dimensional sculpture.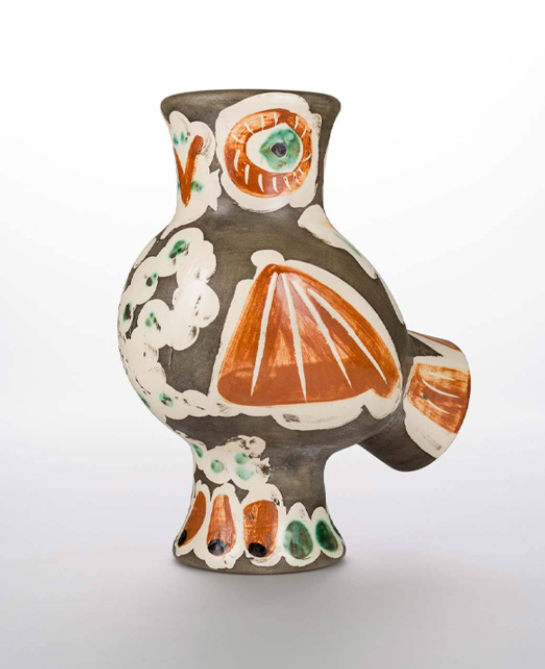 Pablo Picasso, WOOD-OWL, 1968, VASE, 30cmx22.5cm
In 1947, at the age of 66, Picasso began his career in ceramics in the Madura workshop in the town of Vallauris (France). He began by making plates and jars and then painted them with colored glazes,
giving new texture to these simple everyday objects; thus, Picasso achieved the metamorphosis of turning simple everyday objects into works of art.
In ceramics, a new field worth conquering, the artist once again shows the same degree of interest, audacity, respect and mastery as in painting or etching.
The lesser-known side: Picasso and his family through the lens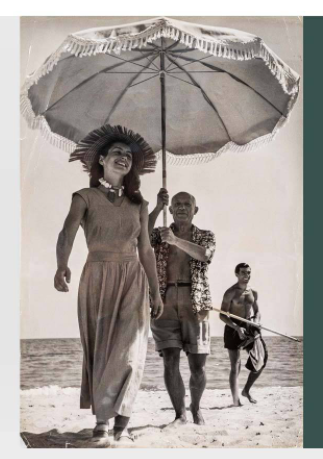 Pablo Picasso, Picasso Parade, 1948, Silver print, 20x31cm
The exhibition will also feature nine photographs of the Picasso family taken by Hungarian-American photojournalist Robert Capa.
These photographs of life subvert the image of Picasso as a proud and talented artist and allow the viewer to gain a fuller understanding of this great artist.
Pablo Picasso, 1881.10.25-1973.4.8
He was a Spanish painter and sculptor, a member of the French Communist Party, the founder of modern art, the main representative of Western modernist painting,
the most creative and influential artist of the contemporary West, and one of the greatest artistic geniuses of the 20th century,
whose representative works include Guernica, Dove of Peace, The Young Ladies of Avignon, and The Life.
He drew inspiration from everything around him, ancient cultures, distant civilizations and the surrounding environment, creating an artistic language with a unique sense of expression,
using the artistic techniques of deformation and exaggeration and original cubist deconstruction to achieve a unique artistic style.
The Picasso Foundation, located in Picasso's hometown of Málaga, Spain, promotes and disseminates the work of the artist Pablo Picasso. The Foundation was created in 1988 by the Municipality of Málaga.
The Foundation has a museum, a Picasso documentation center, an art collection, and a cultural promotion branch.
Since the 1990s, the Picasso Foundation has been dedicated to working with other institutions to promote the artist's work and artistic ideas, his paintings, prints, ceramics and other representative works.
Picasso's paintings, prints and ceramics have been exhibited in museums and cultural institutions around the world, including France, Italy, the Netherlands, Argentina, Chile, Mexico, the United States and Korea.