- Confirmation within 24 Hours

- Receive E-ticket via Email

- Gain Admission with E-ticket

- Fixed Date Ticket
- Free Entry for Children Under 1m

- No Cancellation
---
The Ultimate Indoor LEGO® Playground - Family fun with 2 rides, 11 LEGO build & play zones, a 4D cinema & much more!
THINGS TO DO
11 family attractions & activities
4D cinema, Kingdom Quest laser ride, Underwater Quest, Merlin's Apprentice, LEGO City: Forest Pursuit Driving School... and more!
Discover the city in miniature
See all of Shanghai's top attractions made from LEGO in our MINILAND®
Birthday parties & group deals
LEGO themed birthday parties here in Shanghai!
Get LEGO® building tips
Learn building tips from our Master Model Builder Workshops.
School trips
One-of-a-kind school trips to support the National Curriculum.
WHAT'S INSIDE

MINILAND
Sneak a peek at our spectacular MINILAND. It's built from A LOT of bricks: over 1.5 million!
Explore and play with the interactive city; see airships swoop and towers glow as the little land changes from day to night. Our mischievous Minifigures love hiding in MINILAND – who will you spot?

LEGO® 4D CINEMA LEGOLAND DISCOVERY CENTER SHANGHAI
Can you touch the stars in our LEGO® 4D cinema?
Watch whilst our 3D film changes before your eyes to a 4D cinema experience with rain, wind and even snow, all under one roof.
Emmet, Wyldstyle, Benny, MetalBeard and Unikitty are back in The LEGO® Movie™ 4D A New Adventure, a 4D movie, showing only at LEGOLAND Discovery Center!
ANYTHING ELSE I NEED TO KNOW?

KINGDOM QUEST
The captured Princess needs your help! Hop aboard your chariot on the Kingdom Quest ride to rescue her.
Be warned, there are beastly trolls and sneaky skeletons lurking. Can you zap them all to save the Princess?
ANYTHING ELSE I NEED TO KNOW?
All riders must be able to sit upright unaided.
Children under 51" tall must have an adult ride with them.

LEGO® FACTORY TOUR
Walk past the test tubes filled with LEGO® bricks and wait for the doors to LEGO Factory to open! Meet Professor Brick-a-Brack and help him make some LEGO bricks! Over 100,000 special bricks are made in our factory every year. So, push those buttons hard, listen to the bells ring and watch for the lights to change. What kind of special brick have you created?

LEGO® DUPLO® FARM
STORY TIME
Every Monday to Friday at 11am and 3pm.

A ten minute story time with interactive farm animal building.

Children then each make their own LEGO® DUPLO® flower and place it in the farm house garden.
INTERACTIVE FUN PLAYTIME
Explore the farmer's house, climb the attic and go down the slide.

Have your photograph taken with the farmyard cow and hear the farmer's lively dog barking.

DUPLO bricks are perfect for smaller children (aged 0-5) and we have lots of bricks to play with.

We also have extra large soft bricks to enable children to safely build their own giant creation.
PLUS...
DUPLO Village at LEGOLAND Discovery Center Shanghai is located next to our Café in a quieter space within the attraction so parents can spend time building and being creative with their children. And that's not all, there is plenty more for the little ones to enjoy:
DUPLO JAMS
Did you know children develop vital skills when they play with DUPLO® bricks? Excellent for children aged 1 – 5 years, LEGO® DUPLO Jams are catchy songs to feed children's imagination and a great way to get kids excited about their trip to LEGOLAND® Discovery Centre.

LEGO® FRIENDS OLVIA'S HOUSE
Join the LEGO Friends at Olivia's House for a super fun party!
Explore the treehouse, build the cutest cupcakes, or become a star on our karaoke stage. Which LEGO Friend will be your new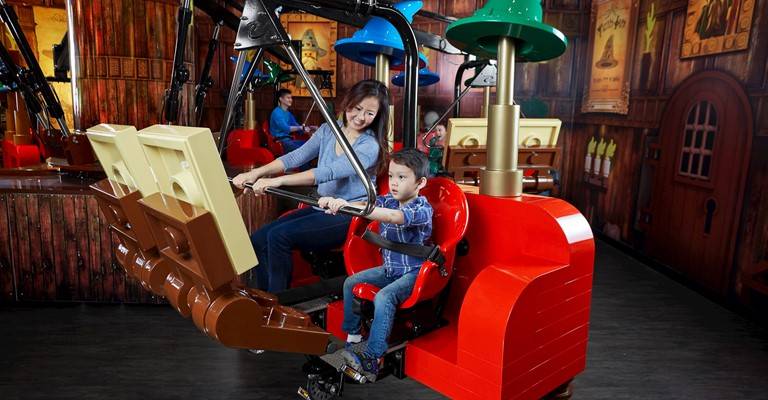 MERLIN'S APPRENTICE RIDE
Enter Merlin's magical potion room and discover a LEGO wizard's world of spells and sorcery. Round and round you go, pedal as fast as you can to help Merlin conjure his magic – can you reach the skies and become Merlin's top wizarding apprentice?
Our younger guests who are between 90cm - 120cm tall will need to ride with an adult.

LEGO® RACERS: BUILD & TEST
There are thousands of bricks waiting for you in the LEGOLAND® Discovery Centre's Build & Test zone. What shapes and vehicles will your imagination create today? Time your racing car on our speed test track. The stopwatch is exact to the hundredths of a second, so even the smallest change could make all the difference! All ages are welcome, so there's no excuse not to join in.

LEGO® SHOP
The LEGOLAND® Discovery Centre is right next to the largest LEGO® shop beside the entrance. It's open to everyone who visits The Joy City Changfeng, 10am - 8pm.
Over 900 products, including the very latest from LEGO®
Gift Vouchers
Special Offers each month

CAFE
Wind down from your LEGO® discovery in the LEGOLAND® Discovery Centre Café with a relaxing cup of tea or coffee. Choose snacks or a full meal for the whole family from our great selection of hot and cold food. And if they still have energy left, don't worry, there's plenty of LEGO in the café area to keep even the most ardent LEGO builder happy while you relax with a drink.
MEAL DEALS
FOOD
Fresh Sandwiches




Includes a selection of vegetarian and Halal options

Hot Paninis and Toasties




Includes a selection of vegetarian options

Fresh Salad Boxes




Included are a selection of vegan and gluten-free options

Fresh pastries, cakes and muffins
DRINKS
Fre

shly Ground Costa Coffee
Various Bottled Drinks
STARSLUSH Iced Drinks
Please note that this menu is a guideline only and stock and availability of items is not guaranteed.
We try to stock as many different varieties of food items that can suit everyone, unfortunately, we won't be able to cater for everyone. For those who have any sensitive allergies or intolerances, you are more than welcome to bring in your own food. Apologies for any inconvenience caused.

UNDERWATER QUEST
Go on an underwater quest to find mysterious sea creatures at the bottom of the ocean! Enter a half-built underwater LEGO world, animated by live technology, and go on a quest to find and build underwater mysterious creatures on the first digitally activated build table.