👉 Receive E-ticket via Email within 24 hours
👉 No Cancellation or change
👉 Show ID (registered in order) and e-ticket for entry
---
Spectacular Lantern Festival Lights Up Yuyuan Garden!
Locals and Tourists Alike Flock to Amazing Show.
The 2023 Yuyuan Garden Lantern Festival officially opened on 26th December and has already welcomed huge crowds of excited tourists and locals alike! This is the 28th opening of this dazzling and colourful celebration of a thousand lanterns, and is eagerly awaited each year. It has become one of the very best choices for Shanghai residents to visit and spend some special time with friends and relatives, always offering a magical night of creativity and imagination!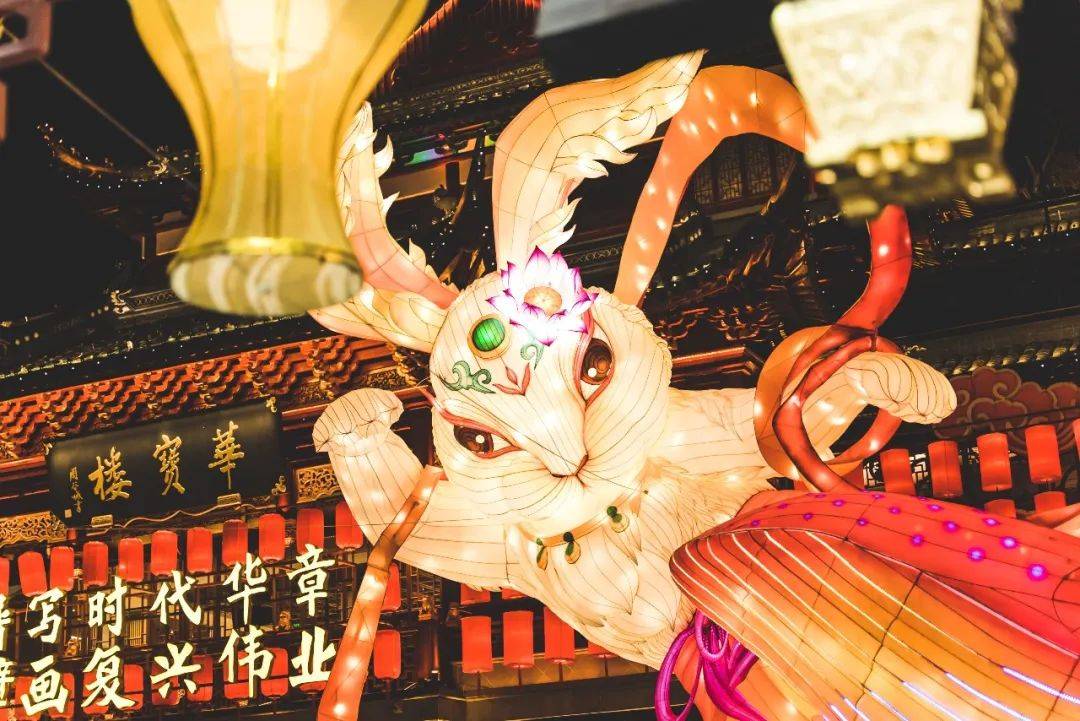 Visiting Yuyuan Garden has become an incredibly popular popular pastime during Chinese New Year for many years now and is an important part of many Shanghainese's celebrations. Now this is your chance to come and experience the magic and see why it's become such a meaningful event for so many people!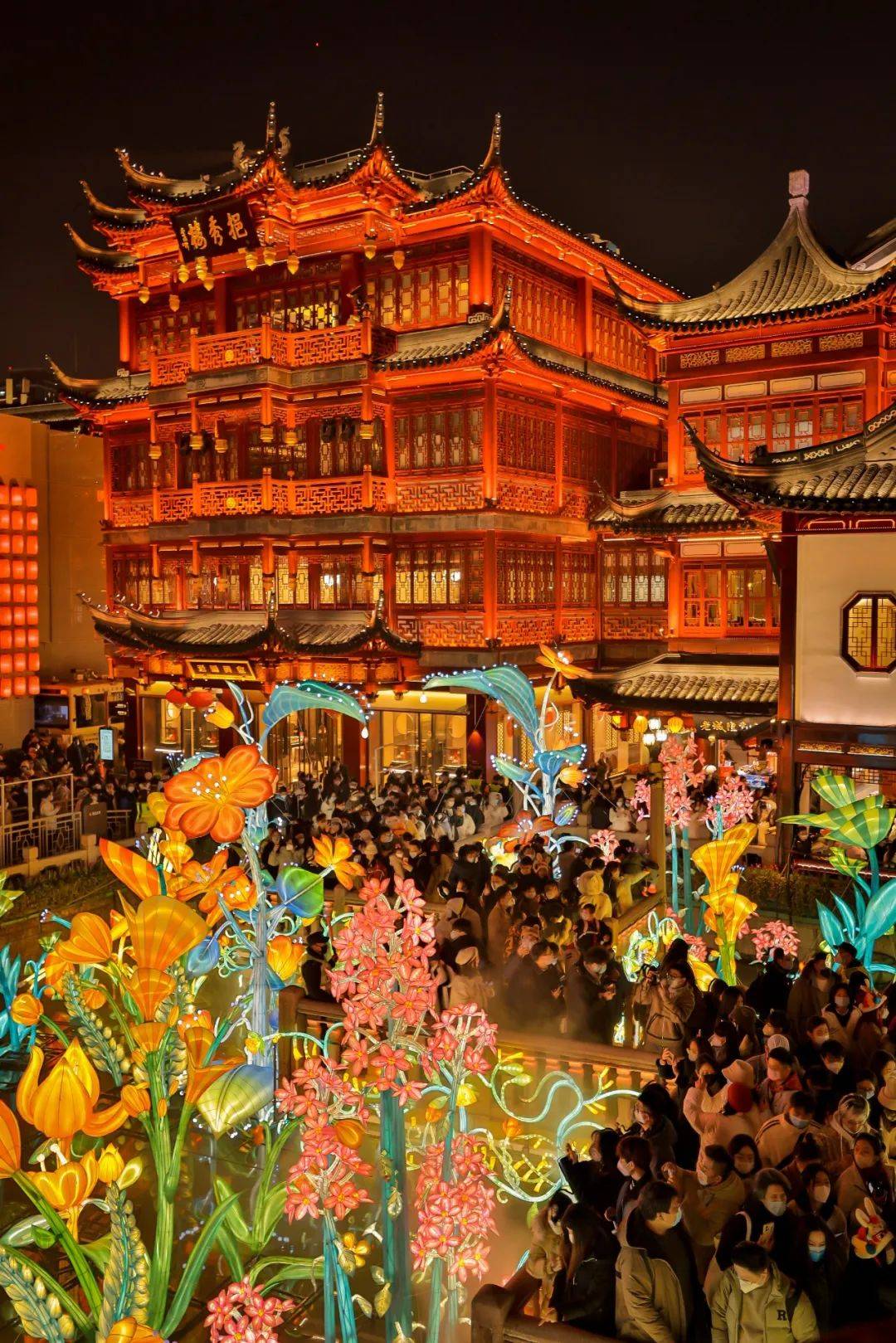 This year's Yuyuan Garden Lantern Festival is well attended with word-of-mouth bringing in excited crowds to witness the event. This year's Yuyuan Garden Lantern Festival was a spectacular event, with a sea of bright lights, and many of you took photos to record this wonderful moment.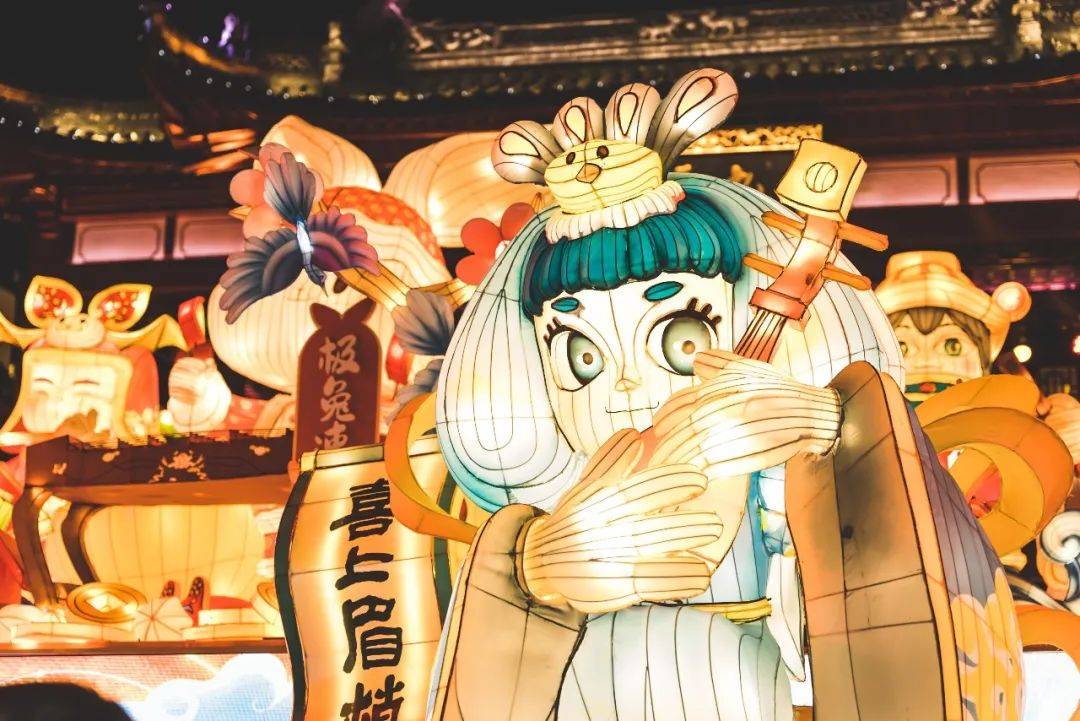 The central square provides us with the main scene of the Chinese Zodiac. Here the Jade Hare rises to the east, with the classic Dunhuang shape, fluttering and dancing in the breeze,which makes visitors can't help but want to swim away with it! At this special time of year the rare beasts of Shan Hai Jing all visit Yuyuan Garden to join the celebrations! The central square presents the jade rabbit lantern group which is a spectacular focal point for this celebration. The Chinese Zodiac is a unique method of indicating a person's year of birth. This year is the Year Of The Rabbit and the primary focus will be on the Jade rabbit in the shape of the famous images from the Dunhuang historical area. Alongside the jade rabbit will be the sacred beast Kun, also from the Shan Hai Jing mythology and marvelous to see here!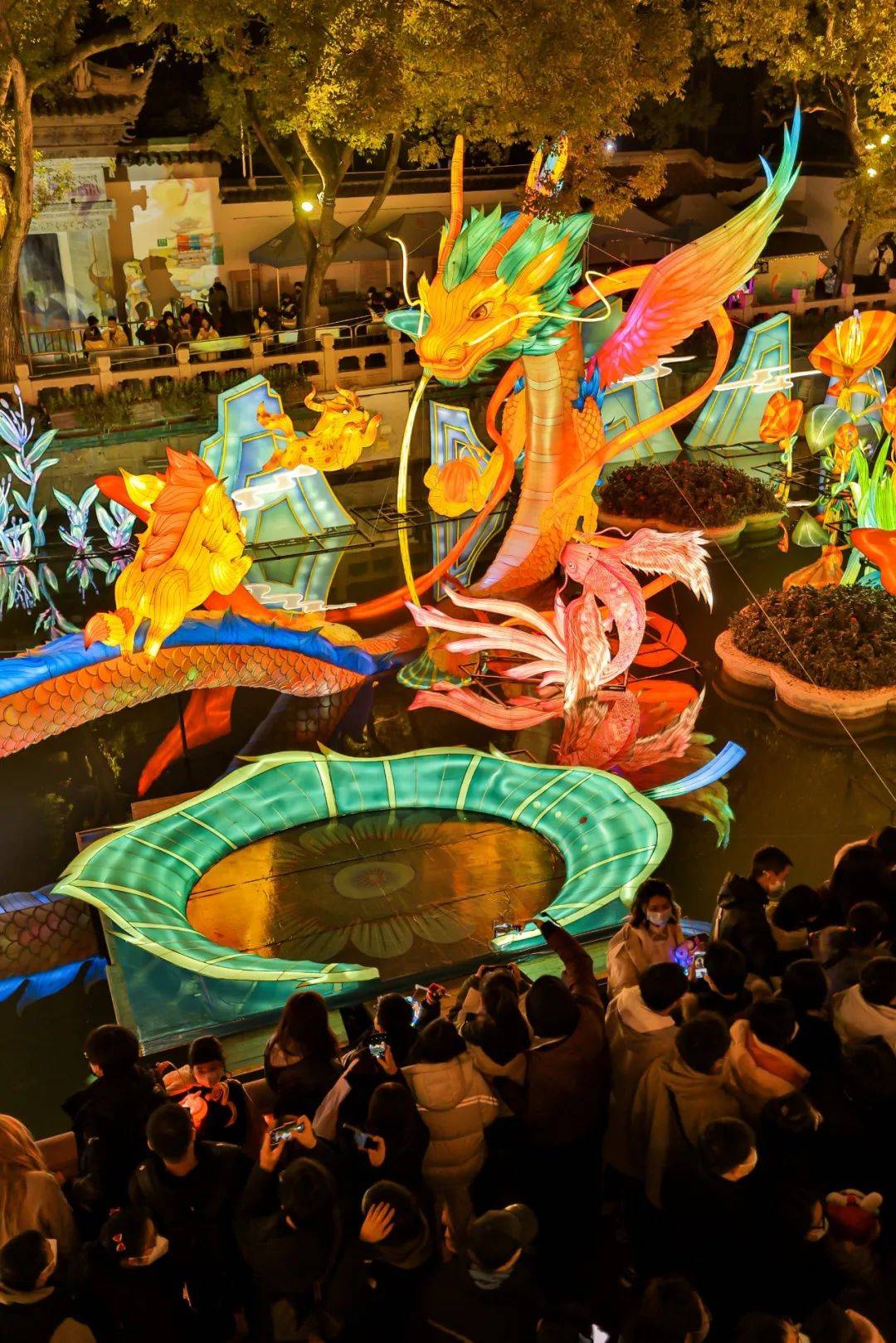 Come and enjoy the Chinese traditional dances which many people enjoy and love to participate in, this feast for the eyes is not to be missed!
This year's Jiuqu Bridge, the dragon has wings and is soaring to the heavens. Walk across the Jiuqu Bridge with your family and friends and pray for great fortune in the coming year.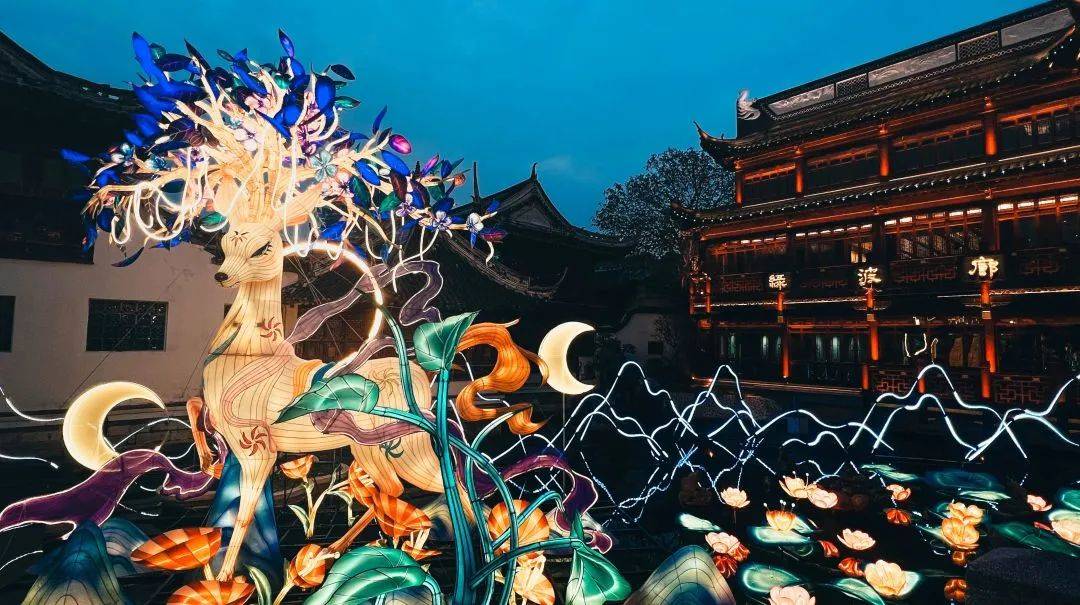 Strolling through the lake pavilion, if you're quick you might see the sprint of the white deer at first glance. It's magical antlers are especially eye-catching, that people can't take their eyes off it!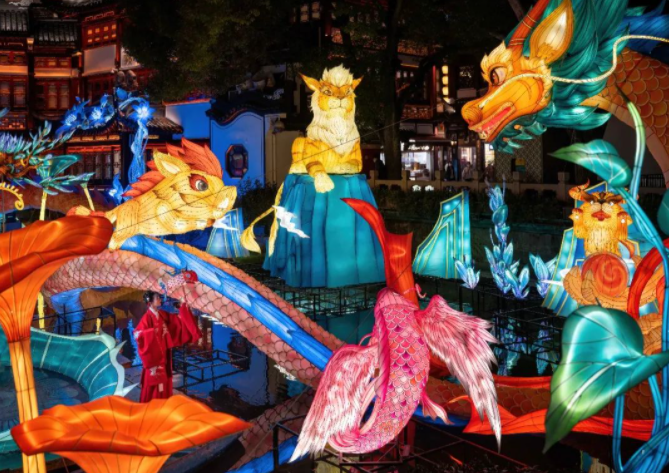 This year, the Five Happinesses, rabbits, magpies, dogs, turtles and bats, which here represent the most auspicious of animals, have formed the Jiangnan Silk and Bamboo Band and have appeared as a dynamic group.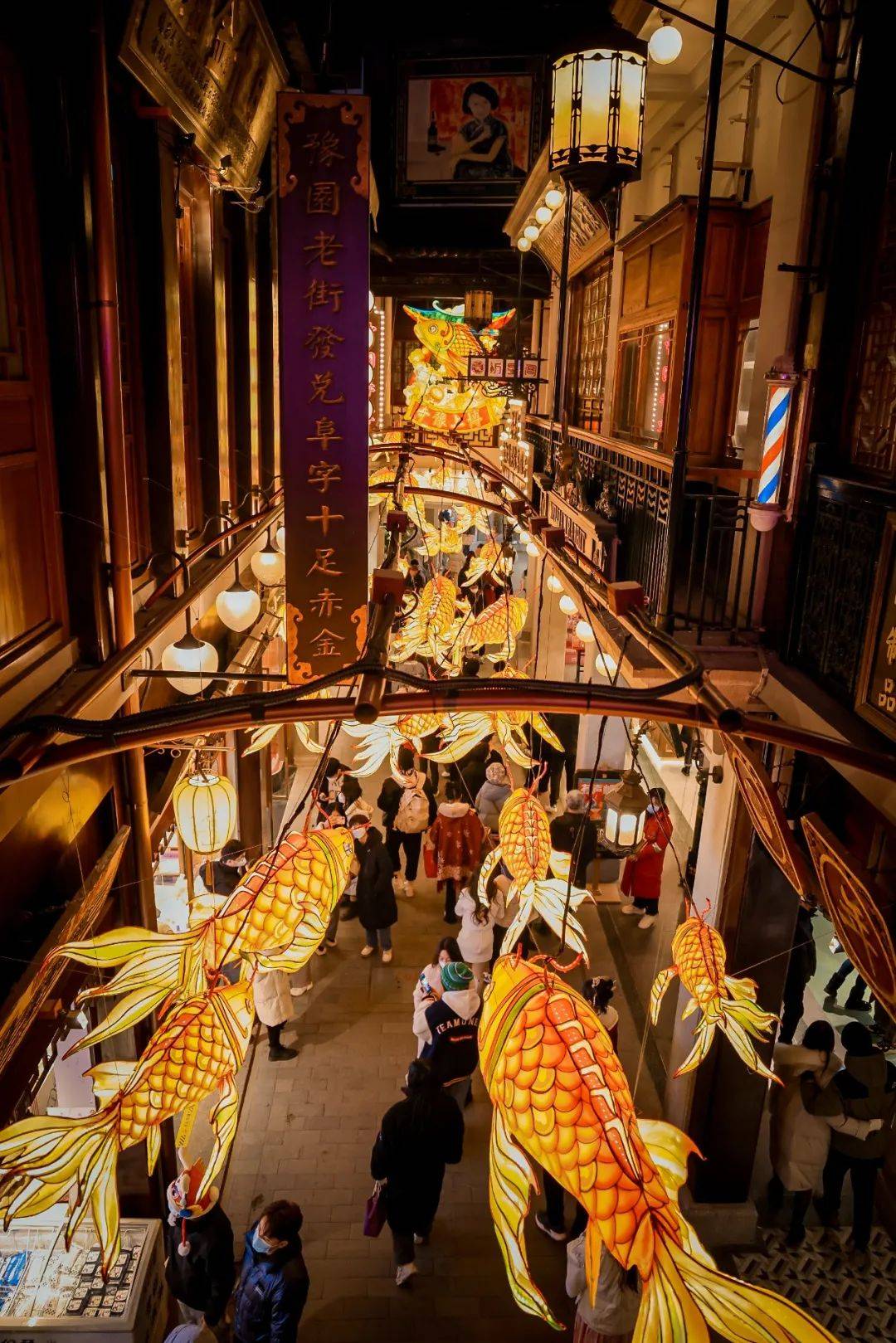 As you wander the delightful old streets of Yuyuan Garden, you will take in the joint presentation of Yuyuan Garden and Shanghai Museum. Look up and you'll see a koi from the Shanghai Museum's collection, wishing you the best of luck and good fortune!
Amazing scenes await you throughout your visit to Yuyuan Garden. At Golden Square, Yuyuan Old Street and Ninghui Road you will be able to enjoy different artistic lantern groups, and you will be lucky enough to see beautiful lantern group jointly created by Disney and Shanghai Museum for an extra special treat! Make sure you explore these fantastic creations for yourself.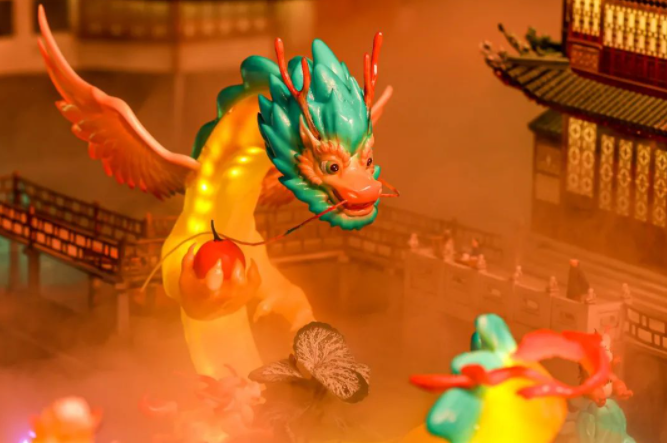 At 4pm every evening a special event will occur. Thousands of spectacular lights will appear almost instantly, magically transforming the whole environment into a fantasy wonderland almost instantly! This is something you will have to see yourself to believe, a breath-taking moment that is worth experiencing for friends and family alike.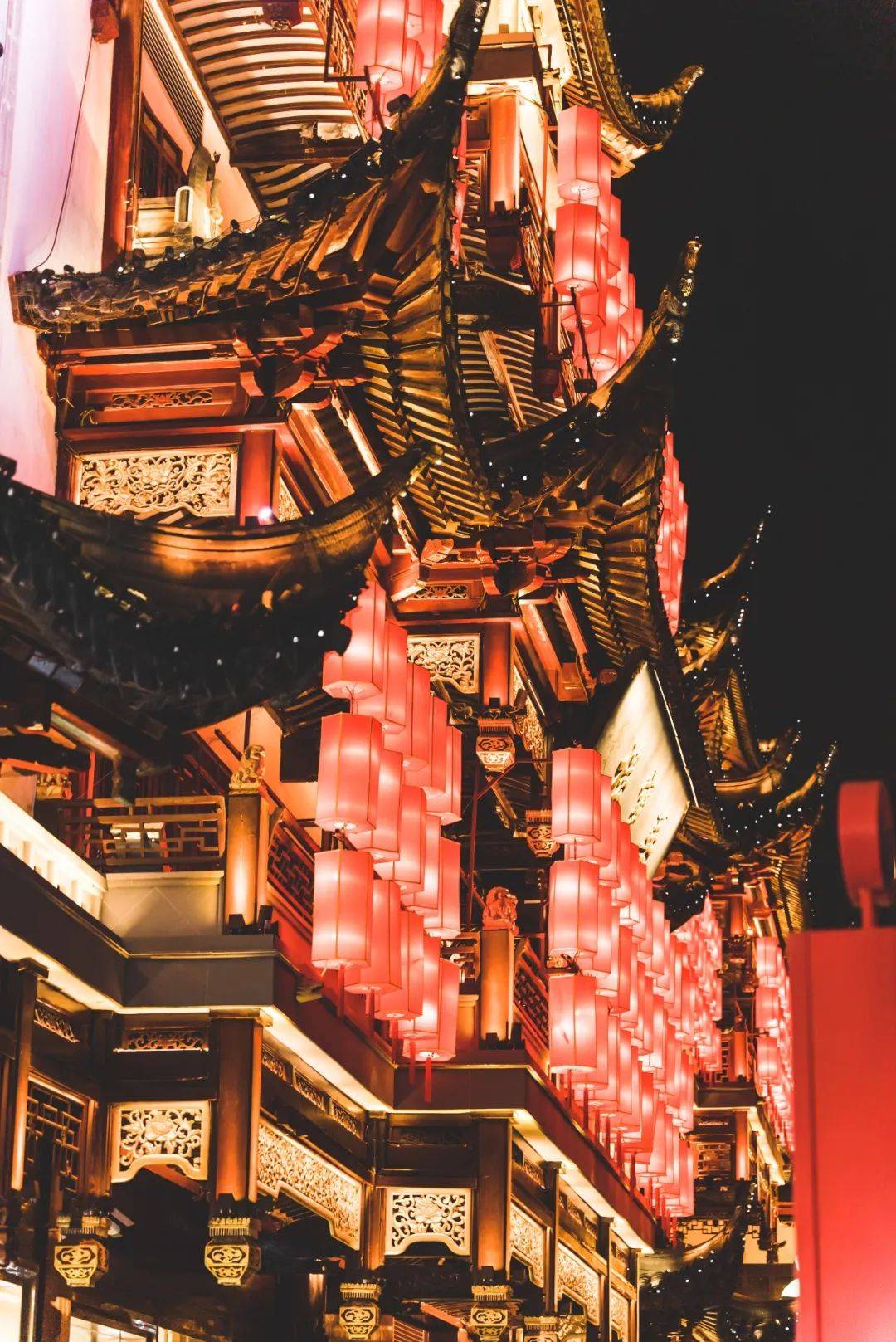 The theme of this year's Yuyuan Garden Lantern Festival is based around a celebrated classic of Chinese mythology, the famous Shan Hai Jing. This The aim was to create an incredible lantern show based around the events of this celebrated myth, from which many traditional Chinese cultures draw inspiration from even today.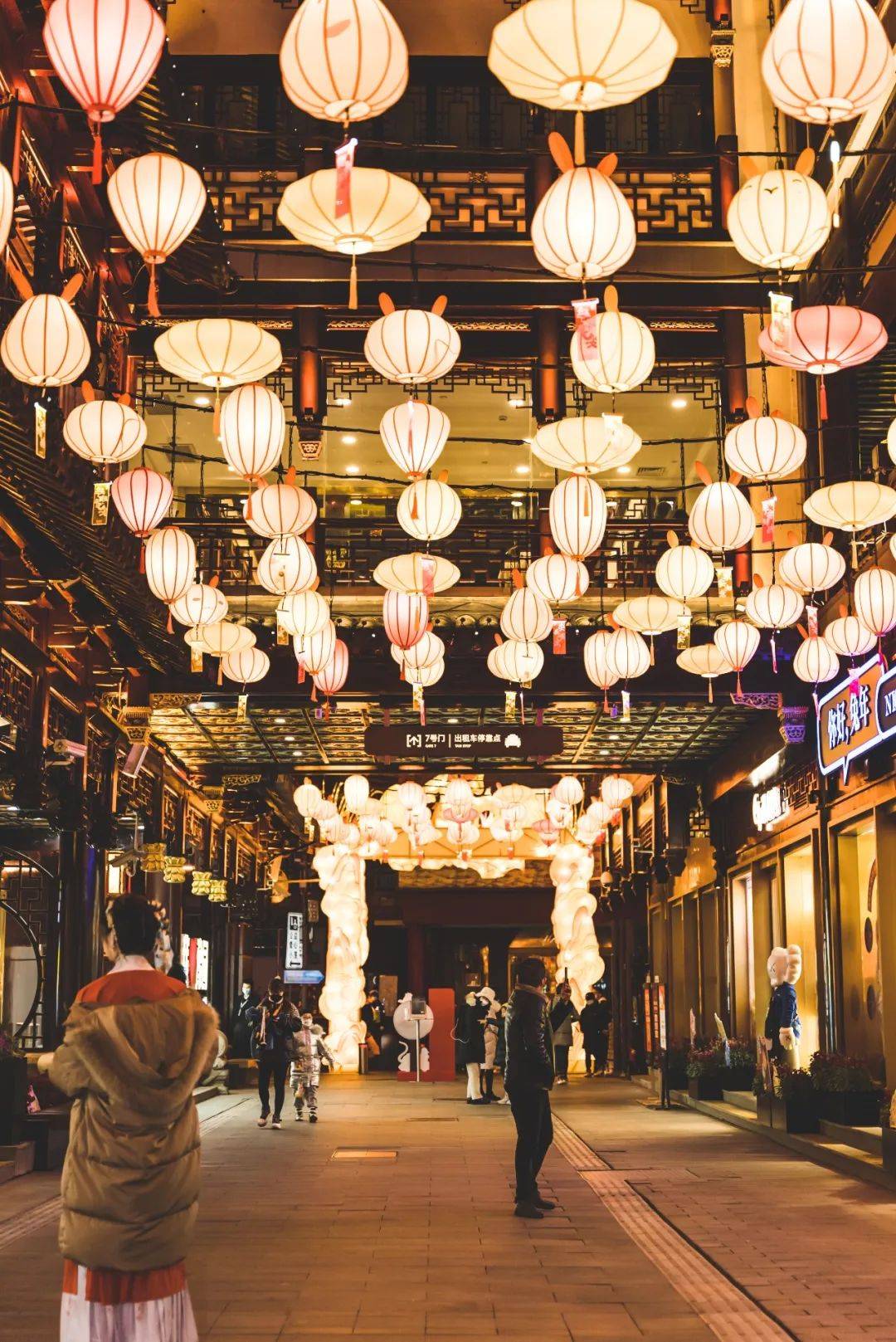 NPC From the past!
Wandering around the lantern festival, there will also be incredible surprise encounters! The Jade Rabbit Fairy, the Flower Fairy, the Scholar, the Goodsman and the General, five NPCs have come to join us from ancient times. They will variously stop at different locations, interacting with the public and tourists enthusiastically, giving traditional gifts and conveying the joy of this special moment!

Lantern riddles
Guessing lantern riddles is one of the most popular traditional folklore activities of Chinese people during Spring Festival and Lantern Festival too. This year, Yuyuan Garden has set up several interactive lantern riddle areas to customize lantern riddles with regional themes to provide the crowds with the fun and challenge of solving riddles to the end!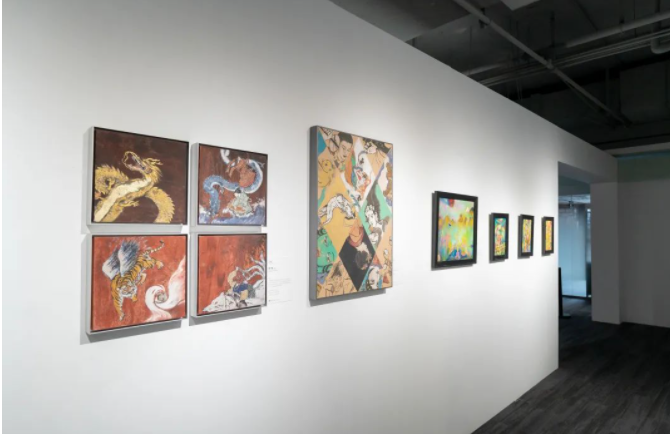 Shan Hai Jing art exhibition
In the Huabao Building, the theme of friendship in the floating life is the theme of the excellent Shan Hai Jing art exhibition.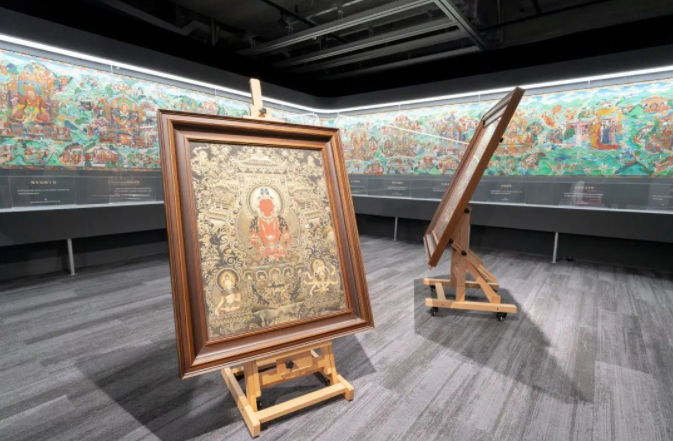 Rabbit lanterns
During the Year Of The Rabbit Lantern Festival, rabbit lanterns will bring joy and smiles to everyone and demonstrate the traditional Chinese New Year atmosphere for all to appreciate. A total of three limited edition Rabbit Lanterns will be available during the show for people to enjoy. The sense of ceremony and tradition is definitely not to be missed.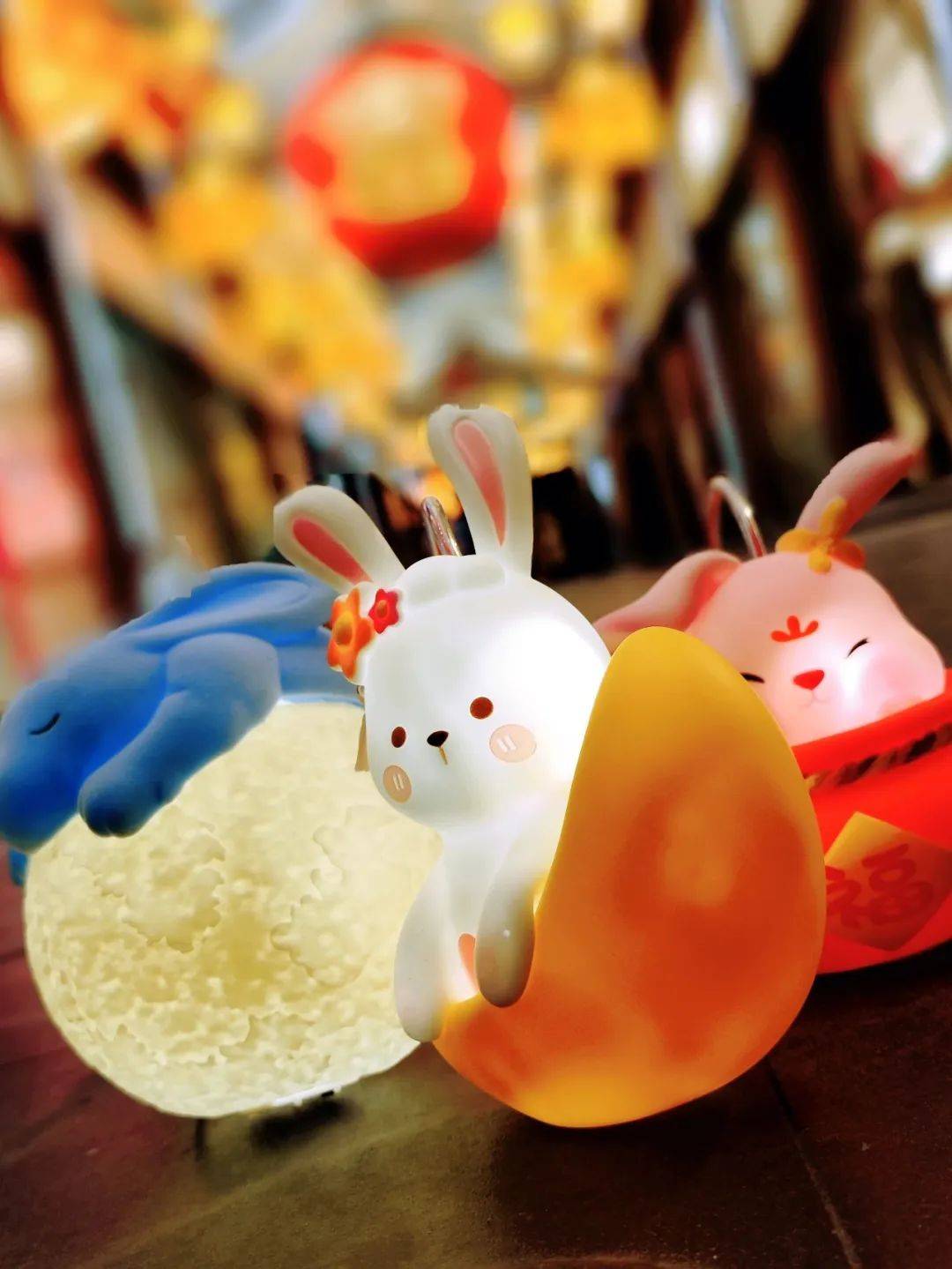 Chinese New Year classes
Yuyuan Garden is offering Chinese New Year classes on intangible cultural heritage for free! Experience the Hand-written Chinese New Year scrolls and handmade incense pouches to add to the festive atmosphere. This is an exciting opportunity that you won't easily find elsewhere! Yuyuan Garden offers local people and foreign visitors both a genuinely immersive cultural experience.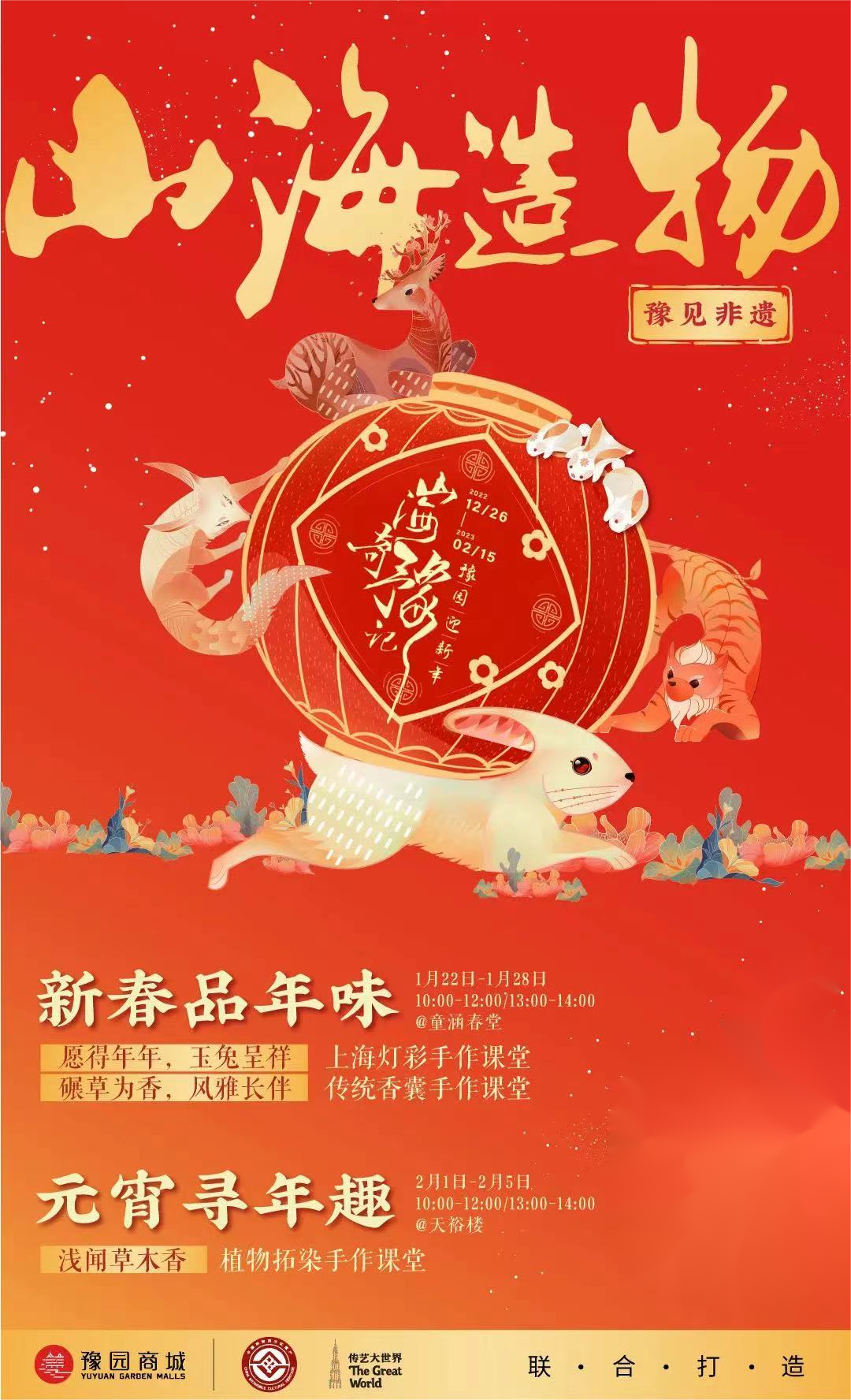 Satisfy your Shanghai appetite with delicacies!
1. A must-see for folk customs in the south of the Yangtze River, New Year's blessing Yuanbao tea!
It has been a unique folkloric activity for Shanghai people to go to Hu Xin Ting Tea House during the Chinese New Year to drink Yuanbao tea for good luck. Drinking Yuanbao or 'ingots tea' is very important for for local Shanghai residents and definitely worth experiencing for yourself. It is named so because the the shape is similar to that of an ingot, and in Chinese the meaning and symbolism of ingots is something beautiful which can bring you wealth and happiness each year. Sitting at the Hu Xin Ting Tea House with your family and friends and drinking Yuanbao tea during Chinese New Year is a great way to pray for good fortune and warmth!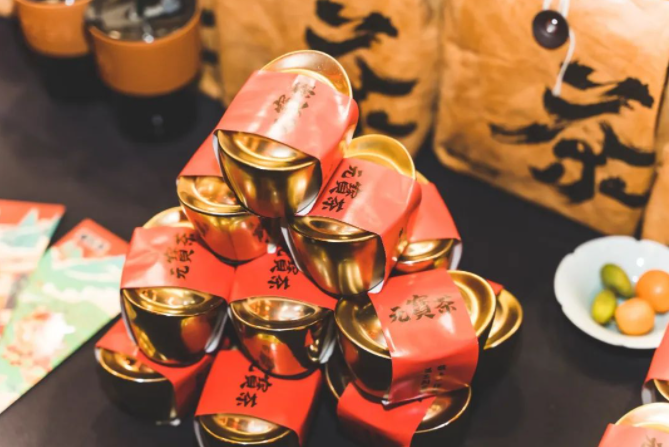 2. The century-old Shanghai restaurant with delicious authentic Shanghai local food!
Established in 1875, the Shanghai Classical Restaurant is a legend of local cuisine. Many Shanghai locals have the habit of coming to the Shanghai Classical Restaurant for their New Year's Eve dinner.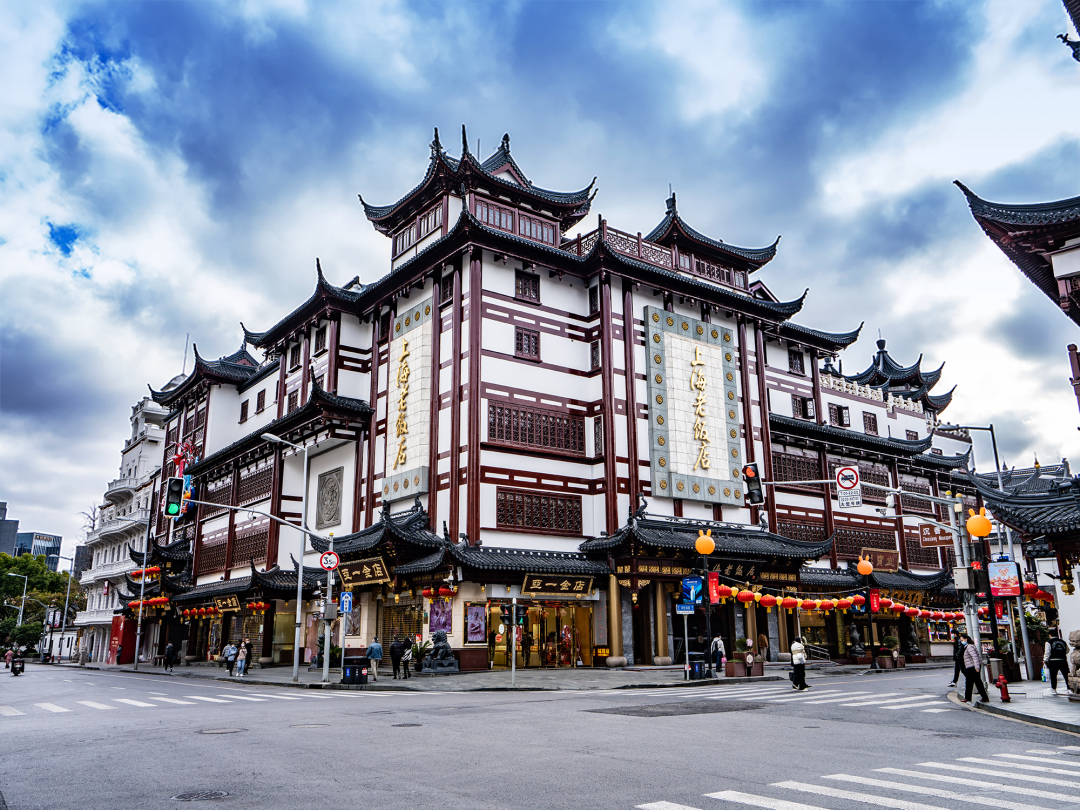 The celebrated chef Luo Yulin, the chef of Shanghai Classical Restaurant, is the fifth generation of masters cooking dishes and recipes accurately reflecting China's intangible cultural heritage. It was him who first recommended the 12 Intangible Cultural Heritage Courses which include such luxurious and traditional dishes as Eight Treasure Duck and Shrimp and Large Black Ginseng among many others. These treasured and flavoursome dishes are a genuine taste of Chinese New Year and offer a fascinating insight into the best that Chinese cuisine has to offer.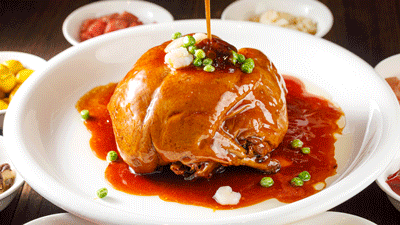 Don't miss this amazing opportunity to experience the customs and culture of a traditional Chinese New Year at Yu Garden.