👉 Premium handcrafted bottled cocktail
👉 Award-winning mixologist
👉 Delivery within 3 Days
👉 Top-quality experience
👉 Enjoy at home
Whether you're throwing a party, doing a DIY date night, or just having a solo night in, there's no reason we can think of that you shouldn't be sippin' on a fine cocktail throughout. And we're not just talking a random mix of the weird booze you found at the back of the cupboard. We're talking the real deal.
LAIBA Beverages is Asia's premium handcrafted bottled cocktail company. It offers a range of classic and signature cocktails that are carefully curated by Michael Chen, one of Asia's Top Mixologists with experience running bars in "World's 50 Best".
LAIBA cocktails have long shelf life but do not compromise at all on quality. All ingredients are 100% natural and are what you'd expect to get at the best bars in the world.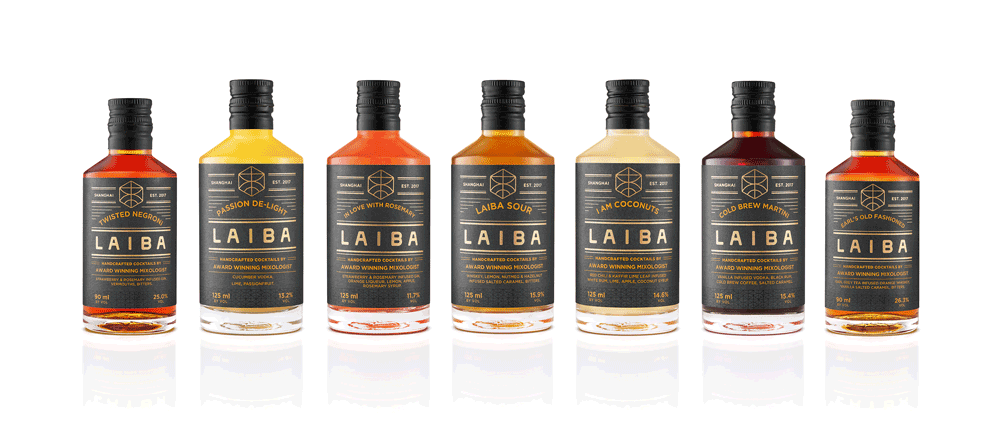 LAIBA Packs
GANBEi Collection (6-pack): 2x Cosmopolitan, 2x Coco Mojito, 2x Pineapple & Basil Margarita
Romantic Pack (4-pack): 2x In Love With Rosemary, 2x Cold Brew Martini
Gentleman's Pack (4-pack): 1x LAIBA Sour, 1x Cold Brew Martini, 1x Earl's Old Fashioned, 1x Twisted Negroni
Tropical Pack (6-pack): 2x Passion De-Light, 2x In Love With Rosemary, 2x I Am Coconuts
Variety Pack (6-pack): 1x Passion De-Light, 1x In Love With Rosemary, 1x LAIBA Sour, 1x I Am Coconuts, 1x Cold Brew Martini, 1x Twisted Negroni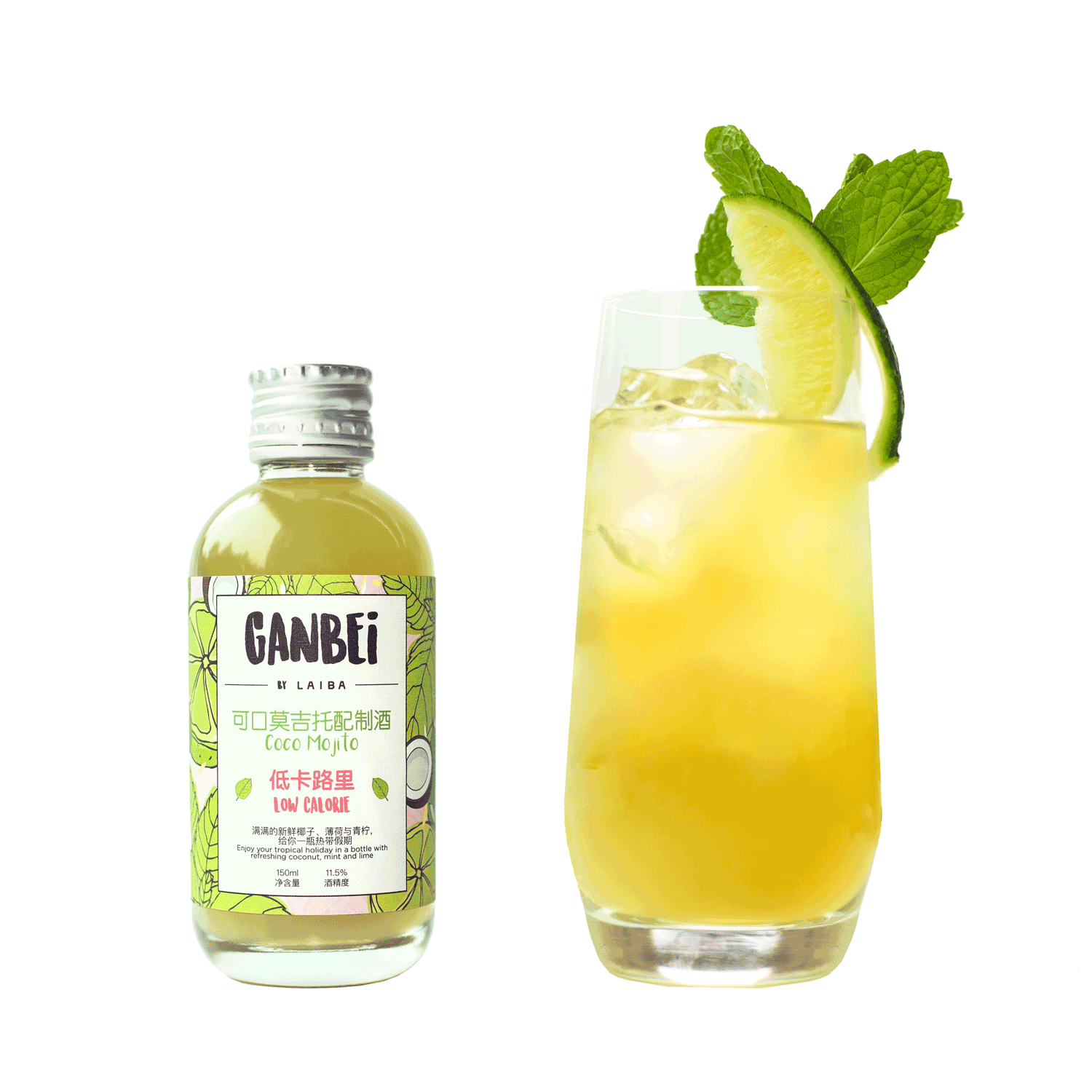 COCO MOJITO 11.5% ABV 150 ml
White rum, coconut liqueur, coconut water, mint juice, lime.
You've had a mojito before, but you've never had anything like this. Cool and balanced with that tropical taste of coconut to instantly transport you to the tropics.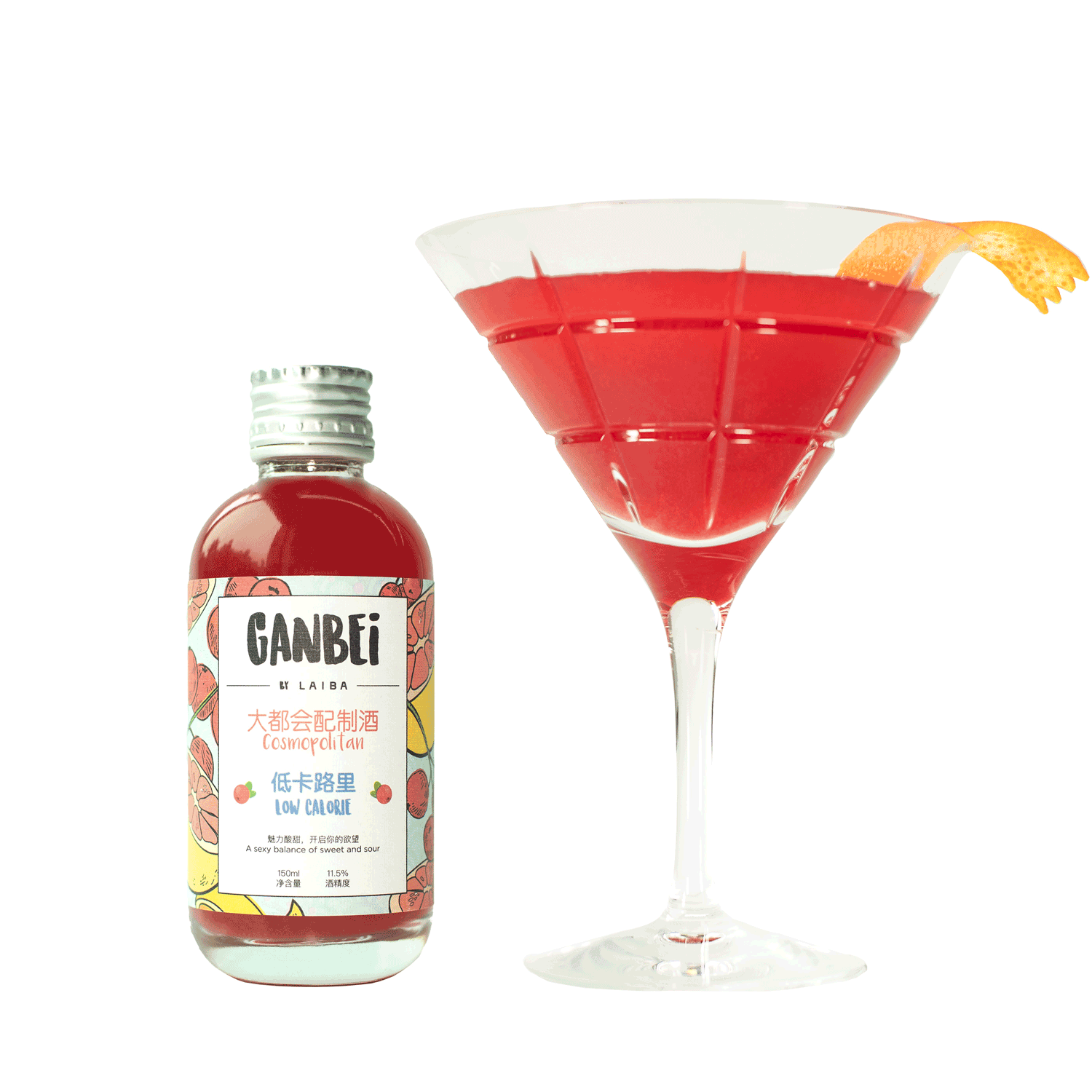 COSMOPOLITAN 11.5% ABV 150 ml
Vodka, LAIBA orange liqueur, mountain cranberry, lime.
A classic cocktail done right. Tart, fruity and oh, so smooth…the perfect drink for any metropolitan.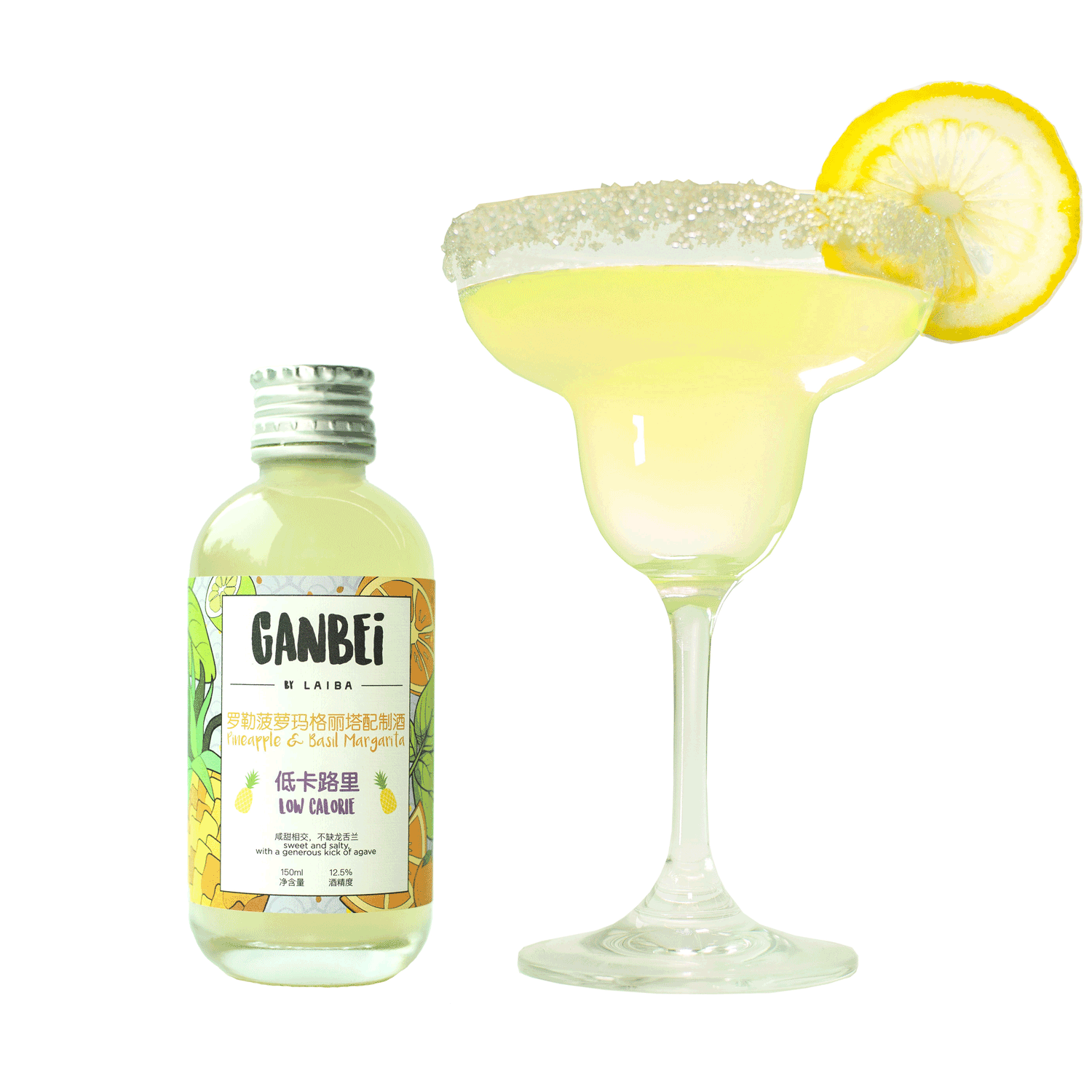 PINEAPPLE & BASIL MARGARITA 12.5% ABV 150 ml
Tequila, LAIBA orange liqueur, pineapple, basil juice, lime, Himalayan pink salt.
Whether you're on a beach in Mexico or in the heart of the city, this margarita takes you where you want to go. Sweet and salty; fulfilling yet light; flavorful to the extreme. You'll never forget your first taste, and it will never be your last.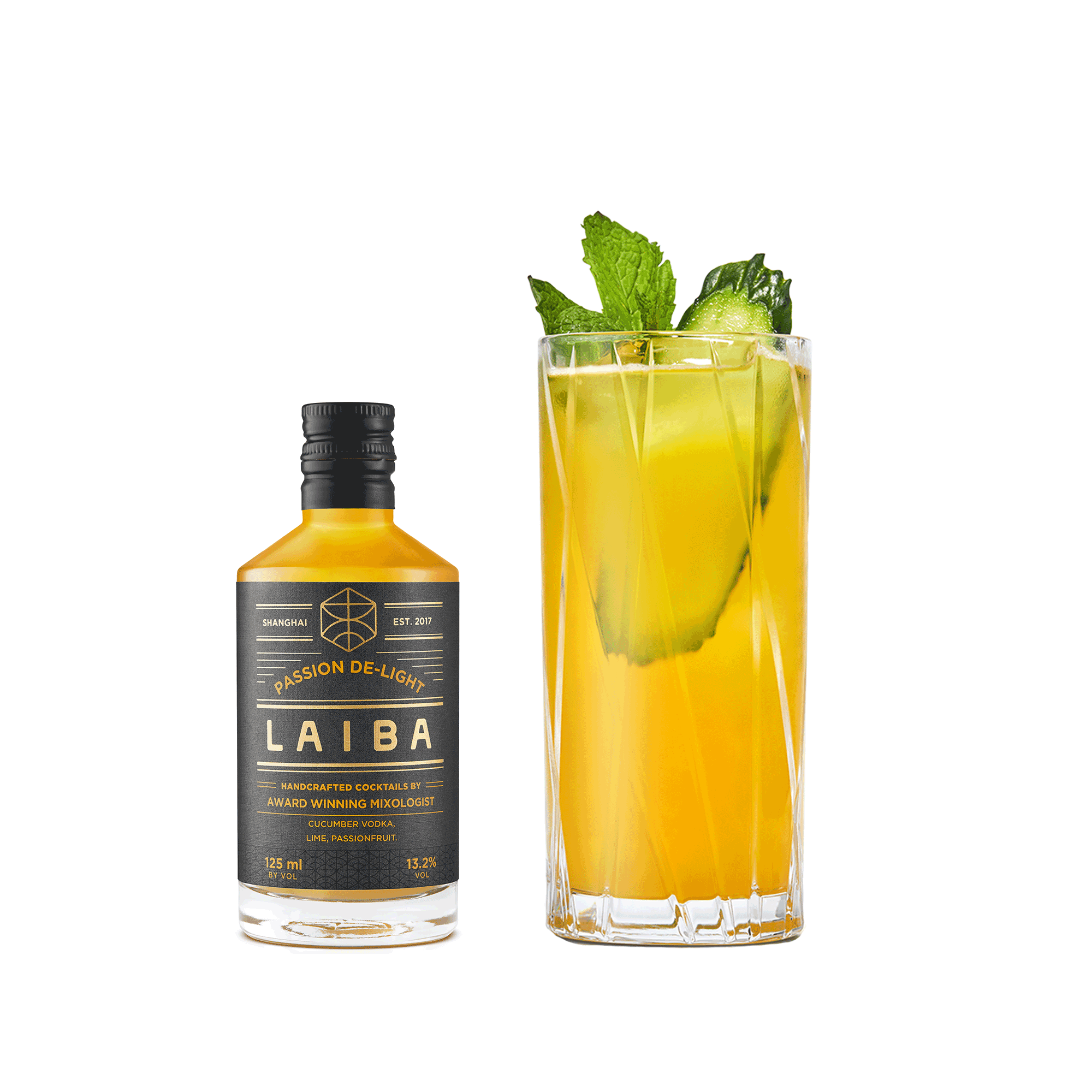 PASSION DELIGHT 13.2% ABV 125 ml
Cucumber infused vodka, lime, passionfruit.
Two words: passion and delight. Two emotions this cocktail is guaranteed to elicit. For those who want their drinks refreshing, not sweet. The tartness of the passionfruit will leave you wanting more - and with a low-calorie cocktail, "more" comes guilt-free.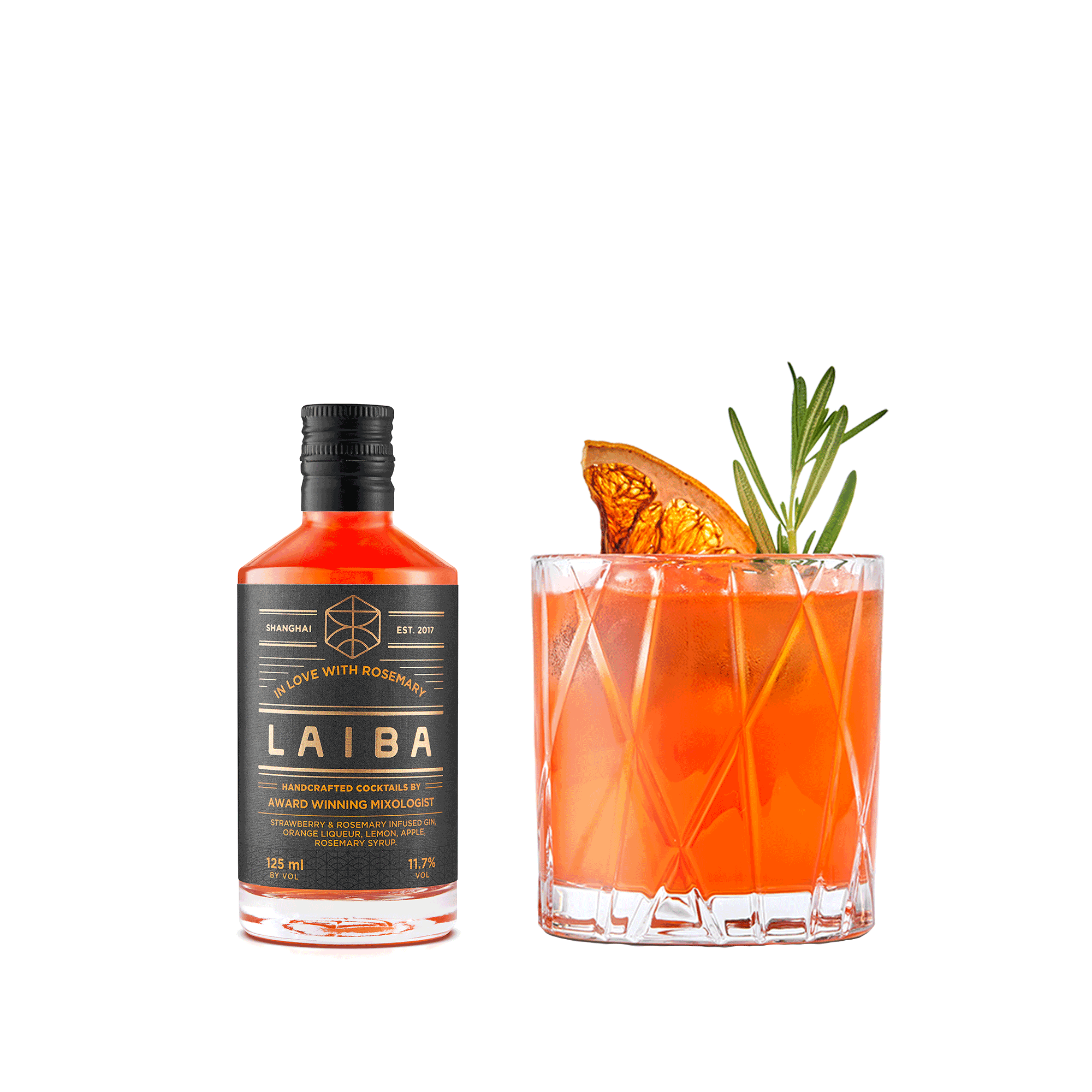 IN LOVE WITH ROSEMARY 11.7% ABV 125 ml
Strawberry & rosemary infused gin, orange liqueur, lemon, apple, rosemary syrup.
Sweet, yet light. Delicate, yet bold. Fruity, yet strong. You'll never forget your first taste of this drink, and you'll never remember how you weren't already In Love With Rosemary.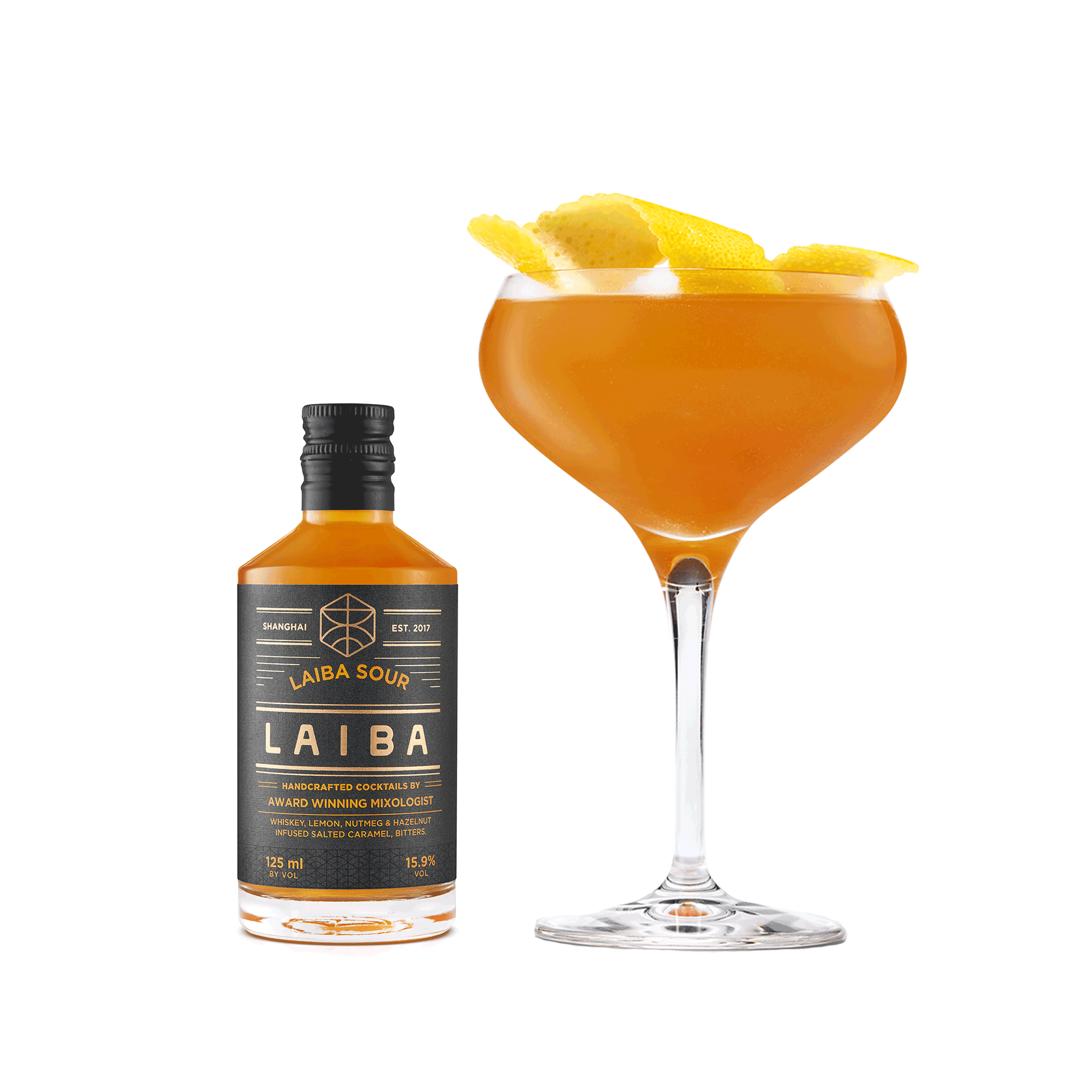 LAIBA SOUR 15.9% ABV 125 ml
Whiskey, lemon, nutmeg & hazelnut infused salted caramel, bitters.
The LAIBA Sour. So good we gave it our name. This bold take on one of the world's oldest cocktails elevates it to renewed heights. The delicate infusion of nutmeg and hazelnut play off of the classic sours to give you an experience truly worthy of the name.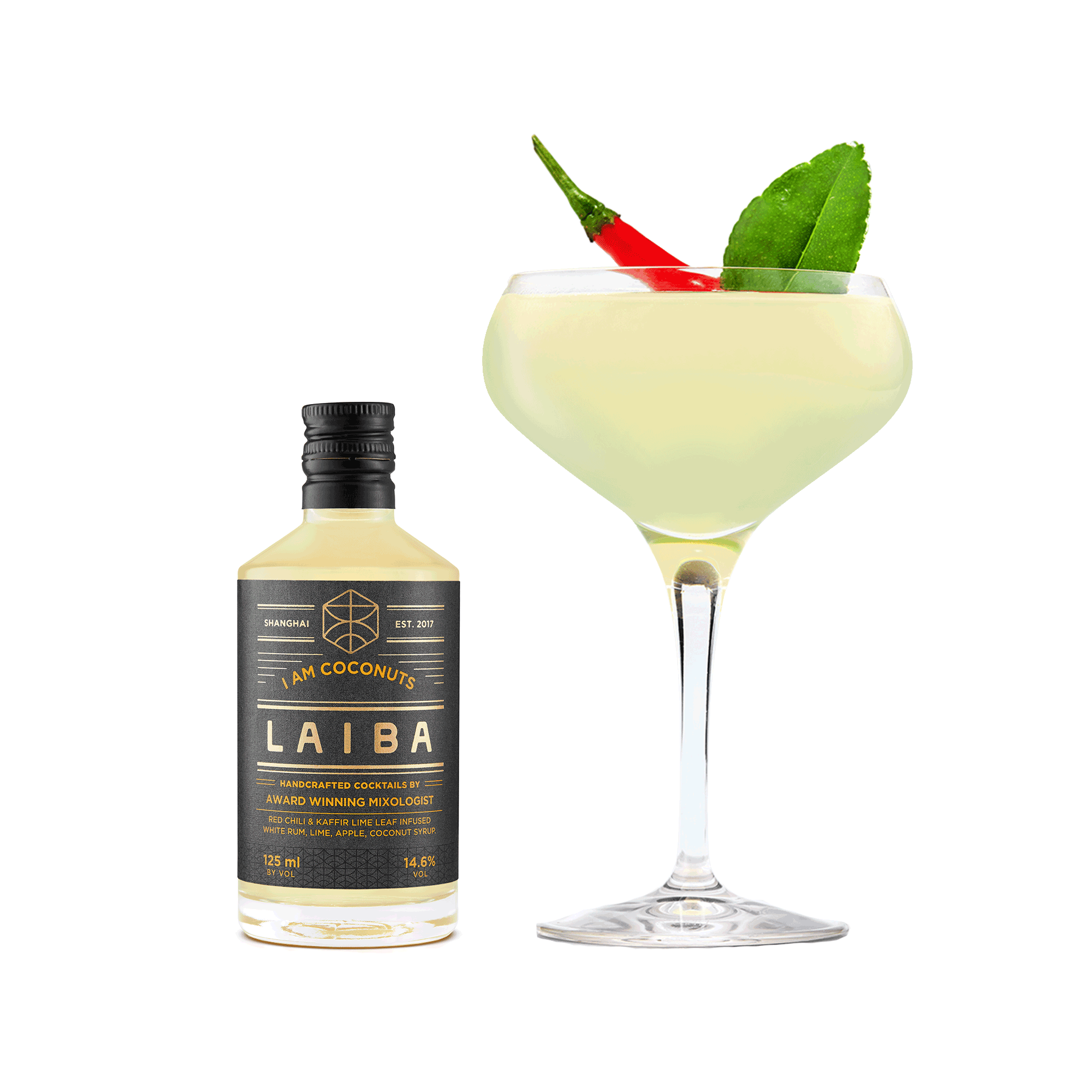 I AM COCONUTS 14.6% ABV 125 ml
Red-chili and kaffir lime leaf infused white rum, lime, apple, coconut syrup.
This sweet and refreshing cocktail is reminiscent of a pina colada, but ours packs a punch; a hint of chili sets your taste buds alight. The tropical blend of flavours makes for an unforgettable cocktail and whether it's summer or winter, you'll surely be saying: I am coconuts.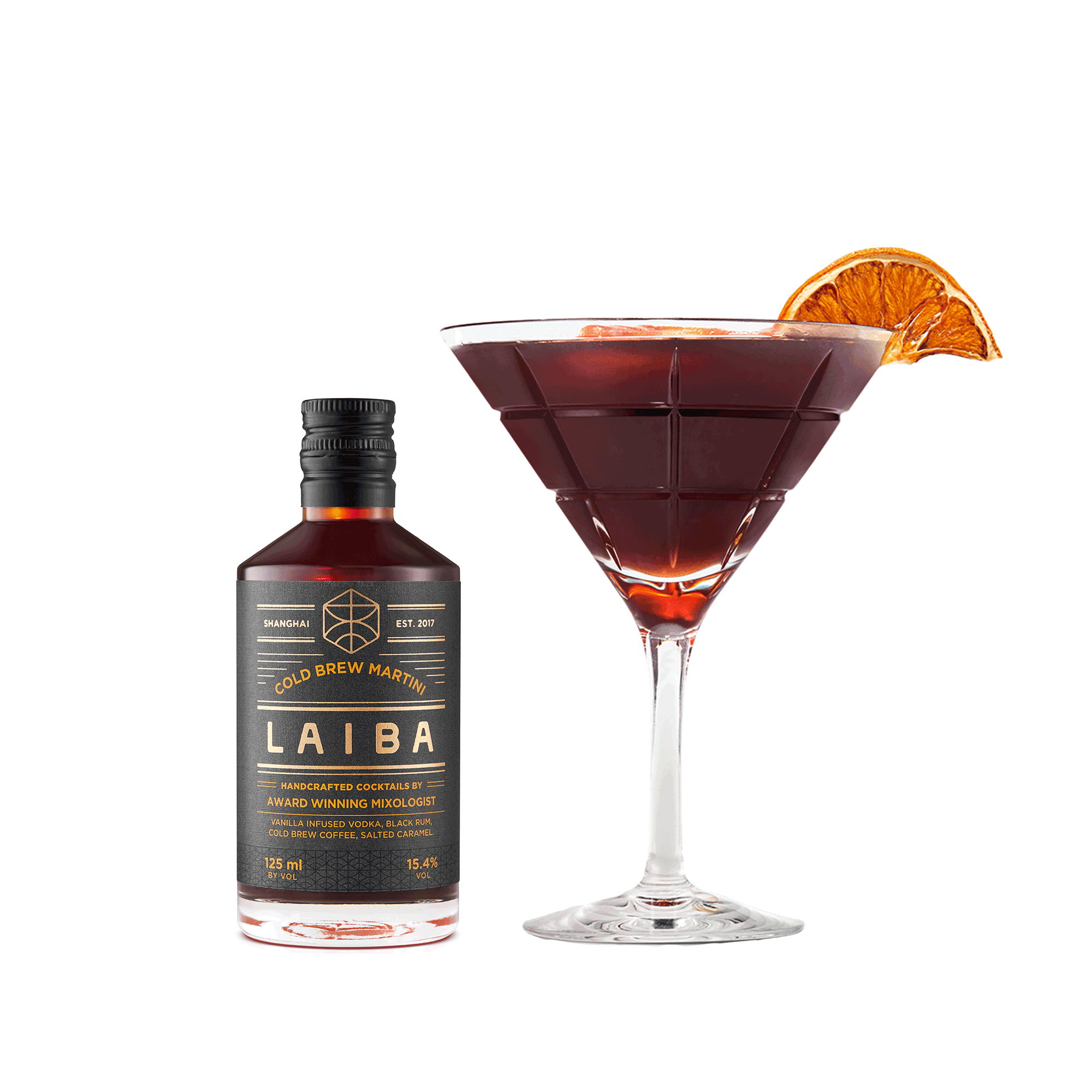 COLD BREW MARTINI 15.4% ABV 125 ml
Vanilla infused vodka, black rum, cold brew coffee, salted caramel.
The rich blend of sweet and luxurious flavours combine to make a truly decadent cocktail. The smooth finish of a cold brew coffee paired with the heavenly sweet tastes of vanilla, chocolate and caramel sets this cocktail apart from its peers. A drink fit for the hedonists: best served shaken, not stirred.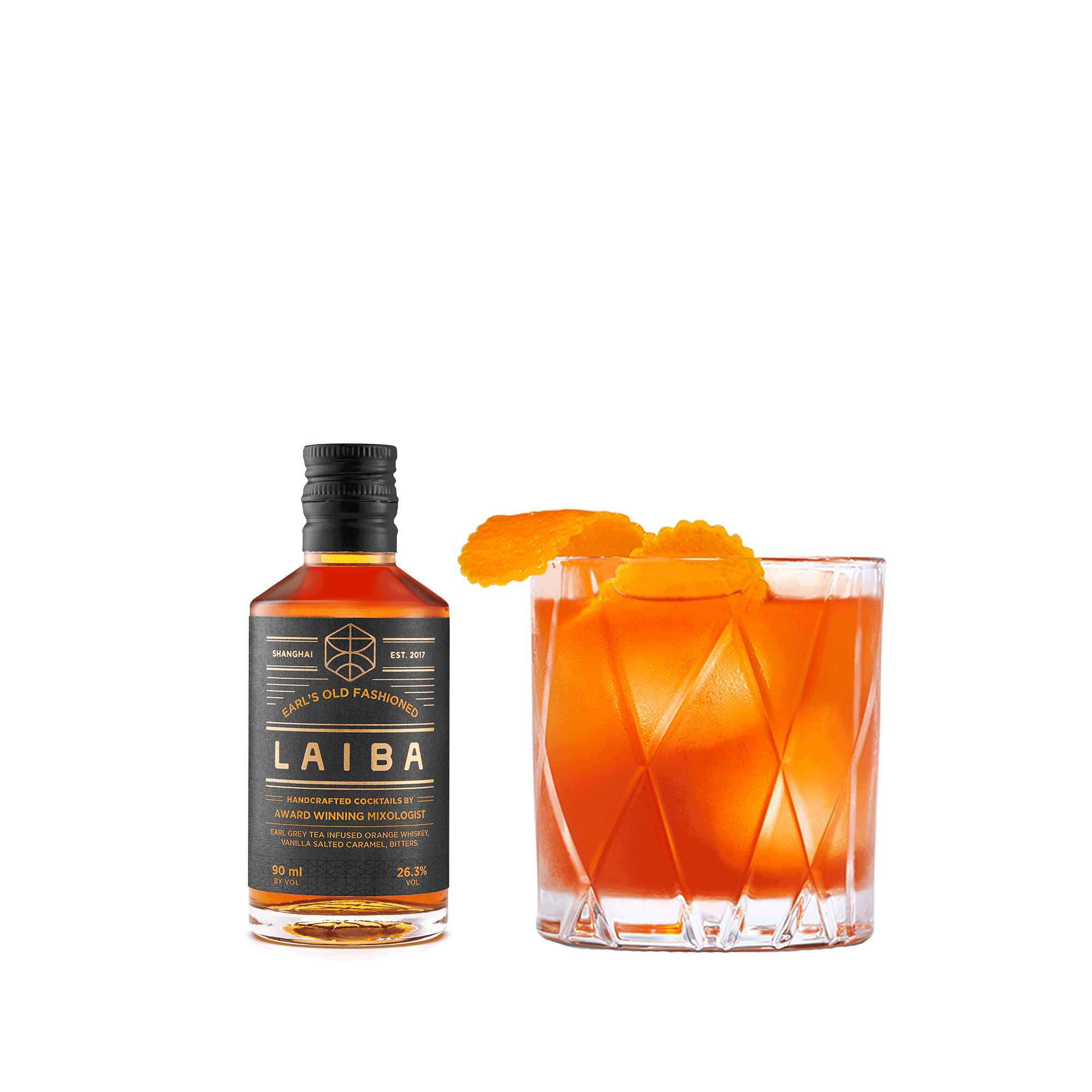 EARL'S OLD FASHIONED 26.3% ABV 90 ml
Earl grey tea and orange infused whiskey, vanilla salted caramel, bitters.
For the distinguished drinker, this classic cocktail is a staple of anyone's cocktail repertoire. Our recipe blends cultures by adding a decidedly British influence to this classic American cocktail, infusing whiskey with tea to set this drink apart from the crowd. Stand out while staying true to tradition with a LAIBA Earl's Old Fashioned.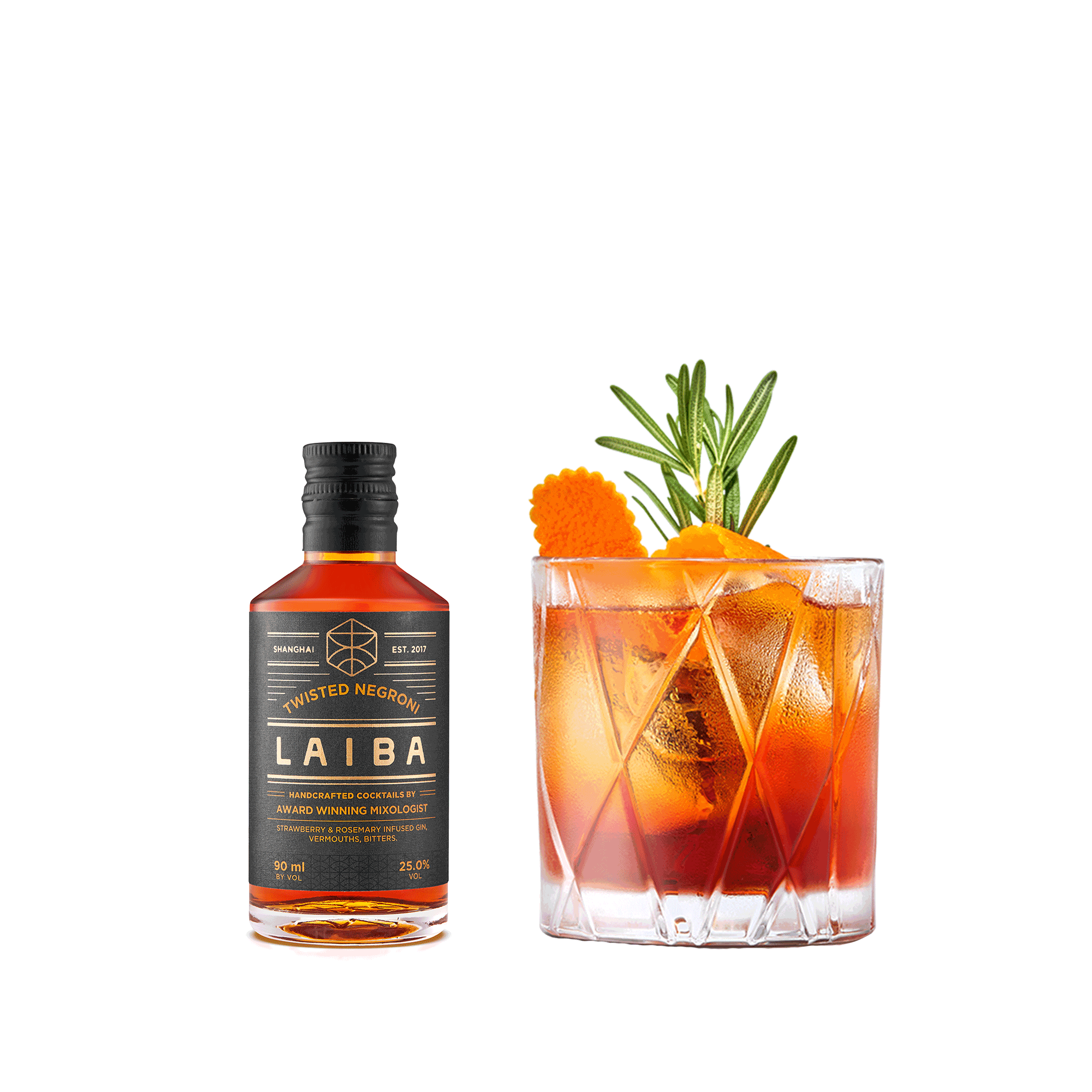 TWISTED NEGRONI 25.0% ABV 90 ml
Strawberry and rosemary infused gin, a blend of vermouth, bitters.
A classic negroni will take you back to Italy, with its simple recipe and refreshing bitterness. However, a Twisted Negroni will knock your taste-buds straight into the colosseum with its punchy fruity undertones and bold flavours.