👉 Book in Advance
👉 Receive E-ticket via Email
👉 Show Your E-ticket @ Venue
👉 No Cancellation
ORIGINS at The COOK, the main restaurant, features live show kitchens and a gourmet delicatessen with seating for 365 people, including an outdoor patio. ORIGINS offers the unbeatable combination of authentic dishes, sourced from their homelands and from nature, fresh, sustainable and delicious, prepared by talented chefs whose origins give them an innate understanding of these cuisines: real food, real people. ORIGINS is a feast for the senses with à la carte and buffet offerings drawn from 13 kitchens featuring the best, most authentic versions of dishes from around the world.
Warm, personal service offers a comfortable, welcoming atmosphere for guests to relax and savour life's simple pleasures: eating, drinking, and sharing. Each of the 13 stations offers deliciously authentic versions of dishes from home and abroad, cooked fresh. The overall culinary experience is a global culinary snapshot: from Chinese wok and steam baskets to an Asian noodle station and the Japanese sushi, sashimi and yakitori kitchen. An orchard deli and butchers' block, an Asian barbecue station, a coffee counter, beverage bar, the patisserie, the wine cellar and cheese vault round out the culinary smorgasbord. When it comes to the ingredients, each of the 13 kitchens focuses on meticulously sourced ingredients from trusted local suppliers and international artisanal producers ensuring the highest standards of quality and freshness.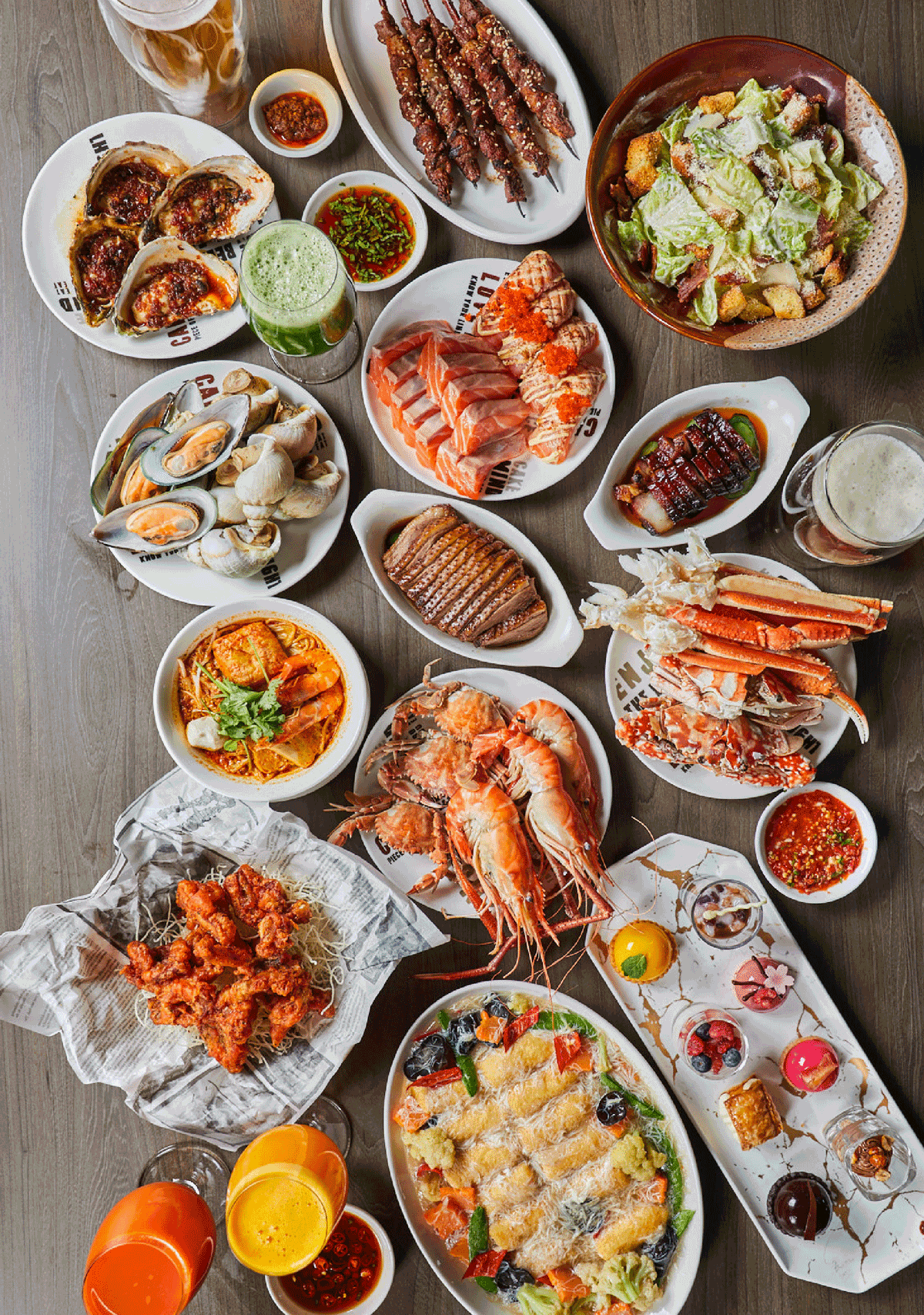 Salad Bar: Features a vertical wall displaying fresh produce by Shanghainese farmers and accoutrements for guests to create their own salad creations.
Western Kitchen: Pasta Kitchen & Butcher's Block: Includes a selection of pastas and features a daily homemade specialty prepared and served a la minute, Western soups such as traditional New England seafood chowder and a daily chef's special. Homemade sausages and burgers along with grilled cuts of meat, such as beef rib-eye, rack of lamb and pork ribs, as well as oven-roasted or grilled seafood and poultry will be available to order in or take away. In addition, a selection of small plates and sides such as carpaccio, garlic spinach and grilled asparagus, are on offer.
Japanese Grill, Tempura and Sushi/Sashimi Kitchen: The COOK's Japanese kitchen benefits from seafood being delivered directly from China's coastal areas of Dalian and Qingdao as well as from Australia. Freshly prepared sushi and sashimi, from a experienced culinary team, will be available to order by the piece or from a selection of platters made for sharing.
Wok & Steam Basket Kitchen: Asian and local Chinese favourites are made-to-order and delivered piping hot from the Chinese kitchen's wok and griddle. Traditional steamed classics such as Shanghai's famous xiaolongbao (pork dumplings) as well as oversized steamed buns with honey roasted pork, take centre stage.
Asian BBQ Kitchen: Featuring a selection of Asian BBQ favorites including Chinese and Southeast Asian specialties. Guests can enjoy Canton-style roast duck or Malaysian chicken wings or satays with authentic peanut sauce and Filipino lechon (roast pork).
Asian Noodle Shop: A team of Malaysian hawker chefs, fresh off the boisterous streets of Kuching, Sarawak, bring originality, colour and lots of spice to the Asian Noodle kitchen. Armed with generations-old family recipes, these chefs have their own unique style of noodle cooking and preparation, mixing and matching flavours and spices. For guests seeking authentic street food flavours in a luxe setting, classics such as seafood laksa (curry) and Sarawak kolomee (dry-tossed noodles) are a must.
Indian Kitchen: the Indian Kitchen presents authentic North Indian cuisine specialities, including Tandoori Lamb Chop, Lamb Shish Kebab and Butter Chicken. Using the traditional tandoori cooking method, guests no longer need to travel far for the real taste of India.
Thai Kitchen: the Thai Kitchen features authentic Thai dishes with a hint of Chiang Mai. Sample the ever-popular Papaya salad, Massaman Beef Curry and Thai Fish Cakes - you will be transported back to the Land of Smiles right here in The COOK.
Orchard Deli and Cupcake Counter: For the businessman on the go, the housewife in a hurry, or families and couples picnicking at Century Park across the street from the hotel, the Orchard Deli and Cupcake Counter offers a selection of take away sandwiches, salads and cupcakes.
Patisserie: Guests can indulge their sweet tooth on the wide selection of homemade chocolate goodies, candies, cupcakes, pralines and confectionery, as well as enjoy freshly baked pastries and breads.