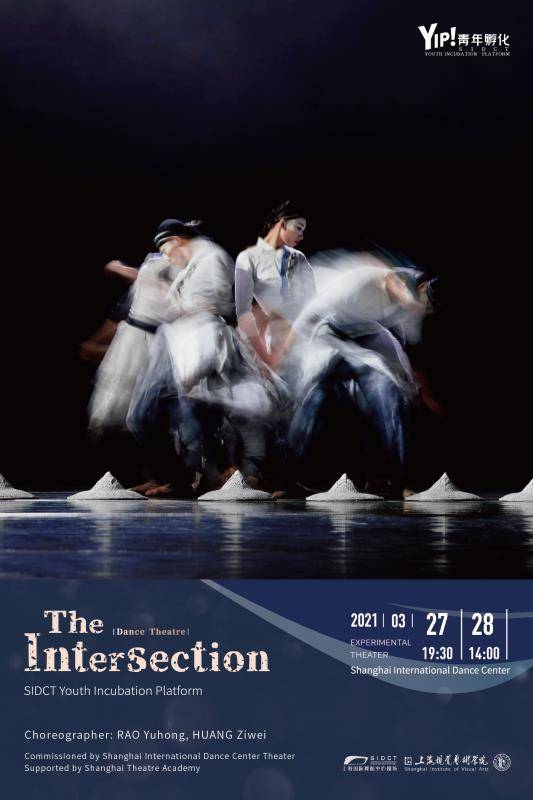 Redefining traditions, it is a meeting between Peking Opera and Chinese Classical Dance.
Presenting modernity, it is a conversation between guqin, bianzhong, and piano.
Who will win the war between the idealists and the pragmatists? A group of people, with their plaited bamboo hats, found themselves standing before a three-forked crossroads, the centre of conflict.
Where do they go from here, complying with the crowd, or following their own path?
Commissioned by Shanghai International Dance Center Theater
March 2021, the choice remains.
Introduction
One who wishes conformity follows the herd; one who seeks his own path treads alone. Where should one go in front of a three-forked crossroads? Should one comply with the crowd and follow the public opinion? Should one stick to his path and set out on his own? The answer lies within their hearts.
At some point in our lives, we all stand in front of a said crossroads, hesitant to decide. A three-forked crossroads is a junction of three roads; it reflects on the reality of making life decisions.
This theatre piece draws its influence from the famous Peking Opera, San Cha Kou 三岔口. It keeps the classic image of the crossroads and adds another traditional Chinese cultural symbol, the plaited bamboo hats. Together, it discusses a motif that echoes in the back of people's mind throughout time:
When we find ourselves in circumstances where survival requires sophistication and canny manoeuvres, should we continue to pursue the path towards the ideal that is innate in our hearts? While almost obstinately clinging to our ideals, will we lose hope to the world?
Words from the Choreographer, Rao Yuhong
Facing the crossroads between profits and righteousness, what should we choose? Some would weigh the pros and cons, and some, even presented with great benefits, would never trade the subtlest justice. Oftentimes, such persistence in righteousness goes unrecognised and unrewarded.
Similarly, facing the crossroads between profits and benevolence, what should we choose? Will we accept this world for its imperfection? Will we stick to our hearts and act accordingly?
These are the questions that this work wishes to discuss.
When we stop and stand before the three-forked crossroads, the different choices that we struggle to make reflect the different aspects of life.
Highlights
A dance theatre piece that finds its roots in Chinese Classical Dance and Peking Opera
San Cha Kou, one of the inspirations of The Intersection, is a famous Peking Opera, also known as Jiao Zan Fa Pei 焦讚發配 (General Jiao Zan exiled). It was adapted from Chapter twenty-seven and Chapter twenty-eight of Yang Jia Jiang Yanyi 楊家將演義 (The saga of Yang).
The original Peking Opera is celebrated for its unique, dangerous, and difficult choreographed fighting scenes, for example, fighting in the dark. It is an absolute spectacle. According to research, as early as two hundred years ago, in Daoguang fourth year (1824), Qing Sheng Ping Ban 庆昇平班 (Peace and prosperity theatre troupe) had San Cha Kou in its programme.
This dance piece, The Intersection, based in Chinese Classical Dance, incorporates the martial arts choreography from the original opera, and thus combines tradition and modernity.
A dance theatre piece that analyses ideal and reality
The conflict between ideal and reality is a relevant and eternal motif. Most people are pragmatists, but there are some who are idealistic. For instance, Socrates, in defence of his idea of a perfect Greek democracy, chose to face death. This dance piece borrows the figurative meaning of a crossroads in order to reproduce the struggles we have when we are forced to make a life choice.
Meanwhile, this work asks a question to the idealists: when your pursuit of ideal goes unrewarded and unanswered, will you be disappointed in this world?
A simplistic and symbolic dance theatre made with sincerity.
From traditional Chinese cultural image to the physical vocabulary of classical dance, from the traditional Chinese musical arrangement to the simplistic yet vividly expressive choreography, this innovative work takes its roots deep in traditions but not limited to it. It has the style of a traditional Chinese painting, as well as the form of a modern physical theatre.
The audience is guaranteed a touching experience in the stylistic theatre space that we created by joining the abovementioned two forces.
Creative Team
Choreographer: Rao Yuhong、Huang Ziwei
Dancers: Ren Henan、Su Jiabao、Xu Xi、Lou Jiacheng、Wen Geng、Wu Zixuan、Lu Yuhan、Ji Heyang
Costume Design: Yang Dan
Stage Design: Zhang Jixing
Lighting Design: Hu Jundong
Commissioned by Shanghai International Dance Center Theater