👉 Book in Advance
👉 Receive E-ticket via Email
👉 Show Your E-ticket @ Venue
👉 No Cancellation
---
Unlimited time and quality, eat until you are satisfied!
Japanese themed Dinner Buffet
Seafood boat: (one per table)
Spiny Lobster (half per person)
Abalone
Scallop
Salmon
Octopus
Sea ​​urchin
Salad Bar
Mixed lettuce, romaine lettuce, butter lettuce, drop balls, arugula, magnolia lettuce.
Cherry tomatoes, corn, red kidney beans, cucumbers, beetroot, carrots, bell peppers.
Salad ingredients
Pickled Cucumbers, Cocktail Onions, Pickled Olives, Bacon Minced, Cheese Grits, Crisps, Boiled Eggs,
Sauce
Caesar Sauce, Thousand Island Sauce, Japanese Sesame Sauce, Vinaigrette, Virgin Olive Oil, Italian Vinegar
Appetizers
Pumpkin Salad
Crab and Cherry Tomato Salad
Spicy Cucumber Salad
Potato salad
Japanese Seaweed Salad
Grilled Beef carparccio with Sea Wakame
Boiled Edamame
Wasabi octopus
Sauce Okra Fungus
Sichuan Pickles
Seafood on ice
Cooked Grass Shrimp, Mussels, Clams, Razor clam, Chilled Plum Crayfish
Sashimi table
Fresh salmon, tuna, Yellowtail, snapper, sweet shrimp, arctic surf clam, octopus, sea urchin, vinegar mackerel
Sushi table
Hand Roll (Salmon, Tuna, Snapper, Sweet Shrimp, Tamagoyaki, Octopus)
Sushi rolls (tuna, cucumber, kimchi, daikon)
California Roll (Tuna Salad, Salmon Avocado, Shrimp with Wasabi Mayo, Grilled Eel)
Soup
Japanese Clam Tofu Soup
Yam Soup with Pork Ribs or Old Chicken with Peanut and Lotus Root
BBQ
Slow-roasted beef brisket
Miso Butter Sauce with Black Pepper Sauce, Dijon Mustard, Beaumer Mustard, Pommery mustard, Aioli
Teriyaki Pork Pizza, Seafood Pizza with Bonito Flakes

Japanese Yakitori
Onion chicken skewers, chicken heart skewers, chicken gizzard skewers, sweet pepper beef skewers, garlic skewers, mushroom skewers
Chopped green onion, sesame seeds, sterile egg, teriyaki sauce, lemon, mustard
Noodles
Japanese Tonkotsu Noodle Soup
Udon, Ramen
Japanese fish cake, Japanese BBQ Pork, Sea Wakame, Green Onion, Shichimi powder
Japanese Teppanyaki
Pan-fried oyster meat, shichimi lamb chop, mackerel, Shishamo fish
Live Tempura Station
Prawn, Asparagus, Zucchini, Carrots, Mushrooms,
Ponzu, pureed radish, chopped green onion
Main Dishes
Spicy Crayfish
Beer Crayfish
Japanese Beef Fried Rice or Teriyaki Eel Rice
Boiled Sea Bass with Burdock in Soy Sauce
Seven-flavored salt-roasted pork neck
Teriyaki Chicken with Roasted Onions
Japanese beef curry with potatoes
Seafood Chawanmushi
Stir-fried Assorted Vegetables in Soy Sauce Butter Flavor
Caramelized BBQ pork (Jin Yan restaurant)
Shrimp in Teriyaki Sauce (Jin Yan restaurant)
Poached sliced beef in spicy chili oil (Xian Yan restaurant)
Stir-fried bullfrog (Xian Yan restaurant)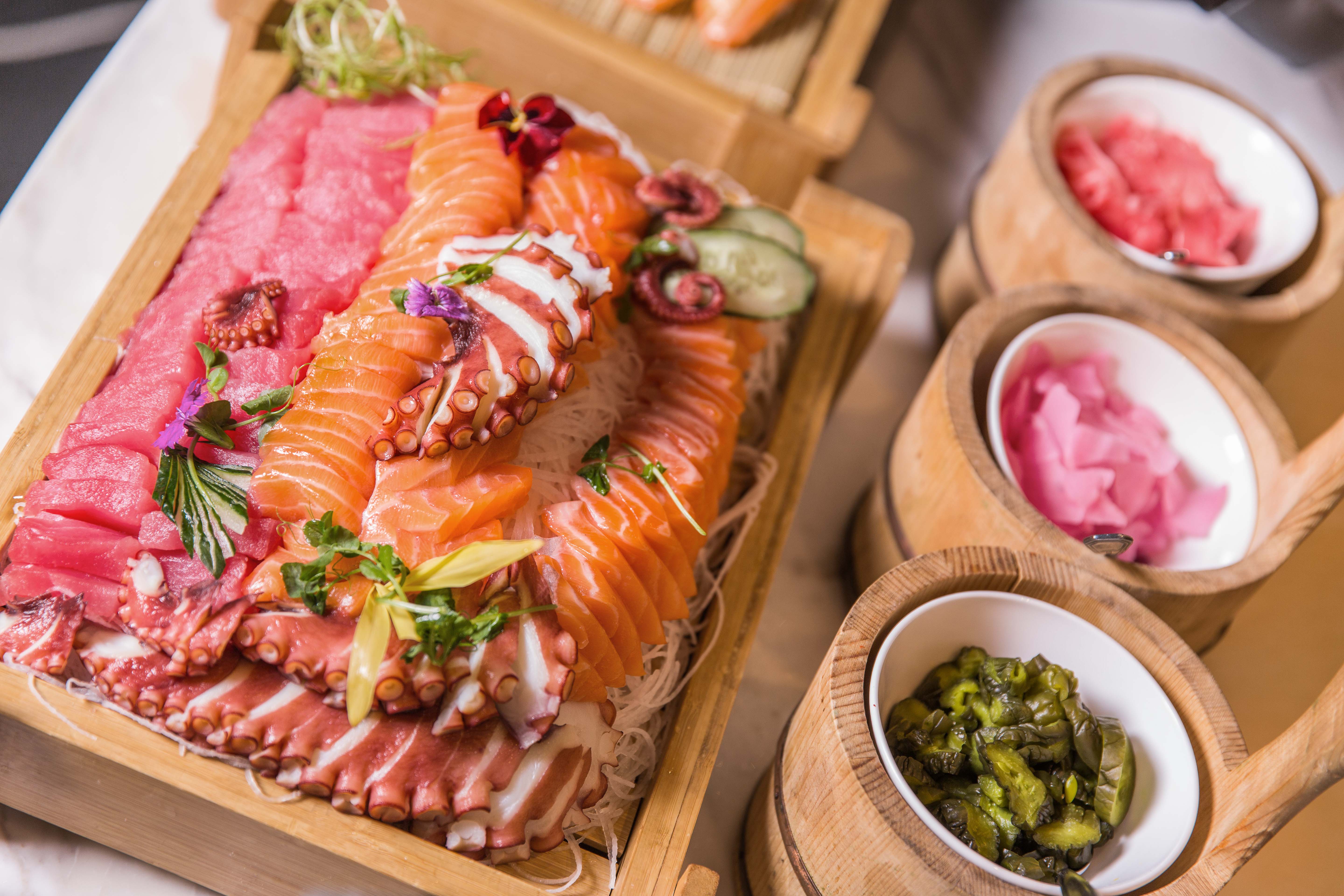 Teppanyaki grill
Okonomiyaki made on site
Shrimp, Squid, Cabbage, Mushroom, Onion, Carrot
mayonnaise, pork chop sauce, fish flower
Dessert
Matcha Red Bean Porridge
Hokkaido Milk Pudding
Japanese Light Cheesecake
Traditional Tiramisu
Lemon Butter Pound Cake
Matcha Cream Puffs
Coconut Oatmeal Chantilly Cream Cake
Raspberry Chocolate Tart
Japanese Daifuku
Japanese Cream Cake Roll
Butter Bread Pudding
Freshly Baked Chocolate Lava Cake
Chocolate fountains, fruit skewers, marshmallows, candies and various toppings
*Packages change seasonally and are subject to change without prior notice.