👉 Receive Tickets via Express Delivery
👉 Each Attendee Requires A Ticket
👉 No Cancellation
---
Produced by the China Disabled People's Performing Art Troupe
A breakthrough of the body's limitations
Tai Lihua, leading dancer of the renowned performance "Thousand-hand Bodhisattva", serves as artistic director
Directed by rising choreographer and independent director Gong Xingxing
Sixteen actors with hearing and visual impairments perform a story of love and life with huge passion
Based on a true story and using dreams as a mirror, the performance portrays the journey of hope
The high-quality contemporary dance is added with traditional drama and instrumental elements
A song of love and life, the deaf dancers and blind musicians create a heart-touching work, to break your heart free and accept the imperfection of life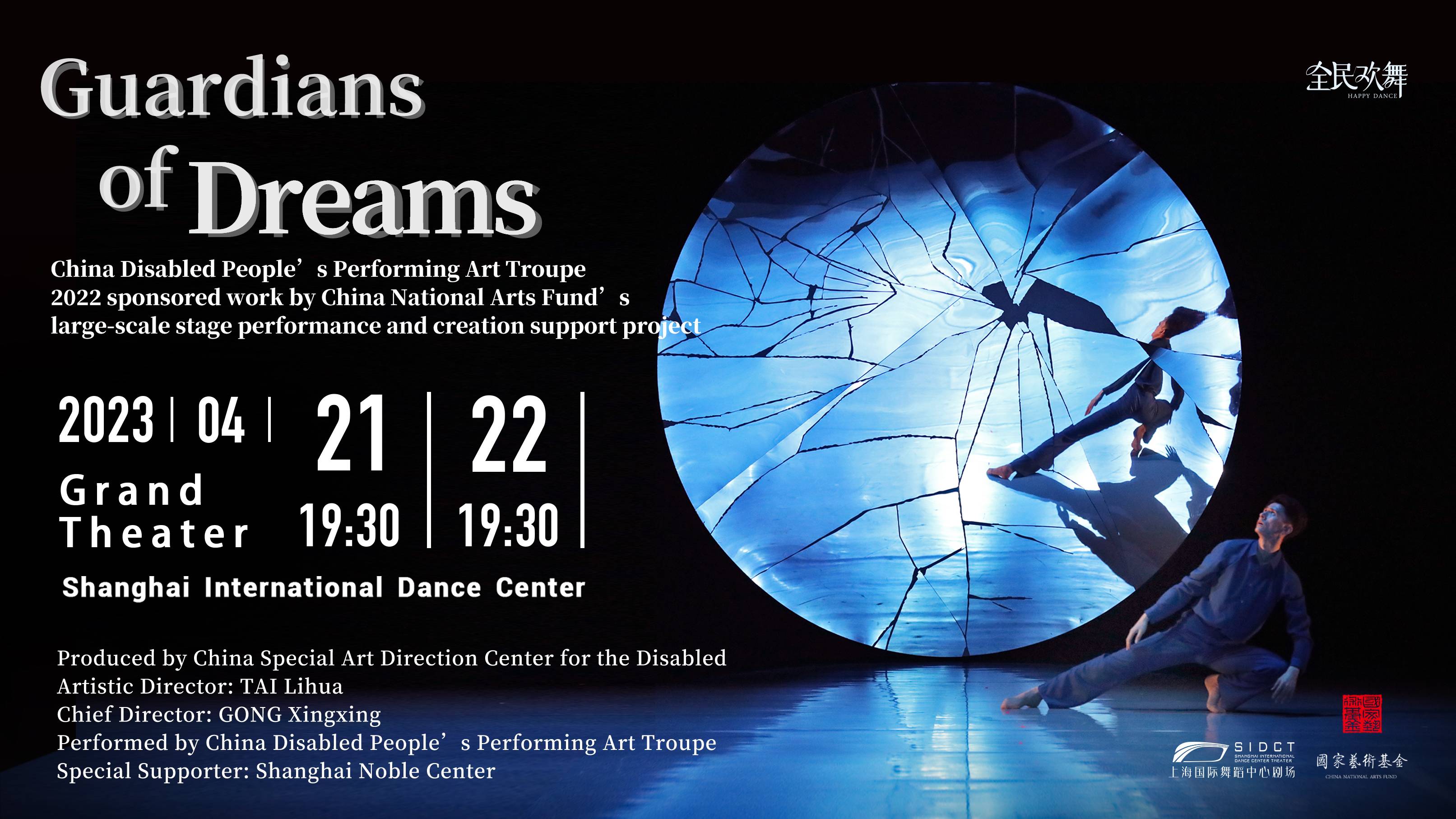 【Introduction】
The cross-over work "Guardians of Dreams" is a 2022 sponsored work by China National Arts Fund's large-scale stage performance and creation support project. Based on the true experience of Wang Qi, a blind saxophonist from the China Disabled People's Performing Art Troupe, the contemporary dance is performed by dancers with hearing impairments. It tells the story of a young man who suddenly becomes blind and, guided by his saxophone dreams and accompanied by family and friends, explores his true self and finds value in the darkness.
The dance not only demonstrates the resilient power of the main character, but also constant love, care and warmth from his family and society. The play tries to truly focus on the inner world of the disabled and connect people together, to inspire their resonation of love and dreams.
Based on a true story and building a bridge to new life with dream and its guardians
"Guardians of Dreams" does not stop at the story itself. The "chaser" and the "guardian" characters also come from real life. The dancer who plays adult "Wang Qi" in the play is Liang Yuangang from the China Disabled People's Performing Art Troupe. He came to the troupe at the age of 12 and is now the "Latin Dance Prince" of the troupe. Despite physical limitations, he and the members of the troupe live and train together, open their hearts to each other, and have become family and each other's "eyes" and "ears". As a dancer with hearing imapirment living in a silent world, he can deeply understand the inner desire of a blind musician.
Modern dance as core, crossed over with theatrical performance, instrumental music, and stage design
"Guardians of Dreams" is a bold breakthrough for China Disabled People's Performing Art Troupe. The contemporary dance focuses on presenting the delicate and innovative moves, while adding many cross-over elements, such as live performances by musicians with visual impairments, bold and innovative stage designs, and narrative theatrical performances. Through the coexistence of various forms of art, the production creates a different aesthetic experience.
【China Disabled People's Performing Art Troupe】
In 1987, about 30 disabled persons who loved arts were approved to participate in the 1st China Art Festival and founded the China Disabled People's Performing Art Troupe (CDPPAT).
CDPPAT developed the creation of special works of art for the people with disabilities, created a large-scale music and dance poem My Dream, the dance by hearing impaired"Thousand-handed Bodhisattva", the dance by visually impaired"To see spring", the dance by physically disabled"Wings of life"and a group of special art classic works, it reproduces the wonderful life of people with disabilities, realizes the dignity and value of the people with disabilities, and now the troupe becomes an international famous art group, which is unique in the forest of world culture.
CDPPAT present beauty to the world. They performs more than 150 shows over 10 countries each year and have visited 103 countries in Asia, Europe, America, Africa and Oceania.
CDPPAT was referred to as a "Messenger of Beauty and Humanity" by the international community and as "Image Ambassador for 600 million People with Disabilities in the world" "Torch Bearer for SPECIAL ART" by the Disabled People's World Assembly and was designated as "UNESCO Artist for Peace". In 2022, was awarded the troupe "Outstanding Collective on Beijing 2022 Olympic Winter Gamesand Beijing 2022 Paralympic Winter Games " by the State Council of People's Republic of China.
【Creative Team】
Artistic Director: TAI Lihua
Chief Director: GONG Xingxing
Dramaturge: GU Minwen
Director:SUN Jiabo
Playwright: LI Jing, SUN Jiabo
Executive director:LIU Yang, GUO Teng
Composer: ZHANG Tianxiao, JIANG Can
Stage Designer: GU Minwen, YANG Zhi, SUN Jiabo
Lighting Designer: GAO Jizhu, WEILiangliang
Fashion modeling design: WANG Yukuan, LIU Qian
Sign language teacher:YANG Xiangtian, HEI Hong, JING Xiaodi, LIU Qian
Starring: WANG Jiawei, LIANG Yuangang, CHEN Jing, WEI Tong
Dancers: GUO Jiaju, WANG Yimei, ZHANGTiantian, MA Guosang, BI Shuyi, LIU Yang, SHI Qiujian, LI Jinming, ZHU Yue, LI Yinhe, HE Wukang
Sax: WANG Qi
Piano: JIANG Can
【NOTICE】
Tickets purchasing: Please select your seats online,both e-tickets and printed tickets by mail will be valid.
Ticket claim: Please get your tickets before the performance date or 90 minutes before the performance and follow our staff's guidance to keep social distance.
Entering time: The audience can start to enter the auditorium 60minutes before the performance starts.
Validation: Please keep your mask on during your time in the theater.
Please double check the time, price, seat information on the tickets as there is no refund or change available after the tickets are sold.