An awesome show brought to you by the Beijing Acrobatic Troupe, Flood Fighting is a must-see! Amazing acrobatics centred around the 'mother of all humans' Nüwa (女媧), this performance will have you captivated from beginning to end. Suitable for ages 4 and up.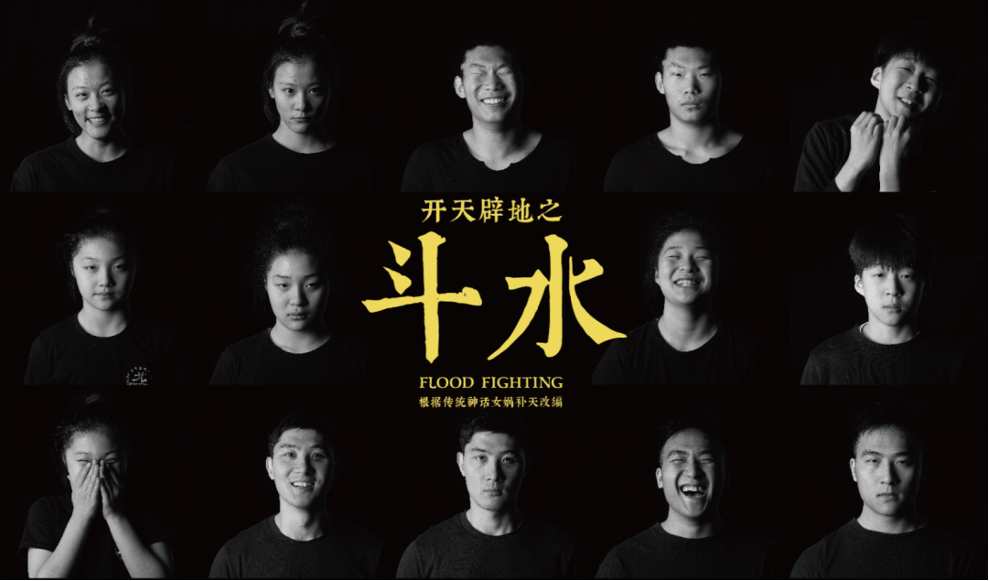 Circus and Dance Theatre - Flood Fighting
Co-produced by Erik Kiel (Holland), Vince Virr (UK), Yanan Liu (China) and Beijing Acrobatic Troupe
In Chinese mythology, Nüwa (女媧), also known as Empress Wa, is the creator of all mankind and both sister and wife of the hero Fuxi (伏羲). She is most well-known for her role in the creation myth and for repairing the Pillars of Heaven.
Nüwa is considered to be the first being with the ability to procreate and is the creator of all mankind. Ancient Chinese society was fiercely matriarchal, so Nüwa, being the mother of all humans, was considered a very important deity. She has a hand in a number of stories but is most commonly associated with China's creation myth and for saving humanity by mending a hole in the sky after a great flood. Today, Nüwa is still a popular deity and is usually prayed to by women who need divine assistance with marital affairs or fertility issues.
Beijing Acrobatic Troupe
In 1995, the Beijing Acrobatic Troupe presented a diabolo act that won a Gold Medal at Paris's Festival Mondial du Cirque de Demain. The following year, this act was presented at Cirque du Soleil - thus beginning a long association with the Canadian circus. The troupe has received many awards in Chinese acrobatic competitions and was awarded the first prize at Moscow's 3rd International Circus Arts Festival in 2007 for its remarkable Chinese Pole act, which was also featured at Circus Krone in Munich in 2011.
The Beijing Acrobatic Troupe has over 150 performers and apprentices, who train in a compound in the Xuanwu District of Beijing, where they have a gymnasium, offices, workshops, and living quarters for the members of the troupe. They perform all-year-round in the historic, century-old Tianqiao Acrobatics Theater.
Creative Team
Erik Kaiel
Winner of the Dutch National Award for Choreographic Talent. He has worked in dance education, choreography and performance in the Netherlands, Europe and around the world. He is known as "one of the most promising and interesting young dancers in Europe." Erik is particularly good at creating environmental dance dramas for unconventional stage spaces, such as subway stations, sculpture gardens, empty pools, city streets, etc., and greatly expands the physical expression with extraordinary imagination and sense of play. His work "Tetris" has won the Victor Award, the highest honor for the public at IPAY, the largest children's fair in North America.
Liuyanan
Famous young contemporary dancer, choreographer. Actively break down the barriers of art, and try a sincere and free dialogue between body, emotion and environment. He has cooperated with Little Dot Big Vision to create and perform "Children on the Clouds" by Zhong Rui Baby Theatre, "All Belongs to Morning Dew" by the Personality Sketch Dance Theatre.
Vince Virr
British Barrowland Ballet Dance Troupe Master Artist, The dance drama "Tiger," which had its premiere at the Edinburgh Festival Fringe in 2014, has been widely toured around the world and is well known to Chinese audiences. In 2019, he led 13 children to create the work "H.O.M.E" and performed at the Avignon Fringe Festival in Avignon, France.