We Love Coffee
​More than just part of our morning routine, coffee is an integral part of our social lives. Whether at home, in the office or with friends in a cafe - coffee is a central point of the day.
---
Product #2: Cold Brew Coffee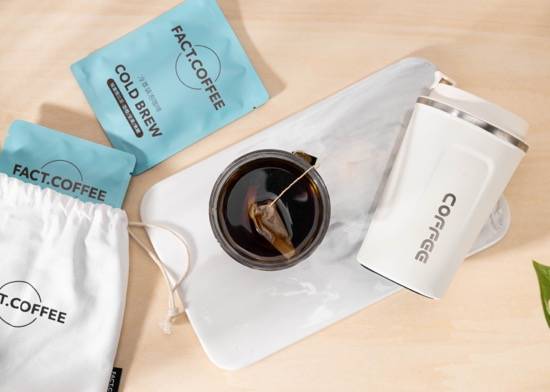 Summer is here! And there is no better way to cool off than with a freshly made cold brew coffee.
As its name implies, cold brew coffee is brewed with cold water (rather than hot water), so some of the heat-activated oils and acids inherent in the coffee don't pass through to the brew. With around 50% less acid than a hot water-brewed cup of coffee, cold brew is truly smooth.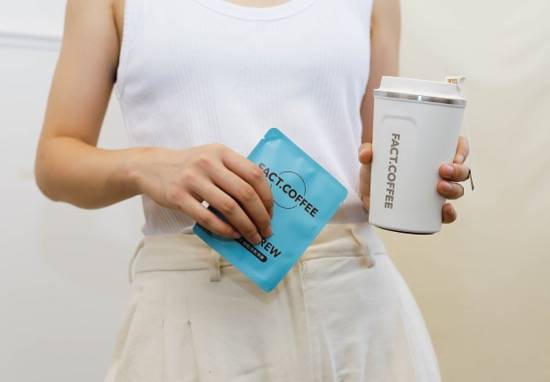 Now you can easily make you own cold brew at home. We use our new Kercha variety coffee beans from Ethiopia. Their well-balanced composition is perfect for making cold brew. Simply put one of our Cold Brew Coffee Bags into a cup of cold water– and into the refrigerator overnight. Your drink will be ready in the morning. This also works great with milk to make a cold brew latte!
Product #3: Drip Cup Coffee – Weekly Pack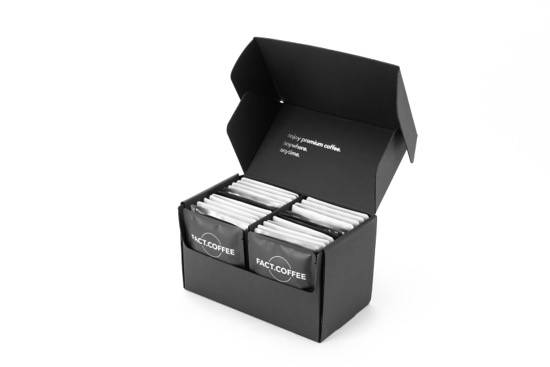 挂耳咖啡于90年代在日本面世,以替代速溶咖啡,使人们办公或旅行时可享受优质咖啡。
Originally introduced by the Japanese in the 90's as an alternative to instant powder coffee, drip coffee bags provided a convenient and practical way to drink pour-over coffee in the office or while travelling.
For a long time however, this method was still frowned upon by true coffee lovers, who believed that it did not meet the standards of a premium cup of coffee.
随着包装机和滤袋的改进及充氮技术的发展, 挂耳咖啡的新鲜度大大延长, 近年来已成为咖啡爱好者新宠。
With increasing improvements of packaging machines, the use of ultra-fine materials for the filter bags and filling the bags with nitrogen to keep the coffee tasting fresher longer, Drip Coffee Bags have recently been growing more popular in the coffee scene.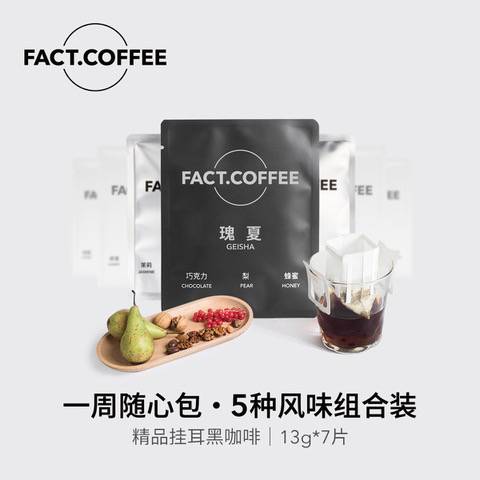 FACT.COFFEE 经反复测试,隆重推出了首批挂耳系列。
FACT.COFFEE has done extensive testing with Specialty Coffee and we are now proud to introduce our first collection of Drip Coffee Bags.
此次推出四个不同的口味以及一周随心包,满足每天的咖啡所需,每天给自己一个咖啡惊喜!五包口感平衡的白色系列,唤醒工作日的每一天;酸度明亮的娜玲珑和馥郁香浓的瑰夏打开周末时光。
And with our Weekly Pack, you can now enjoy a special cup of coffee every day of the week! The Weekly Pack contains 5 White Edition packs for the perfect brew of a well-balanced cup during the week, one Silver Edition pack to relax on Saturday, and one Black Edition pack for that special moment on Sunday.