Sales are closed for Dragon Burn 2018!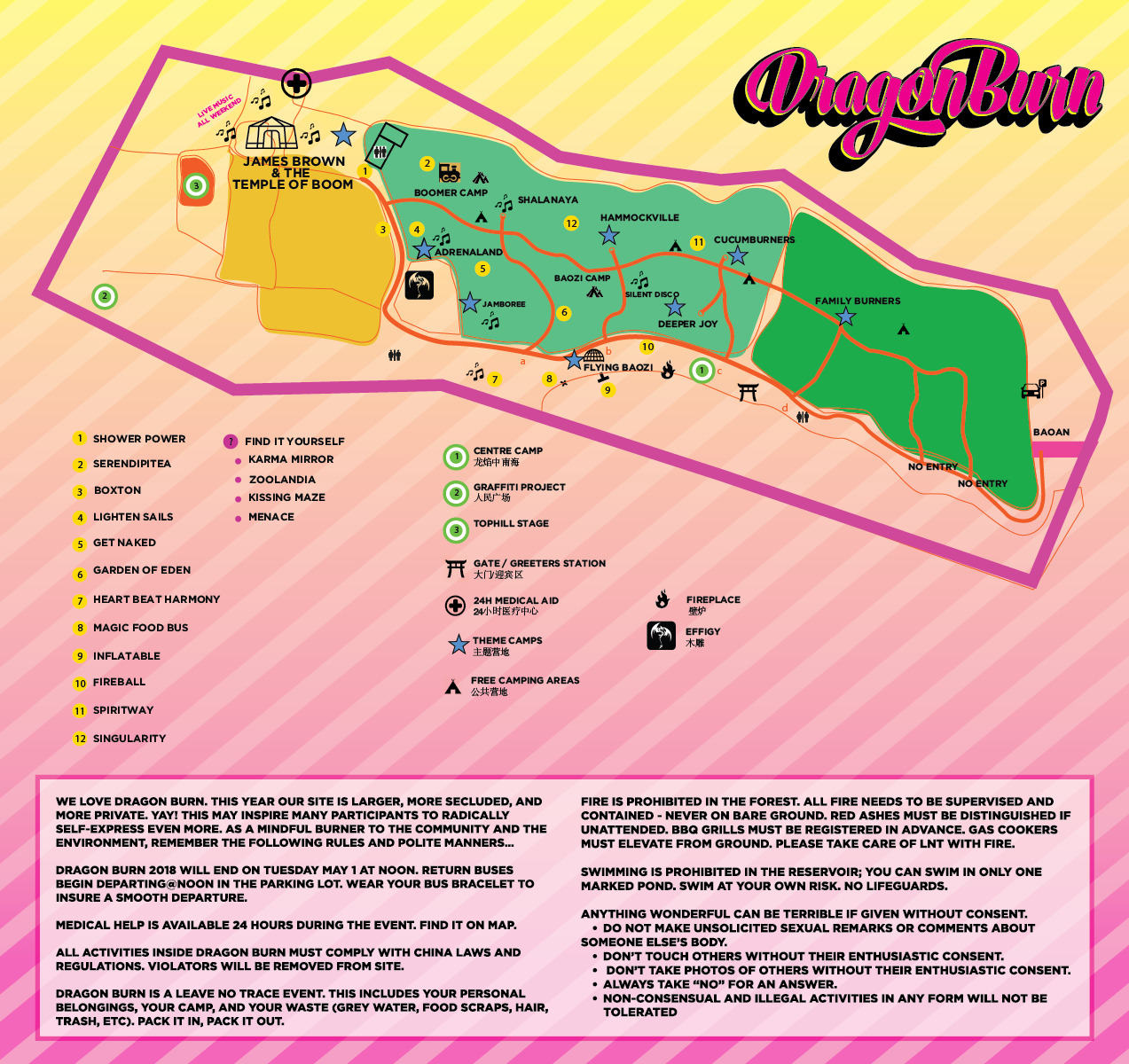 Kids under 12 years old are free but need to buy bus tickets.
Burning Man is now a network of regional events spanning the globe and Dragon Burn is China's official Burn event. While there are some things about a Burn that may not be clear to you now, there is one special thing to know: you are the event.
Dragon Burn is 4-days of camping held on beautiful, secluded land in Anji, Zhejiang — an adventure of art, music, interaction, participation and fire.
At most festivals you are the consumer of centrally organised entertainment for the exchange of money and at the expense of trash. Dragon Burn is the 'unfestival'. All arts installations, music, entertainment, workshops and performances are brought by other participants and on-site, money is banned. The event is organised, built and dismantled by participants. There're no vendors, no sponsors, no profit.
Since nothing can be bought or sold, all participants must bring their own shelter, food and drink for the duration and embrace the culture of 'gifting'. You may be surprised to be gifted without reason anything from a free dinner to a free massage lesson and once accustomed to this abundance, you may also feel the will to give without reciprocation.
For many, Dragon Burn is a container for personal growth and new experiences so check out a workshop, installation or a panel discussion. Set an intention beyond just fun and use your Burn as an opportunity to learn about others, the world and yourself. It may be eye-opening or even life-changing.
Find out more about Dragon Burn (including how to contribute) at www.DragonBurn.org
The event will host participant contributions including:
Interactive arts installations
Multiple 'Theme Camps' each with their own character and programme of events, from live music and roller disco to spiritual healing
Workshops ranging from acrobatics and adventure sports, to mindfulness and art where you can learn or experience something new
A programme of music and performances from DJs and live musicians
Massive art sculpture bonfires