- Instant Confirmation
- Receive E-ticket via Email
- Show Your E-ticket @ Venue
- Open Date Ticket
- No Cancellation
---
HOW Art Museum (Shanghai) is very pleased to present the first solo exhibition in China by the renowned American artist Daniel Arsham. Perpetual Present will be on view from June 29th, 2019.

New York-based artist Daniel Arsham's aesthetic revolves around his concept of fictional archaeology. Working in sculpture, architecture, drawing and film, he creates and crystallizes ambiguous in-between spaces or situations, and further stages what he refers to as future relics of the present. Always iconic, most of the objects that he turns into stone refer to the late 20th century or millennial era, when technological obsolescence unprecedentedly accelerated along with the digital dematerialization of our world. While the present, the future and the past poetically collide in his haunted yet playful visions between romanticism and pop art, Arsham also experiments with the timelessness of certain symbols and gestures across cultures.

The exhibition Perpetual Present was specifically conceived for the space of HOW Art Museum Shanghai,presenting the most recent and representative works of Daniel Arsham. The artist will continue his exploration on the relationship of architecture and body; seeking to discuss the nonlinearity of time and history by blurring the boundaries between present and future, reality and fiction, inviting the viewers to permeate the state of the never-changing present embodied by the transformation of ideas and forms.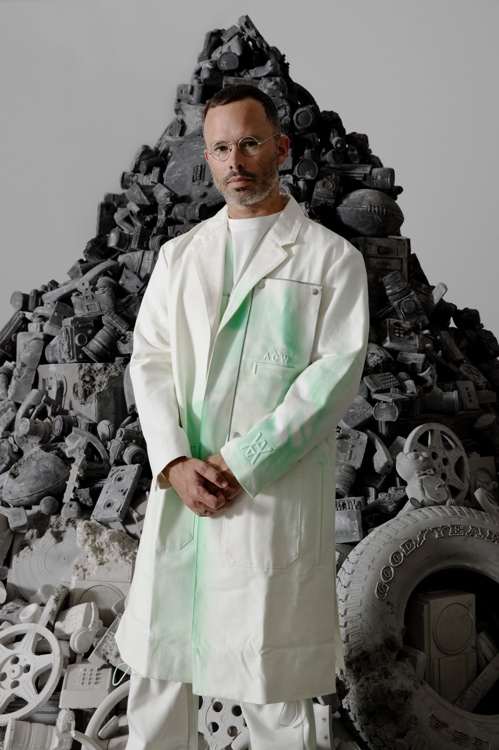 About The Artist:
Raised in Miami, Daniel Arsham attended the Cooper Union in New York City where he received the Gelman Trust Fellowship Award in 2003. Structural experiment, historical inquiry, and satirical with all combine in Arsham's ongoing interrogation of the real and the imagined. His interest in collaboration began early. In 2004 legendary choreographer Merce Cunningham asked Arsham to create the stage design for his work eyeSpace. Despite never being trained in stage design he has continued his practice, collaborating with Robert Wilson, as well as a sustained collaboration with Jonah Bokaer. To further expand the possibilities of spatial manipulation and collaboration, Arsham founded Snarkitecture in 2007 with partner Alex Mustonen to serve new and imaginative purposes. Arsham's most recent collaboration with world-renowned musician and producer Pharrell Williams involved the recreation in Volcanic Ash of Pharrell's first keyboard.
About HOW Art Museum
HOW Art Museum (Shanghai), as a brand-new cultural institution which boasts multiple functions including contemporary art collection, exhibition, research and education located in Pudong New District of Shanghai, opened to public in September, 2017. The museum spreads three floors for exhibition and cultural activities, covering about 7,000 square meters in total, that is, including nearly 5,000 square meters for the whole exhibition hall area and over 2,000 square meters for the area of official business, storage and service. As HOW Art Museum (Shanghai) opens its doors, it will develop comprehensive communication and exchanges with artists, art institutions, and art projects at home and abroad.
HOW Art Museum was founded by the collector Zheng Hao, and Yun Cheagab was appointed as curator of the museum. It enjoys two museums, namely HOW Art Museum (Shanghai) and HOW Art Museum | Wenzhou. The latter opened in early 2013, and has held nearly 20 contemporary art exhibition of great significance as of now, including 1.62M: Lin Tianmiao Solo Exhibition, Misinterpret: Zhou Xiaohu Solo Exhibition, The Moment We Awe - Contemporary Art from Korea, Tour Exhibition in China Pavilion of China at the 55th Venice Biennale, HOW Now-Young Chinese Artists Group Exhibitions, Facebook.
As an important art institution emphasizing systematic collection of contemporary artworks, HOW Art Museum has collected more than 2,000 artworks in both Eastern and Western artistic circles. On the basis of existing collections, the museum will collect more contemporary artworks in a continuous and systematic manner. The main collections are listed as follows: nearly 400 representative works and document literature of Joseph Beuys, representative works of Damien Hirst, as well as some significant works of Markus Lüpertz, Anish Kapoor, Darren Almond, Carsten Nicolai, Yayoi Kusama, Chun Kwang - Young, Zhang Xiaogang, Zhou Chunya, Zhang Huan, Ai Weiwei, Zhan Wang and other artists.
HOW Art Museum pioneers to create a new model of operating a "Night Art Museum" for the convenience of the public, opening from 1 to 10pm regularly, and 10am to 10pm on the weekends and holidays. Meanwhile, HOW Art Museum also carries out international exchange programs and outdoor public activities, such as the International Curatorial Residency Program, Outdoor Film Festival and Sculpture Park to establish a brand-new art complex and cultural landmark in Shanghai.