FIRST-EVER OUTDOOR FESTIVAL OF CREAMFIELDS HONG KONG WITH EXTRA STAGE
HEAVYWEIGHTS DJ SNAKE, ARMIN VAN BUUREN AND ILLENIUM WILL LEAD AN A-LIST LINEUP
28 (SATURDAY) & 29 (SUNDAY) DECEMBER 2019 AT ART PARK, WEST KOWLOON CULTURAL DISTRICT
PRESENSTS THE ULTIMATE ELECTRONIC DANCE MUSIC EXPERIENCE
The world's leading dance music festival series from UK, Creamfields, made its debut in Asia's first stop, Hong Kong in 2017 with a star-studded lineup which made a splash in the local history of dance music festival. Creamfields Hong Kong draws over 10,000 fans worldwide every year for a distinct festival experience. Following the support of the fans, this year the first-ever outdoor festival of Creamfields Hong Kong returns to Hong Kong on 28th (Saturday) and 29th (Sunday) December at Art Park, West Kowloon Cultural District with an extra stage "Into The Realm", titled as the biggest electronic dance music festival in Hong Kong history three years in a row.
Creamfields Hong Kong invited various DJs to play live on the stage in the past two years. This time, heavyweights DJ Snake, Illenium and Key4050 will leads an A-list lineup with 30 well-known artists. In addition, Armin van Buuren, KSHMR and local DJ YÅKO, who performed on the mainstage of Electric Daisy Carnival (EDC) in Las Vegas 2019, also confirmed their return to Creamfields Hong Kong 2019. The full line-up for each stage is as follows: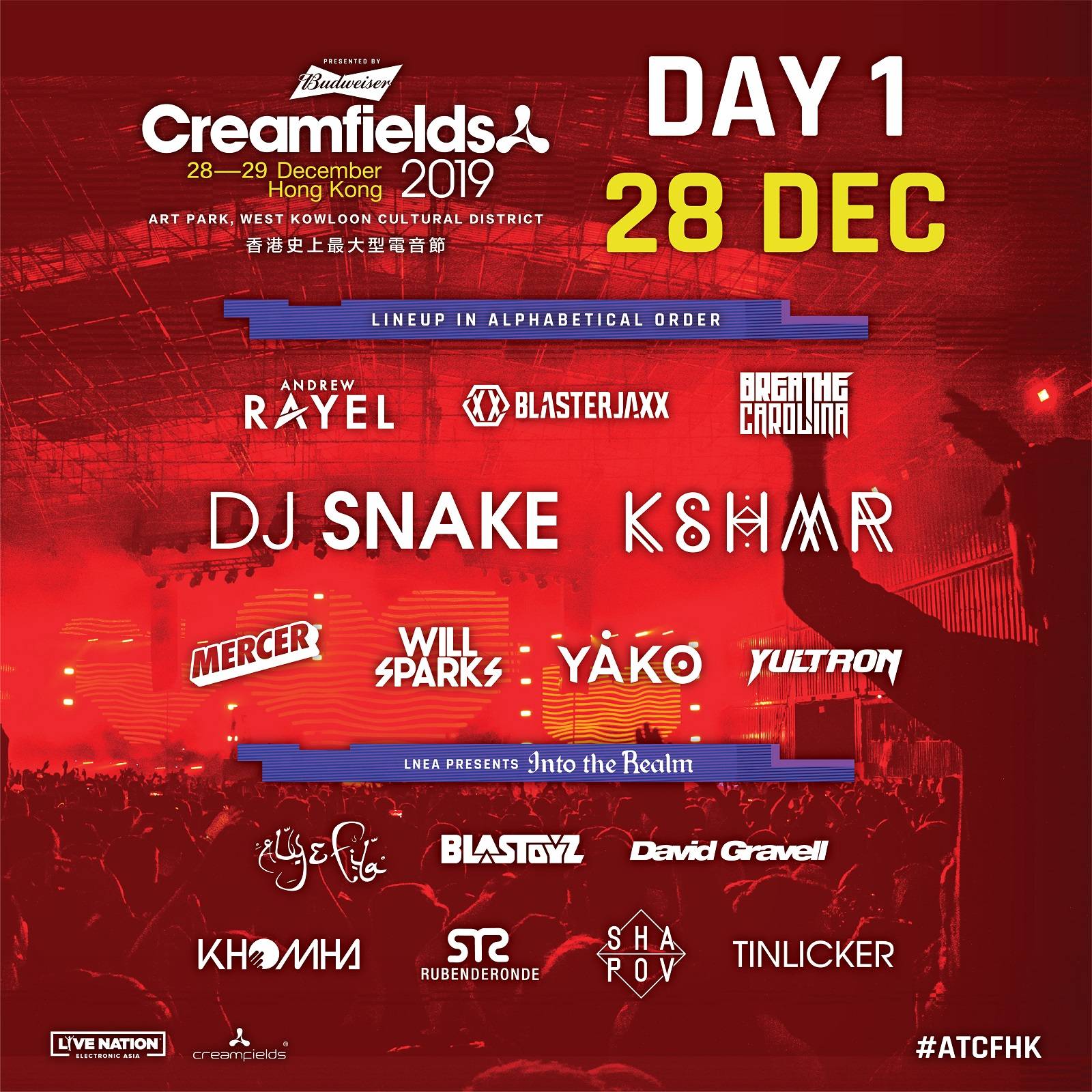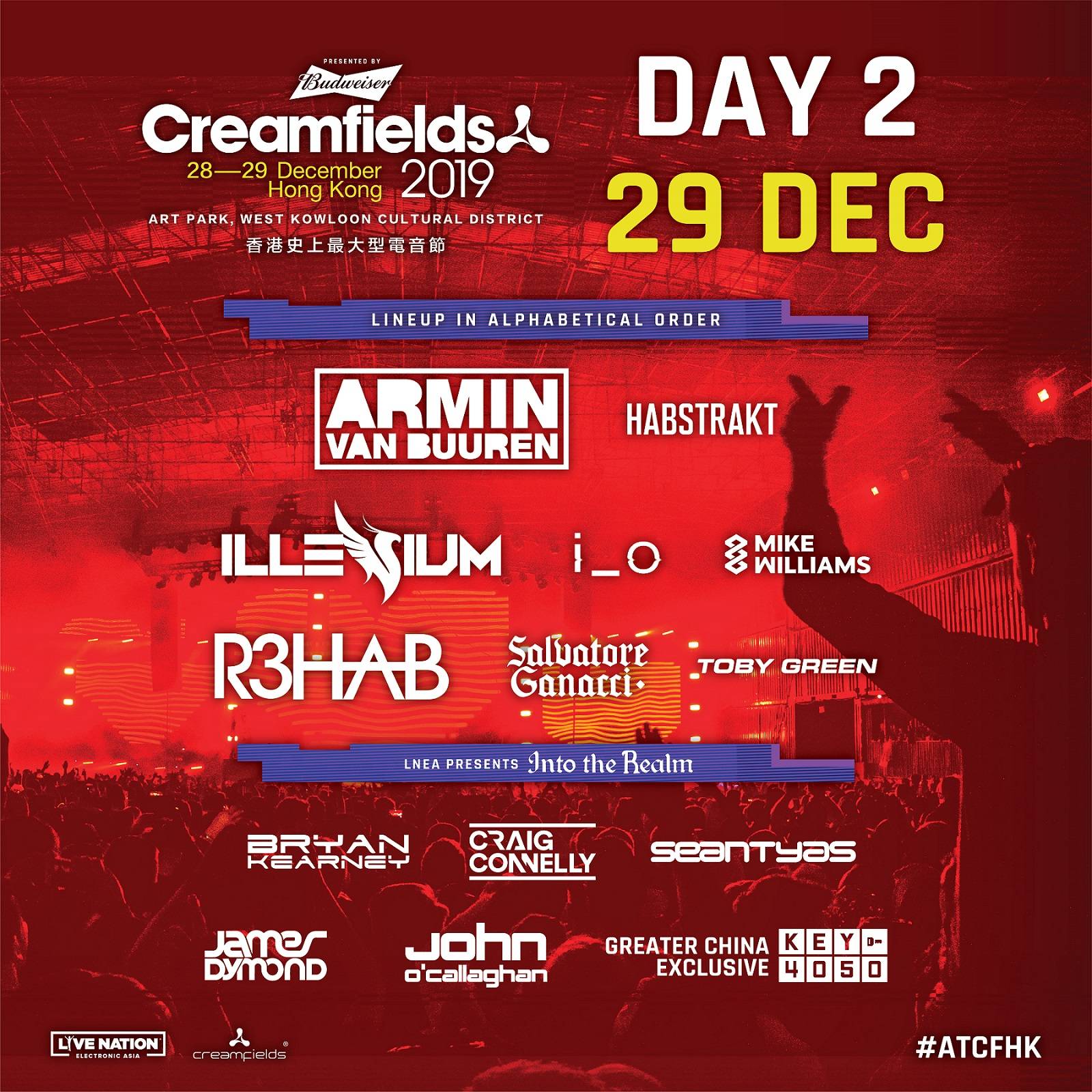 About Creamfields
Creamfields is the world's leading dance music festival series, as well as the biggest in the UK featuring DJ performances and live acts. Since its inception in 1998, Creamfields has scooped many awards along the way, including Best Dance Event several years running in the UK Festival Awards and winning the prestigious Music Week Award for Festival Of The Year. It has been held in many countries all around the world, including the Europe, South America, North America, Middle East and Oceania. Over the past years, Creamfields attracts more than 3 millions of partygoers worldwide with record breaking numbers selling out months in advance.
2017 was the 20th anniversary of Creamfields, it was the first time in Asia in order to celebrate the event. Hong Kong was the first stop held on 15th and 16th December and became the largest two-day indoor dance music festival in local history. After that, Creamfields landed in Taipei and China, and successfully held in the regions. Last year in 2018, a new chapter of electronic music scene has been opened to Myanmar, is set to take the game to the next level.
Creamfields' lineup has always been a fusion of world-class artists featuring different styles. The heavyweights who participated in the Asia tour last year include Martin Garrix, Tiësto, DJ Marshmello, Above & Beyond, KSHMR, W&W, and many more.

About Live Nation Electronic Asia
Live Nation Electronic Asia is the business unit that specializes in promoting electronic dance music events in Asia with event production and promotion to meet the region's rising demand for electronic dance music.
About Live Nation Entertainment
Live Nation Entertainment (NYSE: LYV) is the world's leading live entertainment company comprised of global market leaders: Ticketmaster, Live Nation Concerts, and Live Nation Media & Sponsorship. Live Nation operates across 10 markets in Asia including China, Hong Kong, Indonesia, Japan, The Philippines, Singapore, South Korea, Taiwan and Thailand.
About Budweiser
BUDX is A 360º global platform integrate with content, experience, media & promotional program that inspires aspirational Chinese trendsetters to live extraordinary lives.