Concrete & Grass 2017: The Full Lineup is Out!
Radwimps, DIIV, Jai Wolf, Ho99o9, Crossfaith, Thurston + Moore;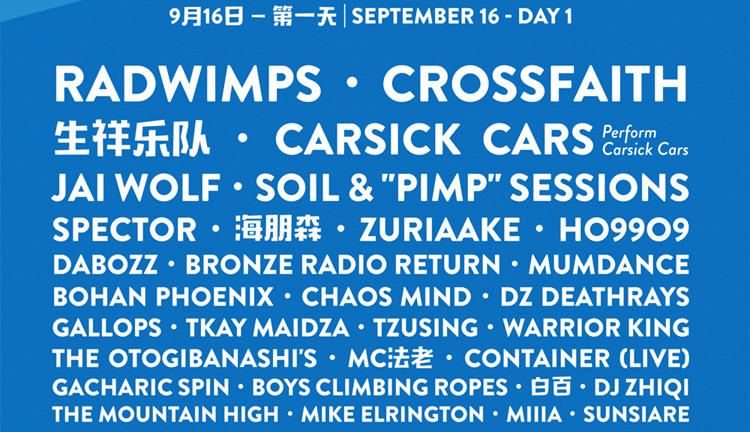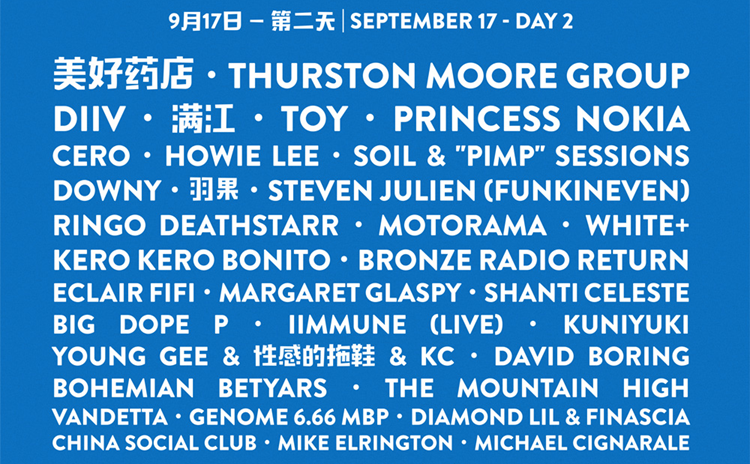 Right then, here we go.

2017's Republic of 'Grass is now a Concrete Reality, created for wide exploration, deep discovery and pure enjoyment.


---
- 60+ artists, 5 stages, 2 days -
---
You can see (and hear) our epic headliners from far, far away but we encourage you to dig in a little further, to uncover our many hidden treasures and strange pleasures.
While you're at it, take a leisurely stroll through genres unknown: put Cero, Kero Kero and MC Pharaoh on shuffle together. Come for the Great Glaspy, stay for the Glorious Pharmacy. If you're Thurston for Moore, DIIV into some Deathstarr Deathrays. If the Spector of Ho99o9 is bringing you downy, take a Gacharic Spin on your Carsick Motorama through some fields of Endless White!
Okay, okay, we'll stop now. Here's the lineup: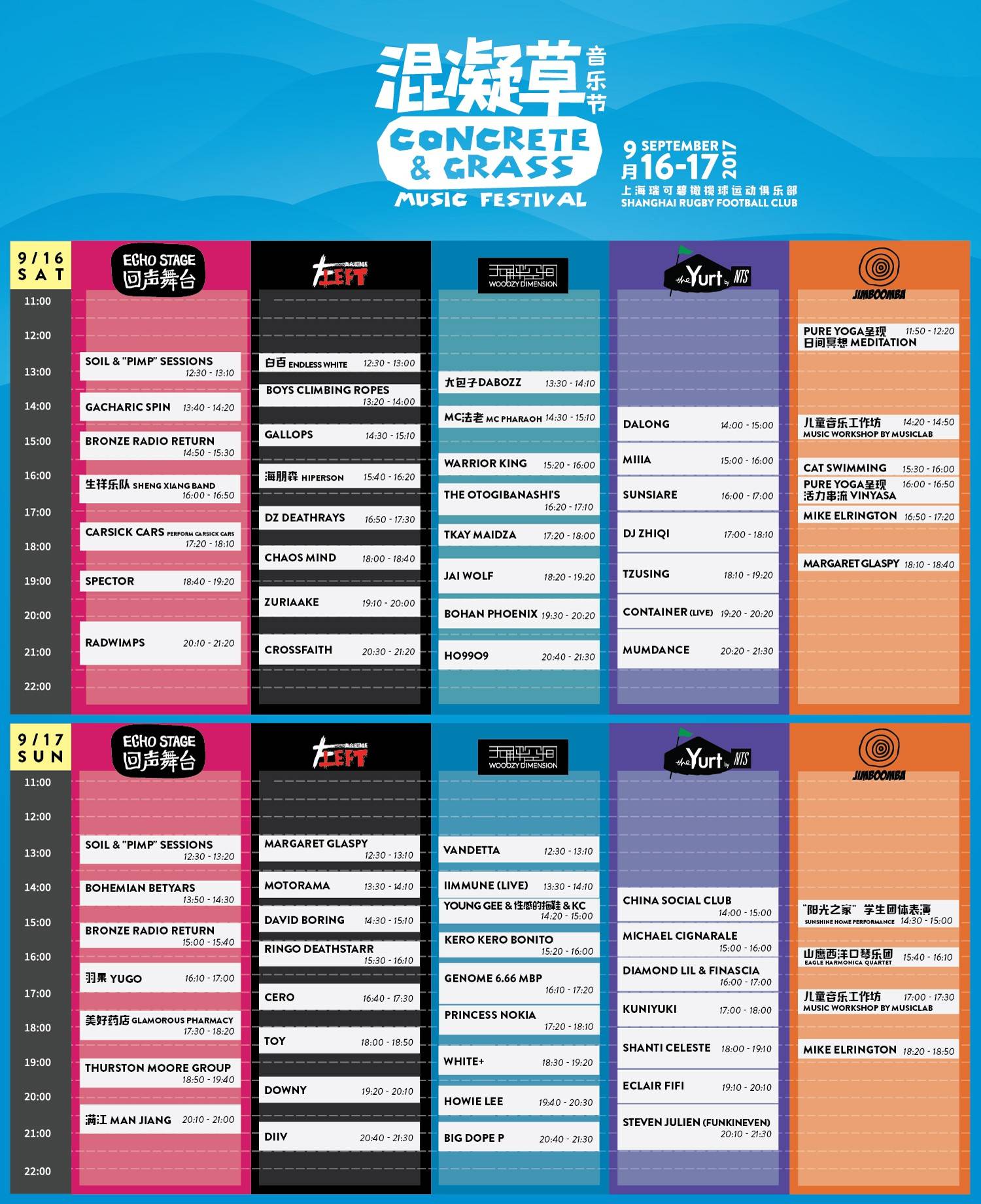 International Acts:
Radwimps
Exhilarating, massive pop-rock from Japan's most beloved band.

Big Dope P
Whomp-whomp dance floor destruction, via supercharged bass-heavy bangers.

Bohan Phoenix
Fun, frenetic Chinese hip-hop with a love for diversity and Sichuan food. Set spice levels at 11.

Bohemian Betyars
"Speed-folk freak punk from Hungary." Does what it says on the tin.

Bronze Radio Return
A bombastic indie dance party, laced with nostalgia and a rousing cinematic sweep

Cero
Chic, sophisticated, moody Japanese "city pop" with a touch of funk, soul and R'n'B.

Container
An insane madman whose noise-techno will make your body move in strange ways

Crossfaith
Breakneck, pulsing metal-meets-electronica that'll have you moshing AND raving

DIIV
A 'Grass favourite: luminescent, hazy pop bliss and reverb-soaked shoegaze pleasures

Downy
Moody, poetic post-rock from the torch-bearers of Japan's experimental underground

DZ Deathrays
The annual C&G quota of fast, fuzzy dance-punk. Think Japandroids meets We Are Wolves!
Eclair Fifi
Genius polymath, superstar DJs: eclectic electric from one of the world's best selectors
Gacharic Spin
Forget Babymetal: this is the real "kawaii" psychedelic dynamite festival dance party.
Gallops
Propulsive, elemental electronic prog, and one of the best live bands we've ever seen
Ho99o9
Punk rock hip-hop that's brash, provocative and blood-curdlingly LOUD
Jai Wolf
"Indie EDM" that's glowing and grand; future bass that has both drops and depth
Kero Kero Bonito
Disarmingly joyous, cutesy pop music for shiny, happy good times
Kuniyuki
Smooth, lively, fresh grooves from Japanese house music's number one craftsman
Margaret Glaspy
A magnetic singer-songwriter with an expansive, extraordinary voice.

Mike Elrington
Bourbon-soaked acoustic blues delivered with unforgettable intensity

Motorama
Icy cold-wave with a warm, beating heart; Jangly pop that floats with wondrous melancholy
Mumdance
UK grime's global journeyman: club music with vibrant sounds and inclusive spirit
The Otogibanashi's
Spaced-out, mellow, playful Japanese hip-hop that has both style and substance
Princess Nokia
The vanguard of hip-hop. A feminist US art collective that's exciting, progressive and hypnotic.
Ringo Deathstarr
Catchy dream-pop shoegaze; My Bloody Valentine with a sense of humour
Shanti Celeste
Good vibrations: "Hands-in-the-air" house music that's always joyous and life-affirming
Soil & "Pimp" Sessions
Wild, unbridled musical exuberance – joyous jazz from a colourful alternate universe
Spector
A shimmering blast of stadium-ready indie rock from some supernaturally good-looking boys.
Steven
Julien (Funkineven)
Colourful, off-kilter takes on funk, hip-hop, house and soul, built for the dancefloor
Sunsiare
Fresh from the Fragrant Harbour: aromatic, ambient, swirly electronic goodness
Thurston Moore Group
Sublime noise catharsis from the Sonic Youth frontman and his alt-rock supergroup
TkayMaizda
An electrifying future super-star; the missing link between Missy Elliott and M.I.A.
TOY
Spiraling, cathartic psychedelic rock that hints at infinite horizons.
Vandetta
Trip-hop, R'n'B and blues filtered through a gorgeous sunset filter.
Warrior King
Spiritual, transcendent roots reggae with a message of peace, love and pride
Hong Kong, Taiwan and Mainland acts:
Boys Climbing Ropes
Shanghai's finest indie rock omnishambles reunite for a 'Grass special.
Carsick Cars play Carsick Cars
One time only: China's rock n' roll heroes play their iconic debut album in its entirety.
Chaos Mind
Heavy heavyheavy fantastica; first class riffery from Shanghai's finest metal band

China Social Club
Shanghai's liveliest diggers of eccentric vinyl and curious classics.

Dabozz大包子
Moody, introspective hip-hop from one of China's leading female MCs.

David Boring
Restless, avant-garde Hong Kong noiseniks with a destructive, enigmatic live sound

Diamond Lil b2b Finascia
Co:Motion's latest residents: Paragons on the streets, Renegades with the beats

DJ Zhiqi
Dark, labyrinthine dance music from the ShadowPlay mastermind

Endless White
Shimmering slacker dream-pop with a permanent lazy afternoon haze

Genome 6.66Mbp
Shoulder-shuffling club sounds from China's most forward-thinking electronic music ensemble.

Glorious Pharmacy 美好药店
Freak folk genius Xiao He's cabinet of curiosities; Performance art meets weird jazz folk rock.

Howie Lee
Future bass from cyberpunk Beijing, with a bold new audio-visual live set

The Mountain High
Barn-storming traditional American music that'll have you square dancing in no time

Hiperson海朋森
Thrilling, jagged, gorgeous; the band crafting the future of the Chinese underground

Iimmune (live)
The world, through a scanner darkly: intricately crafted minimal Beijing techno

Man Jiang 满江
Pure, sparkling urban folk ballads from an accomplished Chinese songwriter
MC Pharaoh
Razor-sharp, quick-witted Chinese hip-hop with a gritty, lo-fi filter.
Michael
Cignarale
The diva behind MEDUSA himself: your gloriously queer Yurt-special dance hour!
MIIIA
The techno-slinging, beat-loving partymonger-in-chief of the Shanghai underground
ShengXiang Band
Timeless yet timely folk that rings with the stories and sounds of Taiwan's Hakka people
Tzusing
Fun, subversive club music on power, obsession, sexuality, identities, and their obliteration.
White+
Motorik grooves; Walls of sound, fields of noise - loose, pleasurable psychedelic electronica

Young Gee&性感的拖鞋 & KC
Triple threat local hip-hop with 3x the charm and 3x the chill.

YUGO 羽果
Veteran Shanghai indie: Alt-pop that paints poetic paeans to modern Chinese life.

Zuriaake葬尸湖
Black Metal Chinese opera, played out in glorious cinematic widescreen.

Music is Just the Beginning

As 'Grass fans know too well, there's plenty of action beyond the stages.

We have outsider art and freewheeling installations, as well as the gourmet food paradise that is Duck Bites Goose (expect some old friends there!). There'll also be craft cocktails from the dark side, objects of wonder and delight, sports, games, bad puns, Frisbee, ice cream and a few other surprises we've thrown in.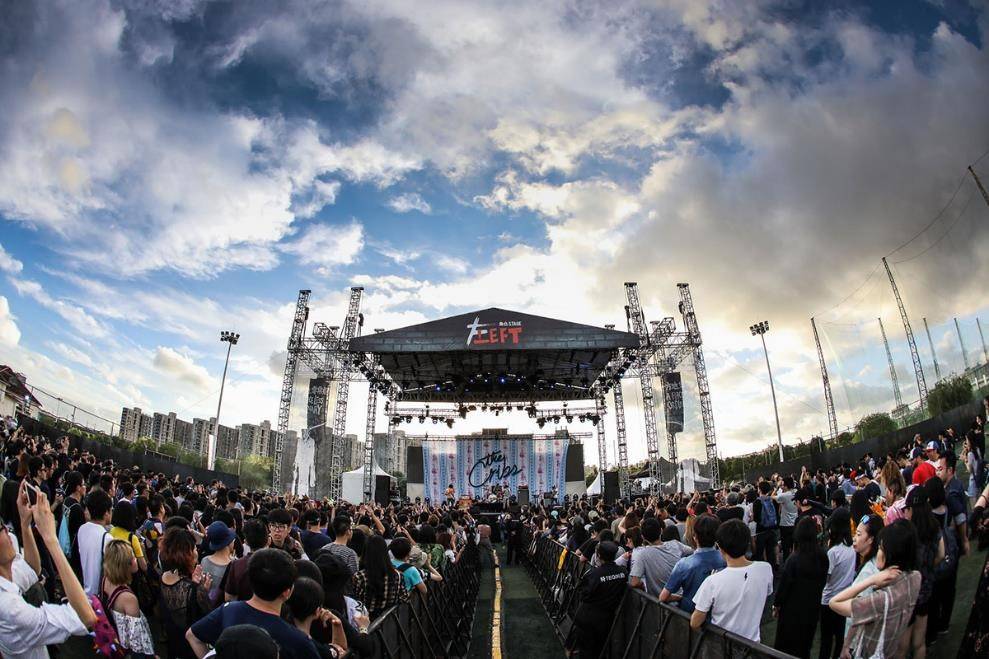 About Concrete & Grass:
Concrete & Grassis China's grooviest music festival. It happens in September each year, when the weather is warm and frequently perfect.It's Shanghai's own #APlaceLessOrdinary - chock-full of great bands, weird art, strange creatures and fun distractions. Our venue, the wonderful Shanghai Rugby Football Club, is a lovingly intimate space with lush fields of real grass. We started in 2015 as Echo Park, with Gerard Way, Young Fathers, Swim Deep, Nova Heart and Sound Toy on the bill. 2016 saw Edison Chen, Sekai No Owari, A$ApFerg, The Cribs and Yunggie Ma. 2017's looking pretty ace.

About Split Works:
Split Works has been rocking in the free (ish) world since 2006. Working with inspirational artists from across the globe, the good people at Split Works HQ have been a key contributor to the continued rise of China's music scene.Split Works has launched five music festivals and promoted over 400 tours to 30 Chinese cities, always striving to stay true to a familiar refrain: the music has to be special, every single time. From Godspeed You! Black Emperor to Sonic Youth, from Thee Oh Sees to Mac Demarco and Cloud Nothings, from Black Rabbit to JUE and Wooozy to Concrete & Grass. We love music, we love China and we love you.

About Mai Live:
MaiLive is a live music brand under the Damai Entertainment banner. They organize live performances for some of the biggest Chinese and foreign artists out there: handling production, distribution, and curation for a wide range of cultural events. In 2017 alone, MaiLive has put together shows for artists like Huimei Zhang, Pu Shu, Zhiqian Xue, Bichang Zhou and others.