Ticket Options:
CLASSIC KIT ¥228.00
- The Color Run™ Entry
- The Color Run™ Hero T-shirt
- The Color Run™ Buff
- HAPPY Tattoo
- Lightning Tattoo
- Unicorn Pin
- Unicorn 2018 Finisher Medal
- 1 Bag of Color Powder
- Drawstring Bag
- Colorful Sunglasses(Random Color)
SUPER HERO KIT ¥288.00
- The Color Run™ Entry
- The Color Run™ Hero T-shirt
- The Color Run™ Buff
- HAPPY Tattoo
- Lightning Tattoo
- Unicorn Pin
- Unicorn 2018 Finisher Medal
- 1 Bag of Color Powder
- Drawstring Bag
- Colorful Sunglasses(Random Color)
- Plush Unicorn Keychain
- Super Hero Cape
- ¥88 Häagen-Dazs™ Voucher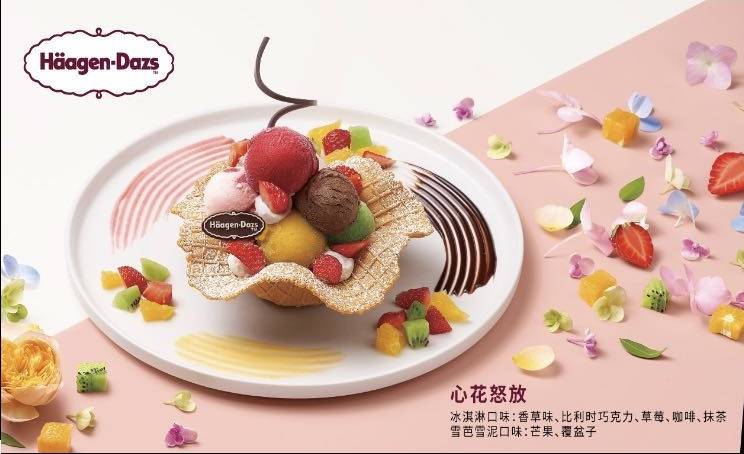 Additional Purchases Available:
Tutu ¥45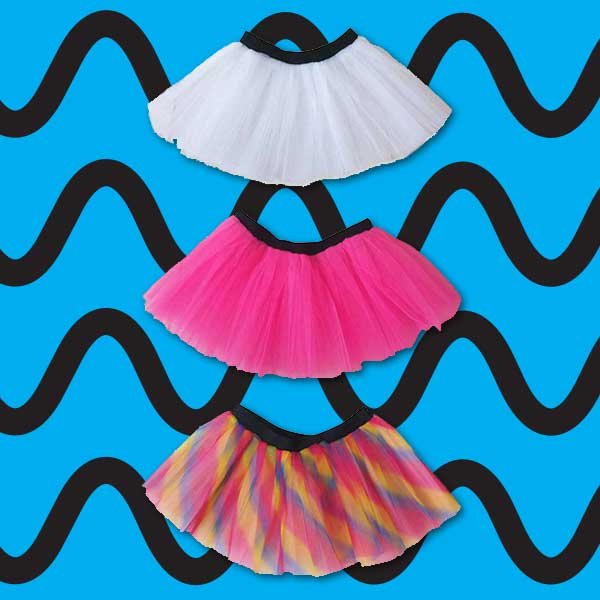 Sports Bottle ¥39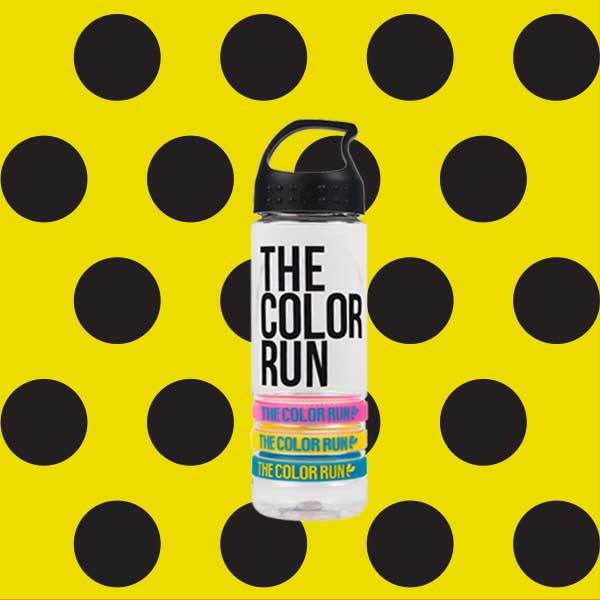 How to purchase? You can select the additonal purcahse on the registration form.
Event Time
Morning event: 09:30-12:00
Event site opens: 08:00
The Color Run™ starts: 09:30
The last wave leaves at 11:00
*When the morning event ends, we will clear the event site. We suggest participants of afternoon event to arrive not too early in order to avoid waiting in line for too long.
Afternoon event: 14:00-16:30
Event site opens: 13:00
The Color Run™ starts: 14:00
The last wave leaves at 15:30
Tips for you: It's better to finish your run within 50 minutes. In the morning event, the final party will start at 10:30 and end at 12:00. In the afternoon event, the final party will start at 15:00 and end at 16:30. (Expected time) Please arrange your time accordingly to have the best experience!
All runners must wear The Color Run™ officail T-shirt and the bib number as their tickets to enter the event site.
Morning event:
First wave: 09:30
Last wave: 11:00
Afternoon event:
First wave: 14:00
Last wave: 15:30
*Run will start in waves every 5-10 minutes. You can join any wave as you arrive.
*If you missed the last wave for any reasons, you will not be able to start and no refund is available.
Runners Packet Pick-up Party
No packet pick-up Before event day
Event day packet pick up Sep 8th (Sat)
Morning: 07:45 - 10:45 *Morning event participants only
Afternoon: 12:00 - 15:15 *Afternoon event participants only
Pick Up For Yourself: 1. The government issued photo ID that was used for the registration 2. Registration confirmation email (print or save on your smartphone).
Pick Up For Others: 1. Runner's registration confirmation email (print or save on your smartphone). 2. Pick-up waiver signed by the runner (waiver is on the confirmation email). 3. Any government issued photo ID of the person picking up the packet
You will receive the confirmation email on Sep 6th (or earlier).
If you received an email requesting you to sign the participant waiver, please click the link and sign it ASAP.
*We recommend you to screenshot your registration confirmation email and make sure to have the entire QR code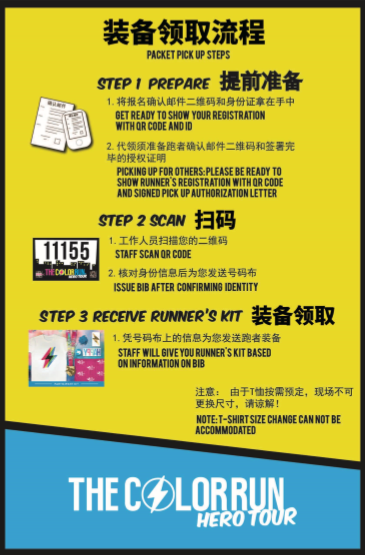 Address
Sunland Shopping Mall First Floor(No.2988, Zhangyang North Road, New Pu Dong District, Shanghai, China).
Public Transportation
Subway Line 6, Zhouhai Road Station, Exit No.1, about 200 meters walk.
*There are no parking spots available at the event site. Please take advantage of the public transport system.
Bag Storage
Sep 8th
Morning event : 8:00 - 12:00
Afternoon event : 13:00 - 16:30
Location: Central area
Please do not store valuable items and pick up your items before the Am and Pm event finishes.
Bib Number
Please attach your bib number so it is visible on your shirt. This is how you will be identified as a Color Runner. Only Color Runners will be allowed in the start and finish chute area.


EVENT GUIDE
You will receive an Event Guide 10 days before the event. It includes important information about check-in, packet pick-up, parking, and more.
COURSE MAP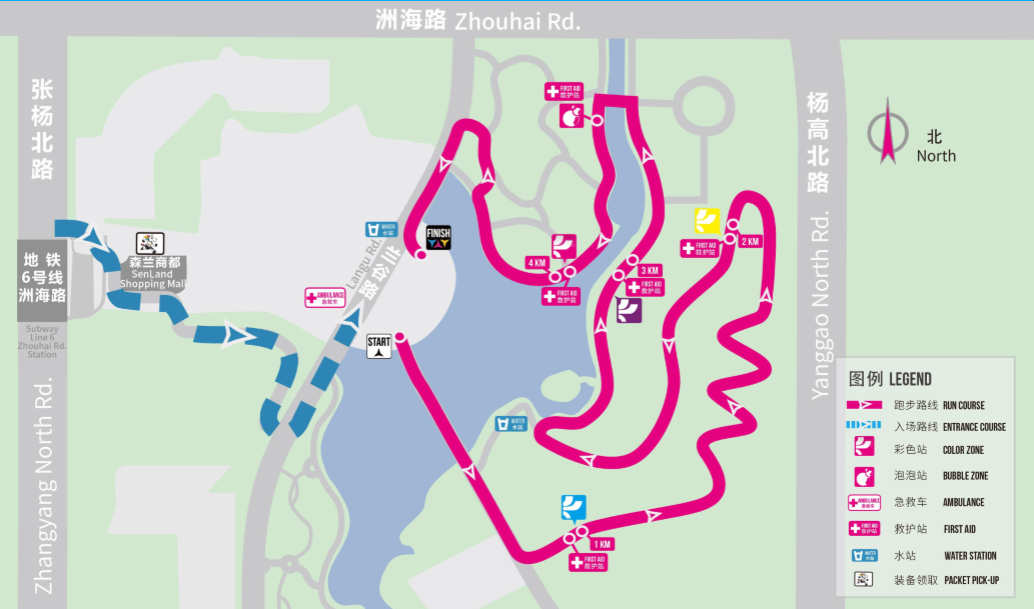 FAQs
Do I need to be some sweet ole' runner to do this?
Oh my goodness, NO.There are plenty of other great 5ks out there to test speed and performance. TheColor Runevent is all about a color crazy day with friends and family. You can run, walk, crawl, or cartwheel if you wish!
Registration deadline?
till sold out
Based on previous experience, this event sells out fast. So grab your spot before it's gone!
Is The Color Run safe?
The health and safety of our participants and our employees has always been at the forefront of our minds and actions. As a professional events company with highly vetted policies and processes, we conduct thorough testing to ensure the safety of our materials and their application. The Color Run has hosted more than 500 global events with more than four million participants and is committed to staging safe and secure events.
Will there be Medical Support on site?
Yes, definitely! It will be by the finish area. If for any reason you don't feel well, please go to the medical tent for help. And you can always go to the event staff and volunteers for help.
Will there be The Color Run merchandise for sale onsite?
Yes, the event merchandise tent will be located at the start area.Cash only.
What is the inspiration behind The Color Run™?
The Color Run 5k is the first paint race of its kind and was inspired by several awesome events, including Disney's World of Color, Paint Parties, Mud Runs, and Festivals throughout the world such as Holi. We wanted to create a less stressful and untimed running environment that is more about health and happiness!
Can I run with a jogging stroller and my kids?
On one condition…if you are prepared to be one of the hippest moms/dads on the planet! As long as they are cute and like to have fun…all kiddos under 1.2 meter can run with an adult FREE of charge and do not need to register! Parents need to prepare white Tshirt for kids under 1.2 meter.
Can I run with my dog?
For the safety of our runners and animal friends, we do not allow animals at any of our races :-(
Is there an age limit for younger runners?
No age limits! If they can cover (running, jogging, walking, strolling) the 5 KM of The Color Run™ course, they can absolutely do The Color Run™ 5k! Remember though, kids taller than 1.2 meter will need to register and have a race bib!
How strict is the "white clothing dress code" for the start of the event?
As long as runners wear shirts that are mostly white, you are totally good. They can include team logos and any other image you see fit. Shorts/pants don't need to be white. It is really just more fun to run starting in white and ending, well…. COLORIFFIC !!!!!
Will the color ruin clothes or running shoes?
The "color" does mostly wash out after the event. As with anything dirty, the sooner you wash it the better. We suggest wearing items that you wouldn't mind getting colorful. If you would like to preserve the color in your running shirt, spray it with vinegar and iron it. If you wash your shirt….the color will eventually come out. For FULL color cleaning ideas and tips, please CLICK HERE !
Do you have "cleaning stations" at the finish after party?
There are public restrooms at the Finish Area where you can do a basic clean up. It is actually pretty fun to see people still colored up around town after The Color Run™ event. It is like a badge of honor!
How does the color affect the inside of cars?
Most people bring towels for the insides of their cars, just in case. It's like driving home from the swimming pool in your swimsuit.
Are cameras and phones safe to have in the color zones?
If you want to get shots right in the midst of the color we recommend covering cameras/phones with plastic wrap.
Is The Color Run™ timed?
The Color Run™ 5k is not a timed event. Runners tend to take their sweet time out there and we realized no one really cares about their speed :-) We suggest self-timing for anyone desiring a finish time.
Are there refunds?
Unfortunately, we cannot issue refunds.