---
1F/Beneath the Skin, Between the Machines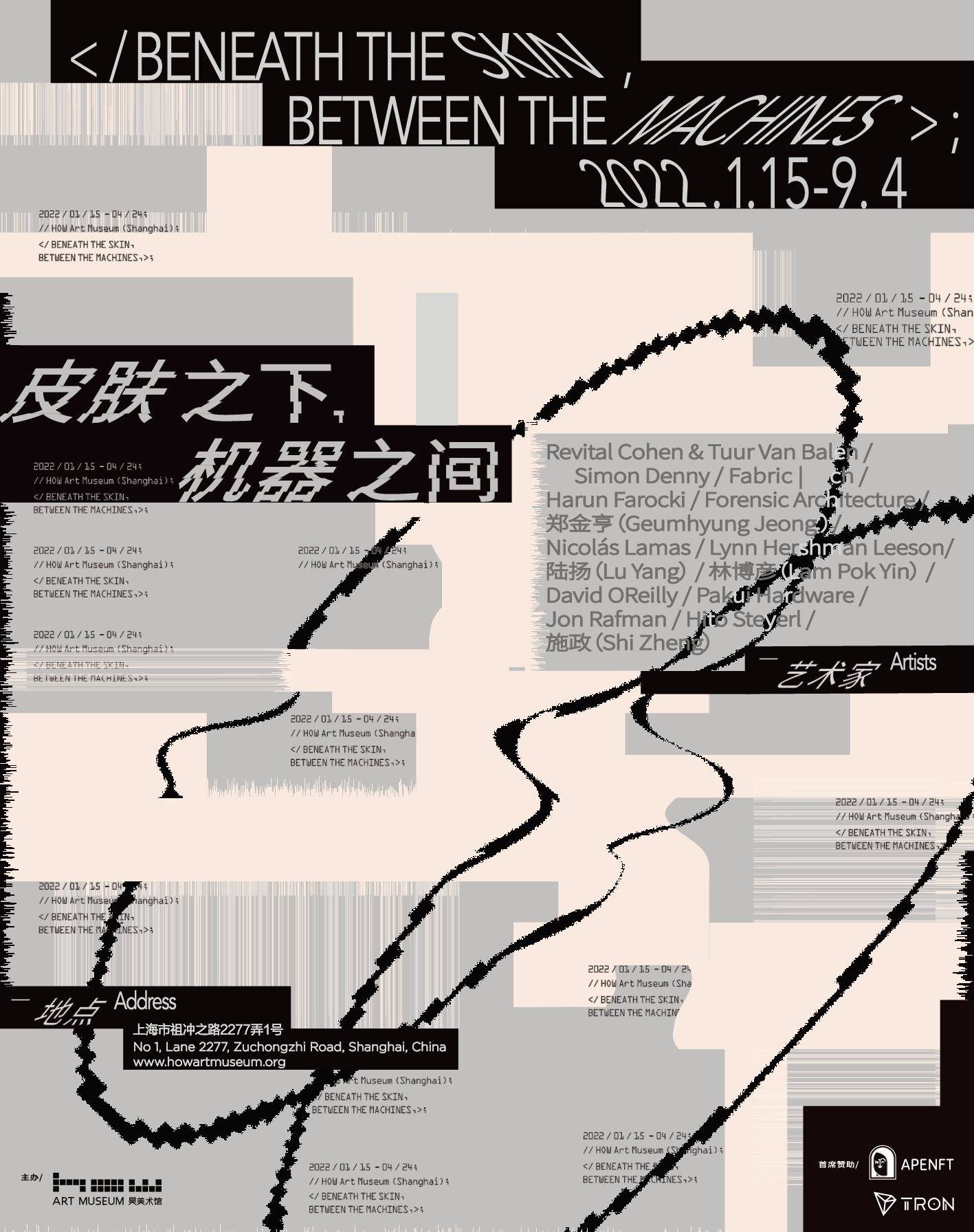 Exhibition Period: 15 Jan 2022 - 30 Aug 2022
Venue: Hao Art Museum (Shanghai)

The Hao Art Museum is pleased to announce the presentation of the exhibition "Under the Skin, Between the Machines" on 15 January 2022.
"Man is only human on its surface; remove the skin and man becomes a machine in an instant." When Paul Valéry wrote these words 100 years ago, it may not have been entirely certain that today's human being, a biological organism, is, in a highly informative space-time, deeply integrated into the machine, or, as Marx predicted, becomes "a conscious connection" [Karl Marx, "Machine Ramblings", Outline of a Critique of Political Economy]. Although today machines not only take material form, but also take on the form of data, algorithms, codes and other things that can be manipulated, calculated and thought about, the relationship between man and machine has been entwined in the imagination, the vision and the fear of the past, the present and the future since the conception of the robot.
Machines are, in a way, a projection of humans onto themselves, and humans apply ideas of slavery and freedom to this new relationship - a relationship with machines that replace humans as technological individuals or instrumental vehicles. Contrary to (or arguably similar to) the 'embodiment' of the machine, the human or organic being is becoming de-corporealised. At the same time, the social system created by human beings never stops absorbing new technologies, and in the process of trial and error, the so-called "new" technologies are absorbed by the system in their differences and contingencies, so that "every accident, every impulse, every mistake (for the system) is productive " [Niklas Luhmann, Social Systems], becomes predictable and calculable. Under this system, differences are confused and erased, but different fields become isolated and incommunicable from each other due to the complexity of expertise.
Because of this, technology is today highly centralised, homogenised and more sophisticated, getting deeper under everyone's skin without being truly knowable, palpable or thinkable. In this context, as an art institution located in the Zhangjiang Hi-Tech Industrial Development Zone, one of the most important technology parks in China, Hao Art Museum hopes to provide an open rather than a closed space through the exhibition "Under the Skin, Between the Machines", inviting the public to enter it Asking questions together: How do we touch machines? How do machines think about us? Where should we place our practice in relation to machines? From these questions, the exhibition presents the work of artists Revito Cohen and Tul van Baalen, Simon Denny, Harun Farocki, Nicholas Lamas, Lynne Hershman-Lisson, Lu Yang, Lin Boyan, David O'Reilly, Paqui Hardware, Jon Rafman, Hector Steyer, Governance and Jung Kim Hyung, in conjunction with a "forum installation" that continues to develop over the course of the exhibition. The "Forum Installation", specially created by the architectural firm Fabric | ch for the exhibition, is an attempt to connect workers and participants from different fields in a close exchange, triggering a dialogue and questioning of differences.
The exhibition will run until 30 August 2022
About Hao Art Museum (Shanghai)
Hao Art Museum (Shanghai) is a new cultural institution with contemporary art collection, exhibition, research and education functions. Located in Pudong, Shanghai, it has three floors of exhibition and event space with a total area of approximately 7,000 square metres. The museum is open from Tuesday to Friday from 12 noon to 8.30pm, and on weekends and holidays from 10am to 8.30pm, and is closed on Mondays.