⚠ E-ticket must be exchanged to paper ticket to gain entry
⚠ Non-refundable
---
Ballet in Three Acts
Don Quixote
Production, Performance: National Ballet of China
Choreographer: Rudolf Nureyev (based on an original by Marius Petipa)
Choreographer: Marius Petipa (based on the novel of the same name by Miguel de Cervantes)
Music: Ludwig Minkus
Music adaptation: John Lanchbery
Chief Planner, Producer, Artistic Director: Feng Ying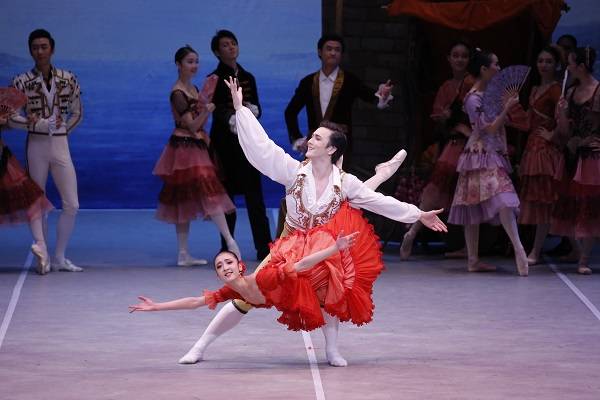 Synopsis of 'Don Quixote'
Don Quixote left home with his squire Sancho Panza to become a knight-errant, seeking to clear the world of injustice ......
Act I Plaza de Barcelona Port
The innkeeper Lorenzo's daughter, Gately, was passionately in love with the kindly tramp, Basilio. Lorenzo's arrival interrupted a series of joyful dances for the crowd. He was not happy that Basilio might became his son-in-law, as he had heard that the rich nobleman Gamache was going to propose to Gately. Gately resisted the marriage in every way she could. In her eyes, the flamboyantly dressed, big umbrella-carrying, stupid and foolish Gamache was a laughing stock, and everyone laughed at him. Father and daughter quarrelled about it all the time. Don Quixote and his attendant Sancho suddenly arrived. Lorenzo, impressed by Don Quixote's noble, chivalrous image, invited the great hero to his inn for some refreshments. Sancho waited outside and was teased by Guitry's young friends and Basilio. They pushed him around, pulled all sorts of pranks and threw him in mid-air. It was Don Quixote who stepped in and saved Sancho from this embarrassment. Don Quixote saw Guitry and decided that she was the Miss Dulcinea whom he was going to rescue and woo, and invited her to dance with him. This aroused Gamache's jealousy and displeasure, and Guitry politely declined Don Quixote's invitation to join the circle dance. Neither Don Quixote nor Gamache was a good dancer and the scene soon became chaotic. Gately and Basilio took advantage of the chaos to escape, but they were soon spotted and Lorenzo and Gamache rushed to catch up. Don Quixote and Sancho Panza also went after them.
Act II Scene 1 The Plain of Montiel
Gately and Basilio arrived at the gypsy camp. They held each other tightly and dance, then fell asleep in the windmill. They were discovered by the gypsies. They had wanted to rob the two, but found that they were just as empty-handed and changed their minds and decided to help the lovers. They quickly dressed the two men as gypsies. To help them further, they also decided to do an experiment. They put on a play in their puppet theatre to try to persuade Gamache and Lorenzo to change their attention. The story focused on the stupidity and vanity of Gamache and Lorenzo, who wanted nothing more than to keep Gately and Basilio happy. Don Quixote, the knight, felt his moment has come. He believed that the heroine of the play was his Dulcinea and was under attack. He stood up and attacked the theatre to rescue the heroine. The spear catalyzed the destruction of the marionette and Gamache and Lorenzo became his captives. In his hallucinations, he saw the windmills around him as giants and attacked them. During the battle with the windmills, he was taken off the ground and flung into the air by one of them, then fell to the ground and passed out.
Act II Scene II Don Quixote's Dream World
Don Quixote had a strange dream. He came to a fairy-tale world, surrounded by the Queen of the Forest and her retinue. They danced for him, and his Dulcinea came to his fore. Now he could confess his love to her. But the dream suddenly shattered and the fairy tale world disappeared.
Act III The Inn and the Wedding
Gately and Basilio hided in an inn, but they were still facing a chase. With the help of the young men there and their friend Espada, the bullfighter, they escaped once more, but were soon discovered again. Despite the fierce resistance of the lovers and their friend, Lorenzo was ready to take his daughter back by force. Suddenly Basilio had an idea. He pretended to suicide with a knife and fell at Lorenzo's feet. Gately feigned mourning and asked Don Quixote for help. Lorenzo fell for it and approved of their love affair. Basilio then rised from the ground to embrace his new bride. Gamache was furious and accused Don Quixote of being behind the affair. He challenged him to a duel, only to be disarmed by the knight and disgraced once again. Lorenzo can do nothing about it and has to laugh it off.
In the final wedding scene, Gately and Basilio celebrated their engagement (the big duet dance). In a slightly melancholy and sad mood, Don Quixote and Sancho Panza embarked on a new journey.