- Confirmation within 24 Hours
- Show Your E-ticket @ Venue
- No Cancellation
---
Whether starting your day with a hearty breakfast under the morning light or ending it with stargazing over supper, the unique glasshouse design of Atrium Café all day dining restaurant is the perfect environment to enjoy seasonal a la carte dishes or international buffet.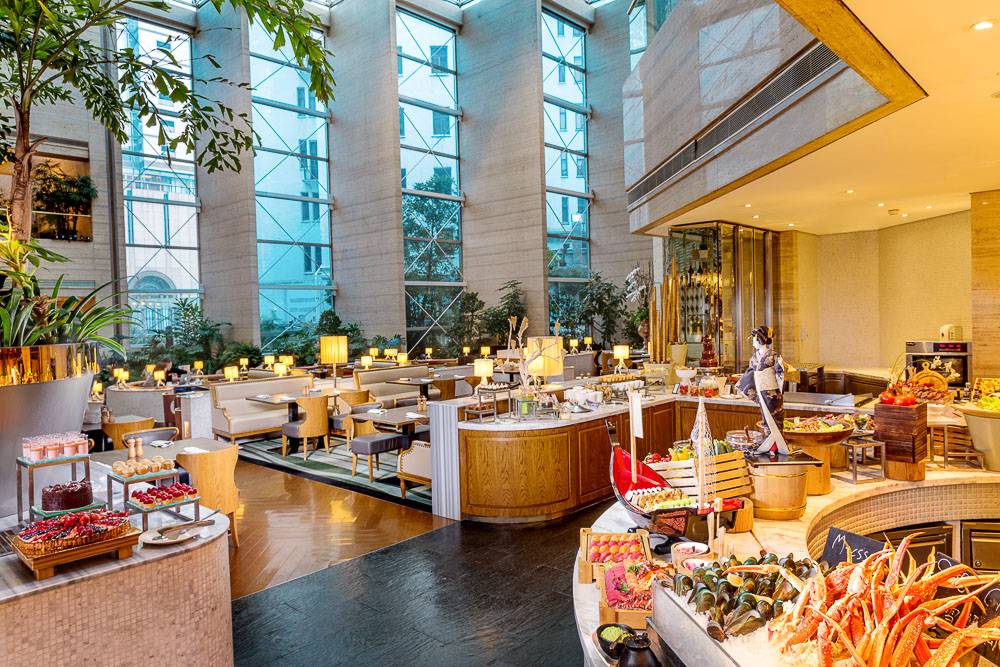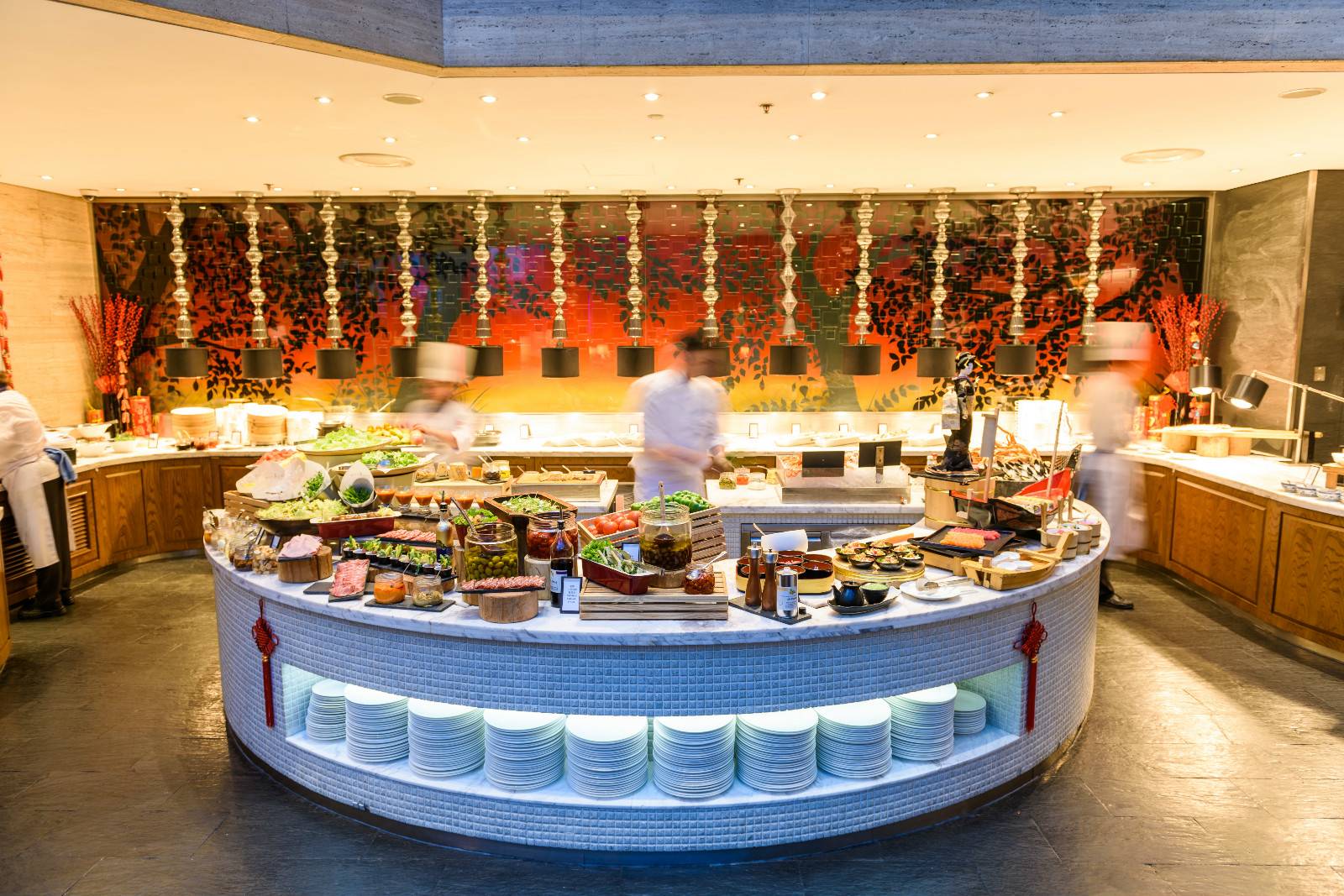 Boston Lobster Dinner Buffet
Island Section
Boston Lobster Station
Live Boston Lobster, Baked Boston Lobster Thermidor,
Grilled Boston Lobster served with Tom Yam Fried rice and Asian chili sauce
Fresh Sushi Bar
Sashimi, Salmon, Hamachi, Snapper, Tuna, Ama Ebi
Maki Rolls, Salmon Skin Rolls, Egg and Beef Rolls, Spicy Tuna Rolls, Miso Salmon Rolls, California Rolls, Vegetable Maki Rolls
Sushi Condiments, Wasabi Ginger Soy Sauce, Poached Edamame with Salt
Antipasto Plates
Ensalada Campera, Marinated Sea Bass with Red Onion
Caponata & Tomato Salad, Beef Carpaccio with Salad & Truffle Mayonnaise
Creamy Potato Salad, Marinated Roasted Vegetable, Daily Chef Salad
Cold Cuts On the Stone
Coppa, Bresaola, Pastrami
Glass Jar
Bell Pepper Pickle, Mixed Olive, Sundried Tomato
Cocktail Onion, Gherkins, Marinated Artichokes
Fresh Salad Station
Cobb Salad, Roman Lettuce, Iceberg Lettuce, Endive, Watercress, Tomato
Crispy Bacon, Roasted Chicken, Blue Cheese, Fresh Avocado
Hardboiled Egg, Red Wine Vinaigrette
In Glass Bowl Seafood on Ice x 2
Red Prawns, Mini Crayfish, Bamboo Clams, Mussel, Green Aioli
Thai Sweet Chilli Sauce with Coriander, Tartar Sauce, Cocktail Sauce, Lime, Lemon
Boutique Salad Bar
Assortments of Green Leaves, Tomato, Red Onion, Corn Kernels, Red Beans, Cucumber
Carrots Shavings, Broccoli, Cocktail Onions, Cornichons
Bell Peppers and Bread Croutons, Dressings and Vinaigrettes
Freshly Cooked Asian-style Salad
Rice Noodle Salad
Asian Salad and Cold Dish
Soy Sprout Salad, Spicy Cucumber Marinate Salad, Marinated Jelly Fish with Turnip
Spicy Shredded Beef, Sweet and Sour Pork Spare Ribs, Home Style Bean Curd
Beech Oven Pizza Station
Pizza Vegetarian, Pizza Hawaii
Carving Station
Lunch | Oven Roasted Herbal Chicken with Mushroom Sauce
Dinner | Grilled Salmon with Tomato Salsa
Mustards Selection
Yellow, Pommery, Dijon, Honey & Fruit Mustard
Pasta/Noodle Station
Fresh Asian Noodle Soup Station
Chicken Soup, Coconut Flavored Malaysian Laksa, Egg Noodle, Rice Noodle, Thick Noodle
Condiments
Shrimp, Half Prawn, Mussel, Clam, Sliced Steam Chicken, Soy Bean Sprout, Button Mushroom, Coriander
Chive, Lemongrass, Fresh Tomato, Fried Tofu, Fresh Lime
Sliced Cucumber, Steam Egg, Cabbage, Lettuce Leaf, Spinach Leaves
Daily Soup
Ecuadorean Locra de Papa, Cream Cheese, Fresh Avocado
Hot 1
Maccheroni Gratin, Pork Belly Casserole with Carrot and Potato
Barbecue Sauce Glazed Beef Burger and Vegetarian Skewers
Steamed Perch with Sauté Seasonal Green and Orange, Vegetable Cassolette
Deep Fried Fish Finger with Tartar Sauce
Hot 2
African Chicken on a Baked Potato Wedge, Macanese Steam Clam
Stir Fried Asian Vegetable, Portuguese Fried Rice, Shanghainese Fried Noodle
Asian Hot 3
Braised Pork Rib with Bitter Melon, Deep Fried Egg with Five Vegetable Juliennes
Steamed Beef with Rice in Basket, Steamed Baby Cabbage with Salted Egg Yolk
Soup
Braised Fish Head Soup with Bean Curd
Pastry Section
Bitter Chocolate Ginger Cake, Carrot Cake with Cream Cheese Icing, Strawberry Roulade
Rhubarb Crumble in Cup, Lavender Panna Cotta, Hilton Cheese Cake, Two Kinds of Cake from Gourmet Corner
One Pie from Gourmet Corner, Carved & Whole Seasonal Fruits On Ice
Action Station
Rühre
Hot Dessert
Hot Dark Berries Crumble with Vanilla Sauce
Ice Cream
Daily Rotation of Homemade Ice Cream and Sherbet
Freshly Baked Cookies Cones
Toppings
Rice Krispies, Meringue, Fruit Candies, Sweet Cream, Raspberry Sauce
Chocolate Sauce, Vanilla Sauce, Nuts and Croquants, Chocolate Shavings, Fruit Compote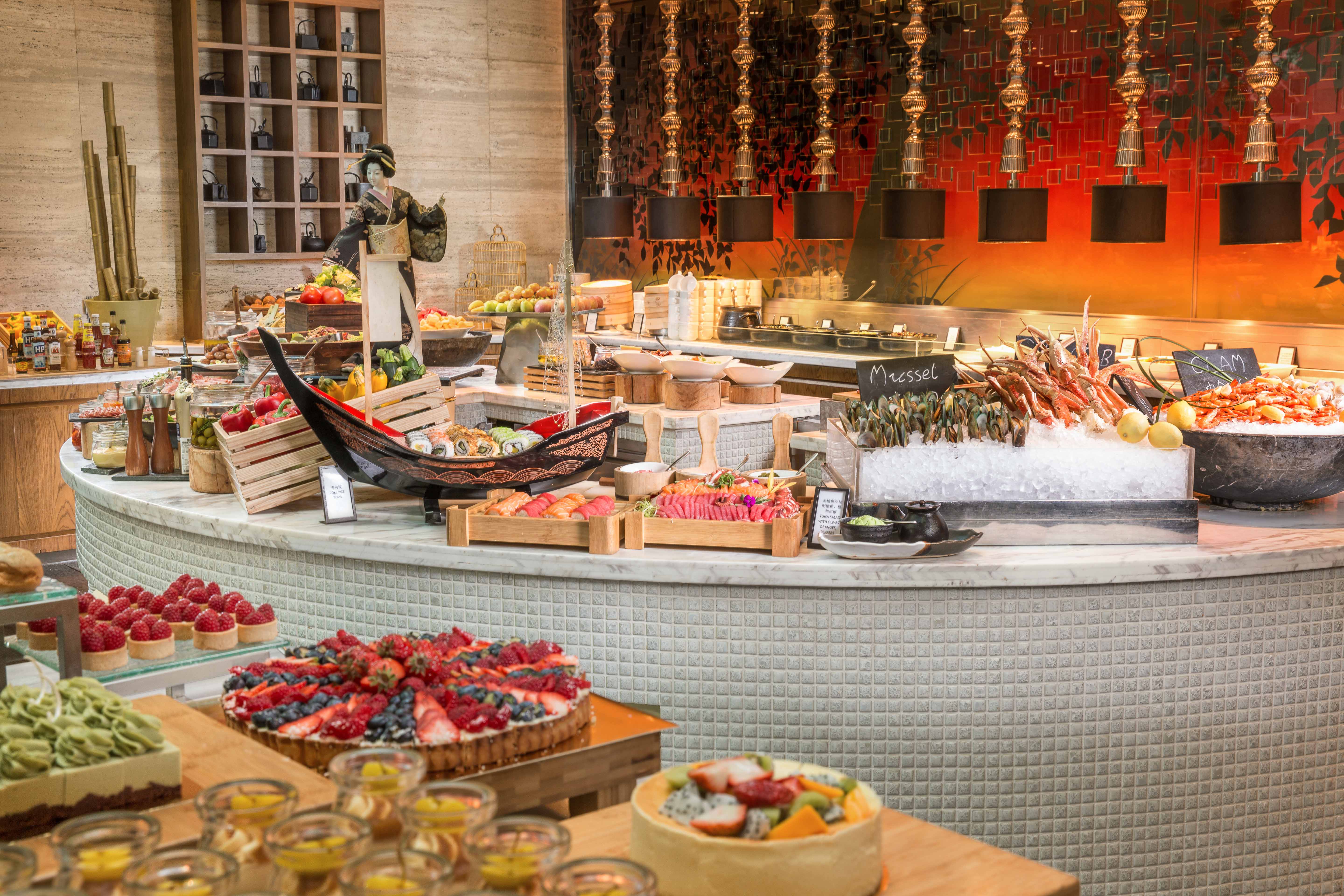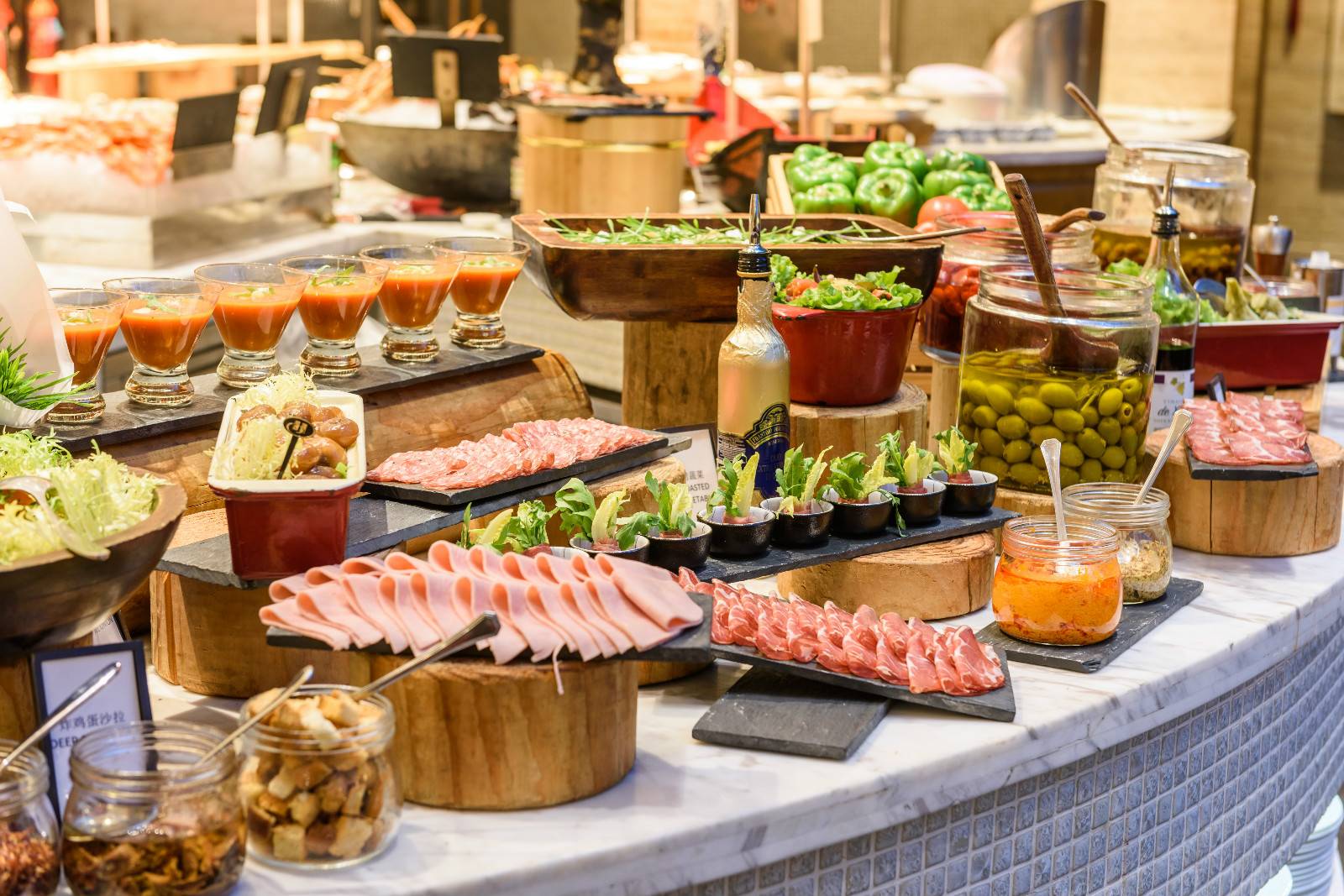 THE KUNLUN JING AN
Perfectly situated in the heart of Shanghai, The Kunlun Jing An enjoys an exceptional location in one of Shanghai's most fashionable and commercial districts, only a short walk from the famous Jing An Temple and West Nanjing Road. As the first Kunlun hotel in Shanghai, The Kunlun Jing An is rapidly gaining an international reputation for excellence delivering some of the best service in modern Chinese hospitality.