- Confirmation within 24 Hours
- Show Your E-ticket @ Venue
- No Cancellation
---
Whether starting your day with a hearty breakfast under the morning light or ending it with stargazing over supper, the unique glasshouse design of Atrium Café all-day dining restaurant is the perfect environment to enjoy seasonal a la carte dishes or international buffet.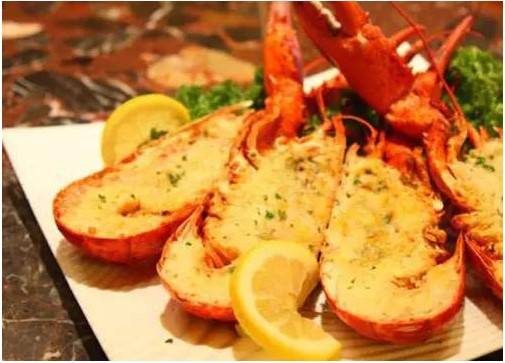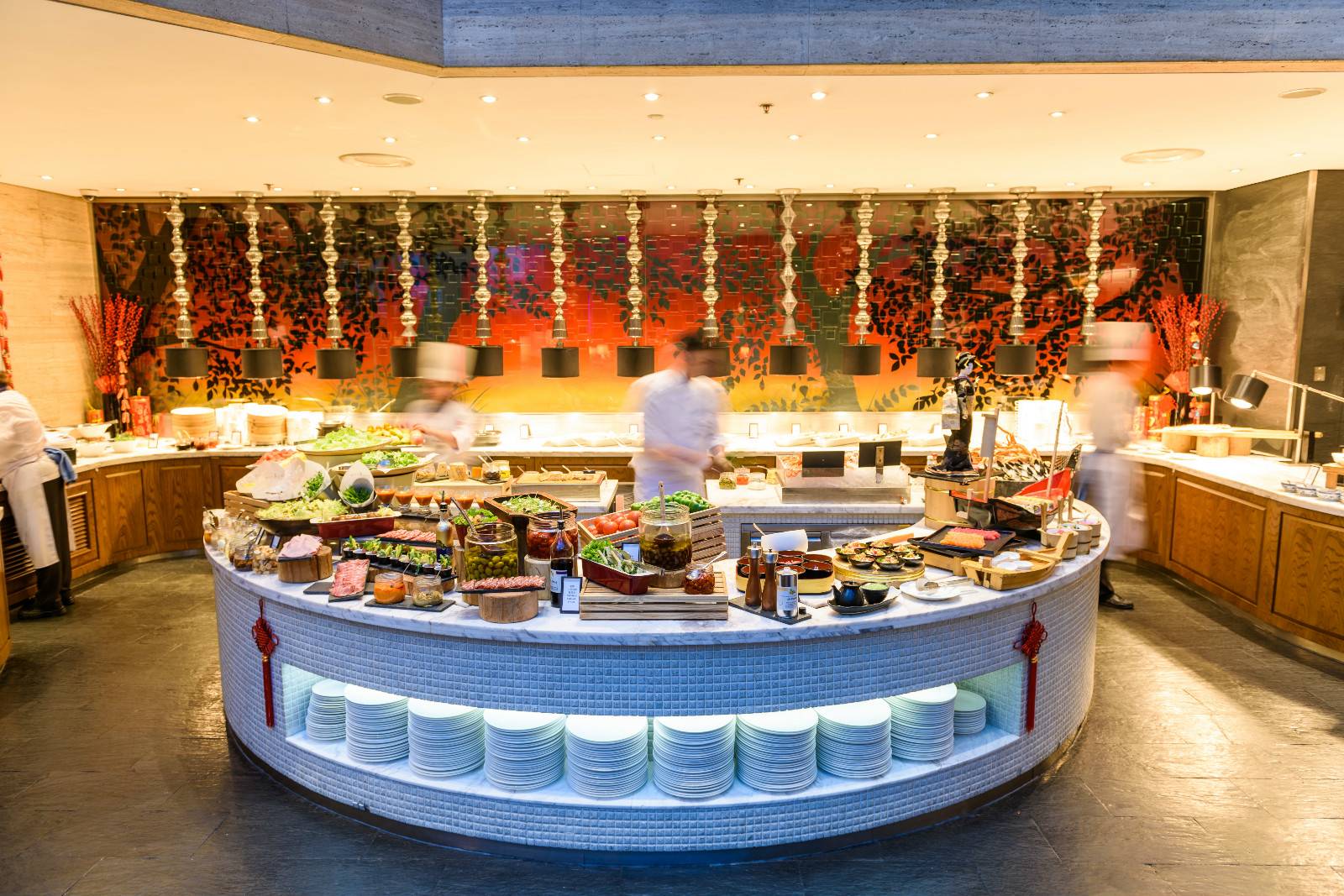 International Buffet Dinner Menu
Live Boston Lobster (1/2 per person)
Please tell service person your favorite cooking style
Lemon Garlic Baked Lobster with Parmesan Crumbs
Served with Butter Rice
Or
Grilled Lobster with Spicy Citrus Butter
Served with French Fries

Tappan

Red Fish Fillet
Condiments

Soy Sauce-Wasabi Mayo-Sweet Chili Sauce-Tartar Sauce

Seafood On Ice
Freshly Cooked Seafood
Deep-Sea Prawns, Snow Crab Leg, Razor Clams, Mussel. Scallop, Clams.
Dipping SauceCocktail Sauce Green Aioli, Chili Sauce with Coriander,
Tartar Sauce with Extra Spring Onion, Selection of Tabasco and Lemon.
Smoked & Marinated Salmon and Mackerel with Condiments

Japanese Station
Poke Rice Bowl Salmon, Tuna, Shrimp
Sashimi
Salmon-Tuna- Ama Ebi
Maki Rolls
---
Salmon Roll- Spicy Tuna Roll-California Rolls-Vegetable Maki Rolls
Sushi Condiments
Wasabi-Ginger-Soy Sauce

Healthy Vegetable Salad
Mixed Lettuce, Romaine Lettuce
Cherry Tomato, Corn Kernels, Red Kidney Beans, Cucumber, Carrots, Bell Peppers

Salad Topping
Cornichons, Cocktail Onions, Marinated Olives,
Roasted Bacon Grated Parmesan Cheese, Garlic Flavored Bread Croutons, Hard Eggs, Anchovies,

Dressing
Caesar DressingThousand Island dressing
Japanese Sesame Dressingvinaigrette
Extra Virgin Olive Oil, Balsamic Vinegar

Appetizers
Tomato & Mozzarella Salad
Cold Cuts Salad with Pickles and Mustard
Marinated Potatoes with Anchovy and Olive Salad
Seared Tuna Salad with Olives, Oranges, Peppers
Tossed Beef and Tripe with Sichuan Spicy Sauce and Peanuts,
Cucumber with Chili Oil, Braised Sword Bean, Bamboo Shoot Salad

Dim Sum
Xiao Long Bao (Shanghainese Mini Pork Dumpling)
Steamed Mushroom and Vegetable Dumpling

Carvings
Baked Salmon in Puff pastry with spinach and mushroom
grilled beef
Soup
Sweet & Sour Soup
Cabbage Bacon Potato Soup

Pizza Station
Pizza Boscaiola
Seafood Pizza
Noodles Station
Chinese noodle soup
Beef Broth
Beef Noodles Rice
Cabbage, Lettuce, Spinach, Preserved Vegetable,

Chili Sauce, Vinegar, Soya Sauce, Chili and Fish Sauce

Hot Selection
USA Berkshire Pork Medallions with Capers and Lemon
Roasted Beef Tenderloin with Pepper Sauce and Mushroom
Thyme Crusted Rack of Lamb with oven dried-cherry tomato and Gremolata Jus
Fish Fillet with artichokes and Soft Polenta
Parmesan Potato Wedges
Roasted Vegetables, Salsa Verde
Malay Style Chicken Curry
SautedBeefFiletwithBlackPepper
Shrimp in chili sauce with Cashew Nuts
Sweet & Sour Chicken
Hainanese Style Fried Yellow Noodles
Wok Fried Vegetables with Sambal

Cheese & Charcuterie
French Brie, French St. Nectaire, Gorgonzola, Emmental, Cheddar, and Condiments
Variety of Homemade Cold Cuts,
Bread Display
Home Made European Bread with Tomato Cheese,
Olive Paste, Butter and Olive Oil

Sweets & Pastries
Warm Bread Butter Pudding
Chilled Sago Cream with Mango
Tiramisu
Baked Plum Tart
Fruit and Berry tartlets
Matcha Crepe cake
Vanilla Creme Brulee
Ice Cream with Condiments
Black Forest cake
Assorted macarons
Egg Tart
Chocolate Fountain with Fruit Skewers, Marshmallows
Fresh Slice Fruit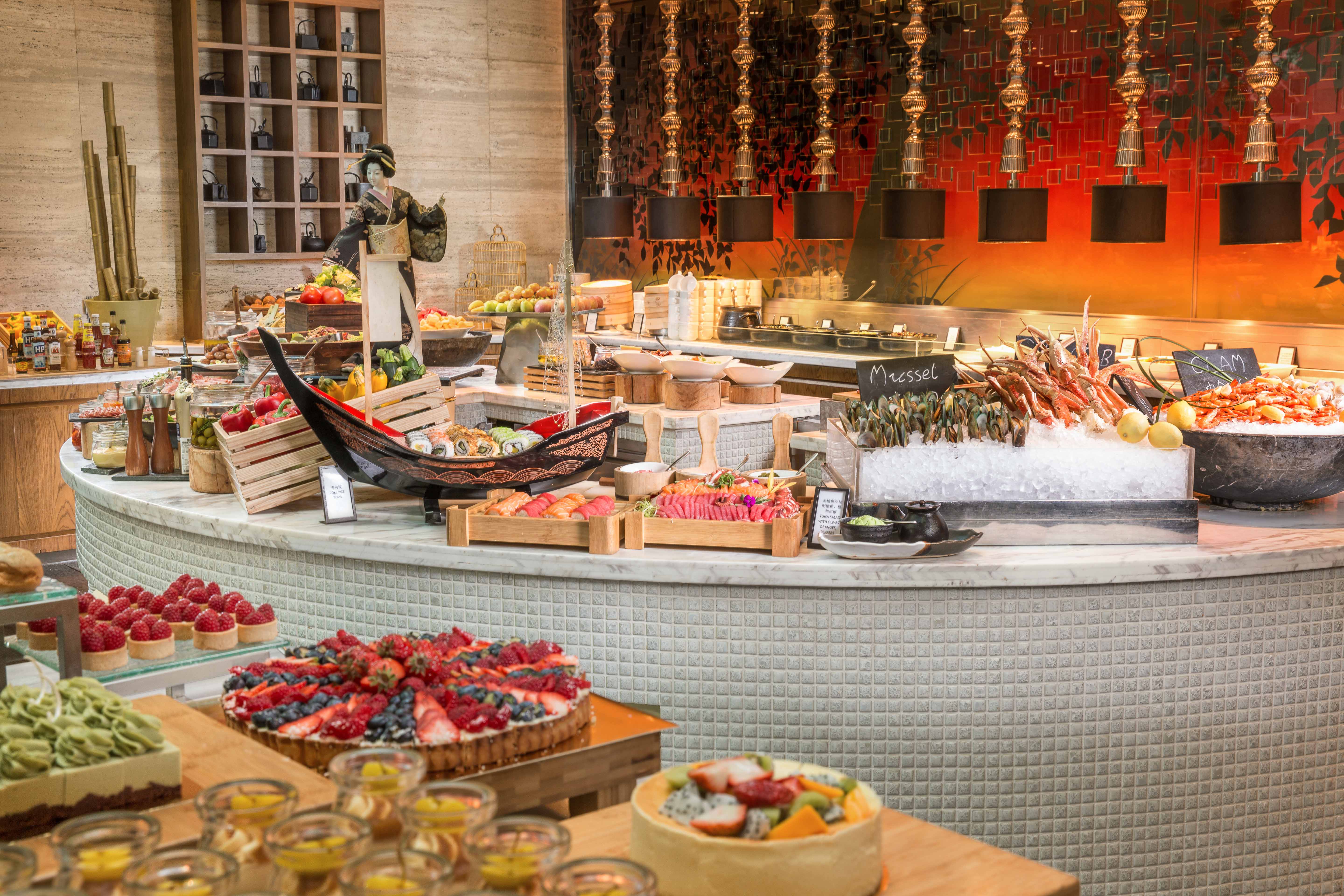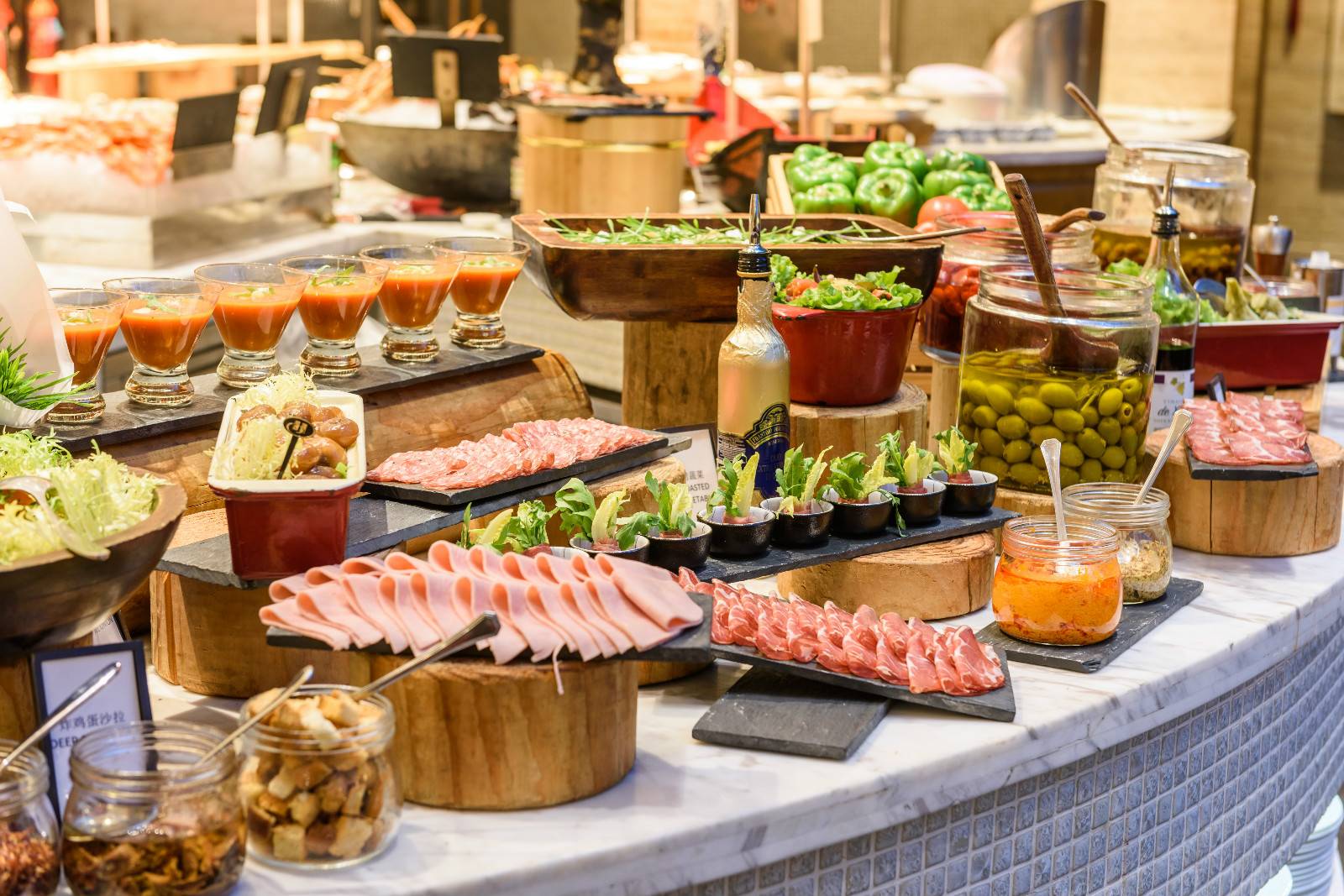 THE KUNLUN JING AN
Perfectly situated in the heart of Shanghai, The Kunlun Jing An enjoys an exceptional location in one of Shanghai's most fashionable and commercial districts, only a short walk from the famous Jing An Temple and West Nanjing Road. As the first Kunlun hotel in Shanghai, The Kunlun Jing An is rapidly gaining an international reputation for excellence delivering some of the best service in modern Chinese hospitality.