👉 Receive Tickets via Express Delivery
👉 Each Attendee Requires A Ticket
👉 No Cancellation
---
This is a specially-invited production at the Wuzhen Theatre Festival
"Wonderful dreams depicted by the heart of the young."
"Their bodies and movements are simply stunning, beyond imagination and perfect."
Starring top stars from different fields — actress TU Ling, dancers ZHU Fengwei and LI Yu, and singer ZHAO Li.
Choreographer CHEN Zihao builds a mystical space with hand-paintings, cats, white balloons, and raincoats.
The theatre space is filled with vigor and vitality.
[About Silver Lining]
25、26、27、28——29?We might have never thought about how youth just gets by us too quickly. What does "29" mean? It may have just been an ordinary year of life, but because of the widely circulated 'mantra' – becoming mature; yet we become confused, instead we start to think: Maturity? How to become mature? Immaturity? Can we though? If we become mature, so what?
At the age of 29, I am set to find, I am set to wander; at the age of 29, I have songs to sing, have words to say. On the way, I met a cat who thought he was a tiger, a chicken who believes he can fly, a monkey who thought he was a grown-up.
A specially-invited production at Wuzhen Theatre Festival,
Receiving applause after applause
Since its premiere, Silver Lining has received high acknowledgement from the media and the audience. Actor HUANG Lei commented, "It may look black and white on the outside, but when you look inside, you realize that it is filled with color. Silver Lining gives every dreamer a moment to dream." MENG Jinghui Theatre Studio praised: "Silver Lining is a moving dance drama that is full of power, imagination, intimate expressions, and sincere emotions".
According to the audience's review, it was "the worthiest play at the Wuzhen Theatre Festival", "so overwhelming" and "amazing beyond imagination", "I'll always remember this dance drama.", "It was absolutely awesome. I always like people with a pure heart.", "Everyone can find themselves in Silver Lining.". One audience rated the performance with a score of 99, "I give 99 points to CHEN Zihao's dance theatre Silver Lining. It's a pity that I didn't see the curtain call. Otherwise, it'd be a solid full mark."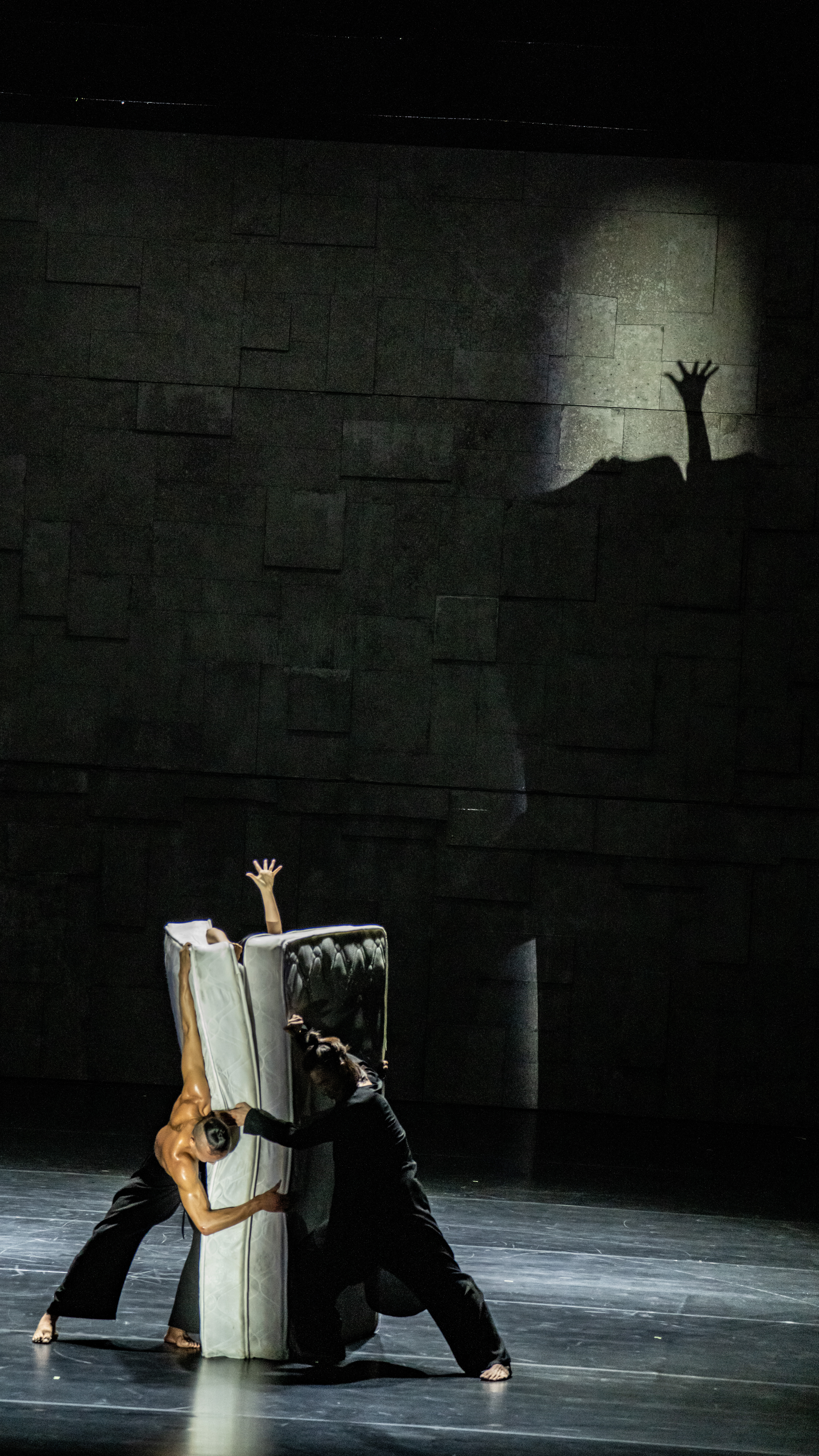 Choreographed by CHEN Zihao and starring dancers ZHU Fengwei and LI Yu, actress TU Ling, and singer ZHAO Li
Silver Lining is the first multimedia dance theatre choreographed and directed by director CHEN Zihao. With the support from famous music producer ZHANG Yadong from Mainland China as music director, popular dancer LI Yu and ZHU Fengwei, and visual design KINOi YANG Qian Studio (visual design studio commissioned for the opening and closing ceremonies of the Olympics in Beijing 2008/2022) in charge of visual image creation and production, the performance has come to fruition.
A mystical space with hand-paintings, cats, mattress, white balloons, raincoats, and dance
Through the fusion of new media visual and dance art, Silver Lining integrates theatre, dance, and music. With theatre born from dance, dance moved by theatre, and songs sung emerged from feelings, these elements have made the whole dance enriched and dimensional. The stage and costume design of the dance theatre performance focuses on black, white and grey. The video design adopts a two-dimensional hand-painted art project, which is intended to 'dream' with the most primitive and simple painting techniques, outlining the unique language expressions of Silver Lining.
[Reviews]
"Silver Lining presents an untamable passion that is not simply expressed through narration or logic, as it is conveyed by the peculiar posture, strength and movements of dance. With the intensity of physical expressions, the dancers capture, adapt and record the trauma, sorrow and warmth that is unique to the age of 29."
Pema Tseden, film director
"… It is shocking… Silver Lining is like a breath of fresh air flowing into the heart during these endless and stifling days… It portrays the young people of the city, who are torn and struggling for survival, for a better tomorrow and for love, presenting a film-like display of passion and confusion. The cramped-up space, the mattress like Noah's Ark, the grey and colourless walls, the mysterious and heavenly singing, the tossing and twisting of the body, the silent staring at each other, the wandering about in a daze, the rising of white balloons up in the air, etc., all of these elements feature the most passionate and sincere artistic expression of the dancers, who are committed to their dance philosophy and their pursuit of dreams."
ZHANG JIARUI, film director
[Words from the Choreographer]
The Chinese title of the work is "29", but in English, I named it "Silver Lining", because what I wish to present in this work is this feeling that rises within you when you see sunlight shine in through a narrow gap, and when a silver line is formed around the clouds under the sunlight, the kind that can only be formed when the clouds block the sun. It could be a dream with rain and dark clouds, and a silver line of sunlight emerges when the rain stops. Or it could be the edge of a white mattress…… It is like a dream. And no dream is too big or too small.
[Director/Choreographer]
Zihao Chen has won several major awards, including the 36th International Choreographic Competition (2022, Hannover), China National Arts Fund Work "Children of Stars" (2018), The 10th Lotus Awards Dance Competition (2017), the 6th Liaoning Lotus Awards Dance Competition (2016), Seoul International Dance Competition (2014), Yi Lei Cai International Ballet Competition (2014).
Chen studied at the Beijing Dance Academy. He was a performer and choreographer at the Beijing Modern Dance Company (2015-2019). During this time, he was involved in many international exchanges and performances. He performed in the dance theater Oath – Midnight Rain in Edinburgh (2018, Edinburgh Festival Fringe "China Focus"), Vancouver (2017, Dancing on the Edge Festival of Contemporary Dance), Cairo (2016, "The Belt and Road" Friendly Visit in Egypt by the Ministry of Culture). Chen also partook in the Exchange Performance at Martha Graham Dance Company (2015, USA). In 2010, he participated in the performance tour in Europe of The Rite of Spring as part of the Festival Croisements.
Chen was the executive director and dancer of Beijing – US and Song of Youth. Furthermore, he was part of the choreographic team and a dancer in dance dramas including White Deer Plain, Tiny Times, First Love, 12 Chinese Zodiac Signs, Offering (National Arts Fund Work). Additionally, he performed in Blooming of Time (China National Arts Fund Work).
[Dancers]
LI Yu
Graduated from the PLA Academy of Arts, he was formerly performing at the PLA Air Force Art Troupe and is now a top modern dancer who has won many awards in national dance competitions such as the Lotus Award and the Overseas Taoli Cup. He has gained popularity after his participation in the TV program "Dance Smash".
ZHU Fengwei
ZHU Fengwei is a choreographer and dancer. He participated in the first season of "Dance Smash". He is also an award-winner of dance competitions both in China and abroad, including the national dance competition of Lotus Award and Seoul International Dance Competition (SIDC). His representative works Once and 25m² Rhapsody were both invited to the stage of SIDC. From 2014 to 2017, he was a guest dancer at Beijing Modern and Contemporary Dance Company and performed in various countries. He has collaborated with many renowned artists including YANG Liping, SHEN Wei, YE Jintian, and HE Xuntian and performed at the top theaters and art festivals including London's Sadler's Wells, Brisbane Festival, and Melbourne Festival.
TU Ling
Graduated from Beijing Film Academy, Department of Acting. TU Ling is an actress who is widely known to the public through film, television and theatre works.
ZHAO Li
Singer and live improviser.
[Cast]
A speechless fantasist: TU Ling
A cat that looks like a tiger: ZHU Fengwei (Da Zhu)
A chicken who believes he can fly: LI Yu
A monkey that doesn't want to become a grown-up: CHEN Zihao
Time: ZHAO Li
[Creative Team]
Director & Choreographer: CHEN Zihao
Producer: HU Lai
Music Director: ZHANG Yadong
Visual & Costume Design & Graphic Design: XIE Xing
Dramaturgy: LIANG Geluo
Set Design: ZHANG Kunpeng, ZHANG Ji
Composer: LU Di
Light Design & Technical Director: LI Xin
Multimedia Design: YANG Qian
Stage Manager: LI Yimeng, LI Zhengyang
Calligraphy: CHENG Tonggen
Photography: SHEN Siyuan
[NOTICE]
Tickets purchasing: Please select your seats online,both e-tickets and printed tickets by mail will be valid.
Ticket claim: Please get your tickets before the performance date or 90 minutes before the performance and follow our staff's guidance to keep social distance.
Entering time: The audience can start to enter the auditorium 60minutes before the performance starts.
Validation: Please keep your mask on during your time in the theater.
Please double check the time, price, seat information on the tickets as there is no refund or change available after the tickets are sold.