- Receive E-ticket via Email
- Age 2-6
- Show Lasts 50 mins
- All Attendees Require a Ticket
- No Cancellation
---
Breaking the Ice is a devised piece of theater that tells the astonishing true story of a Husky and a polar bear who became friends. Set against the frosty backdrop of the Arctic, Breaking the Ice is a non-verbal piece that combines physical theatre, puppetry, interactive projection, animation and traditional Sami music.
A nature photographer greets the audience as she emerges from her tent and pulls on a red snowsuit, boots and gloves. Before long she encounters her first arctic adventure with a tail wagging Husky and the pair play on the set made up of the white floor and a backdrop of interactive projection. Then along comes the polar bear to the tune of stamping feet and booming roars and the pair retire to their tent – when all three characters finally come face to face, something extraordinary happens...
After the performance, children are invited to join the performers onstage and can even try on a pair of animal ears based on the characters from the show. The animals then have the chance to play together on the set until a final projection tells us it's night time and we curl up together to sleep under the Northern Lights.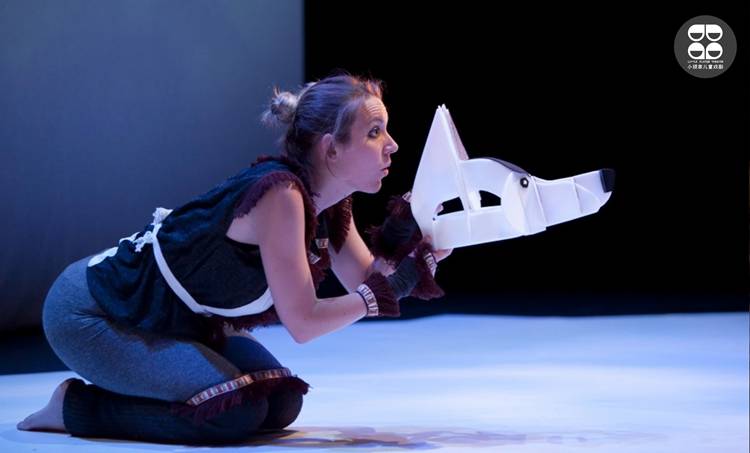 Unicorn Theatre
The theatre was founded in 1947, by Caryl Jenner, originally as a Mobile Theatre; In 1961, Jenner began presenting children's productions at the Arts Theatre in the West End, and in 1967 the company took over the lease of the theatre which then became Unicorn's permanent performing base until 1999; during this period the normal run of adult performances continued during the evenings.
Filskit Theatre
Filskit Theatre was founded in 2009 by Katy Costigan, Victoria Dyson and Sarah Shephard. We met during our time studying for our BA Degree in European Theatre Arts at Rose Bruford College. We were brought together over a shared interest in combining physical performance with multimedia technology to create magical, thought-provoking theatre for young audiences. At the heart of our work is our interest in technology and how it can be used to help immerse young audiences in the world of a story.