👉 Receive Tickets via Express Delivery
👉 All Attendees Require a Ticket
👉 No Cancellation
Conductor: Zhang Yi
Violin: Zhang Runyin
Max Bruch: Scottish Fantasy, Op.46
Anton Bruckner: Symphony in D Minor 'Nulte', WAB 100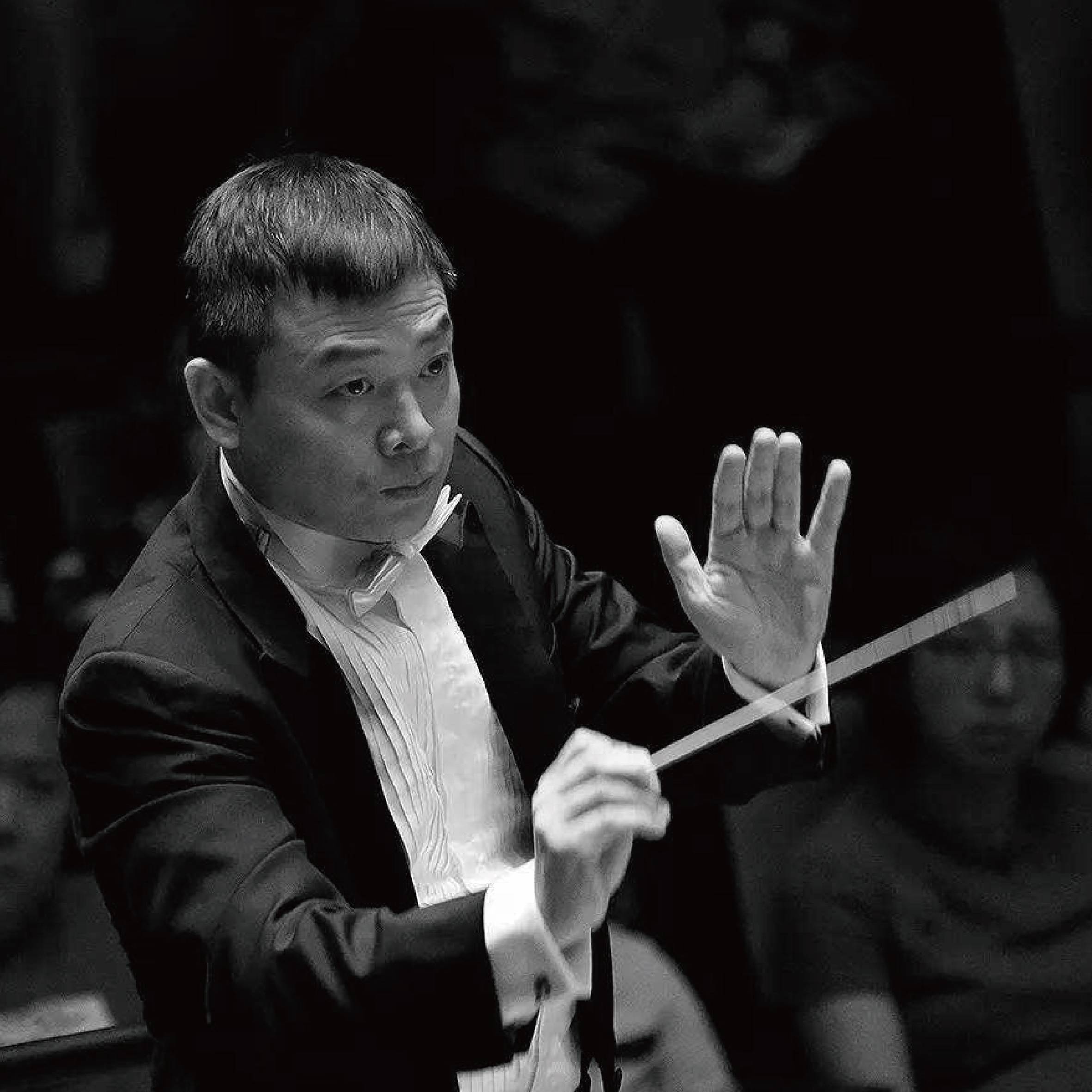 Conductor: Zhang Yi
Zhang Yi, music director of National Ballet of China, artistic director of Shanghai Philharmonic Orchestra and Zhejiang Symphony Orchestra.
Learning to play the violin at the age of five, Zhang Yi was recommended to Central Conservatory of Music in 1990. He learned conducting under the guidance of Prof. Xu Xin and Prof. Ji Ruikai. From 2000 to 2003, he pursued further education in the Saarbrücken Hochschule für Musik Saar, where he finished the graduate course for conducting with Prof. Max Pommer, a renowned German conductor.
As an influential conductor in China, Zhang Yi devoted himself in hundreds of concerts, operas and ballets. During the past two decades, he has cooperated with orchestras home and abroad, including China National Symphony Orchestra, China Philharmonic Orchestra, Shanghai Symphony Orchestra, Shanghai Philharmonic Orchestra, Macau Orchestra, Taipei Symphony Orchestra, London Philharmonic Orchestra, German Radio Philharmonic Orchestra, Württemberg Chamber Orchestra, Malaysian Philharmonic Orchestra, Tokyo Philharmonic Orchestra, Orchestra Victoria, Cuba Symphony Orchestra, Kungliga Operan , etc.
In his performances around Europe, America, Australia and Asia, Zhang Yi collaborated with numerous artists such as Leonidas Kavakos, Emmanuel Pahud, Wenzel Fuchs, Renaud Capucon, Jean-YvesThibaudet, Myung Wha Chung, Sarah Chang, Lang Lang etc.
During his tour in Malaysia, Zhang Yi received great acclaim in local news media, describing him as "a brilliant, incredible charming young conductor".
Zhang Yi conducted many premieres of Chinese and foreign works, such as the world premiere of the ballet Raise the Red Lantern in May 2001, the Chinese premiere of Mass in C Minor by Mozart (2012) and Stabat Mater by Rossini (2014) with Macau Symphony Orchestra. Meanwhile, he also engaged as conductor in some recordings, such as Xiaogang YE's New Music from China with Saarbrucken Radio Symphony Orchestra (by Wergo, Germany, 2002) and Britain Music with London Philharmonic Orchestra and cellist Qin Liwei (by DEECA, UK, 2013). In May 2012, he was given the Award of Outstanding Contribution at the Beijing Modern Music Festival for his efforts in showcasing modern Chinese music and musicians.
Known for his enthusiasm and passion, Zhang Yi is often invited to take part in national events, like the celebrating performance for Hong Kong's return in 2007 and opening ceremony of 2008 Olympic Games (including the song You and Me). In November 2015, he led the National Ballet of China Symphony Orchestra to the Palace of United Nations, where they presented a joint concert on behalf of the five permanent members of the UN Security Council, commemorating the 65-year anniversary of Sino-Switzerland diplomatic relations and the 70th anniversary of the United Nations. In March 2017, Zhang Yi successfully conducted the China NCPA Orchestra in Abu Dhabi Festival.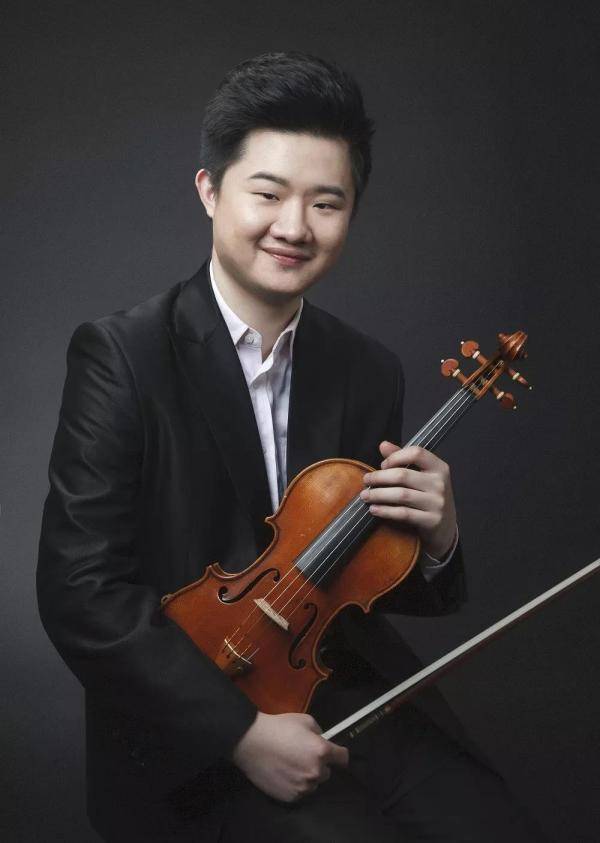 Violin: Zhang Runyin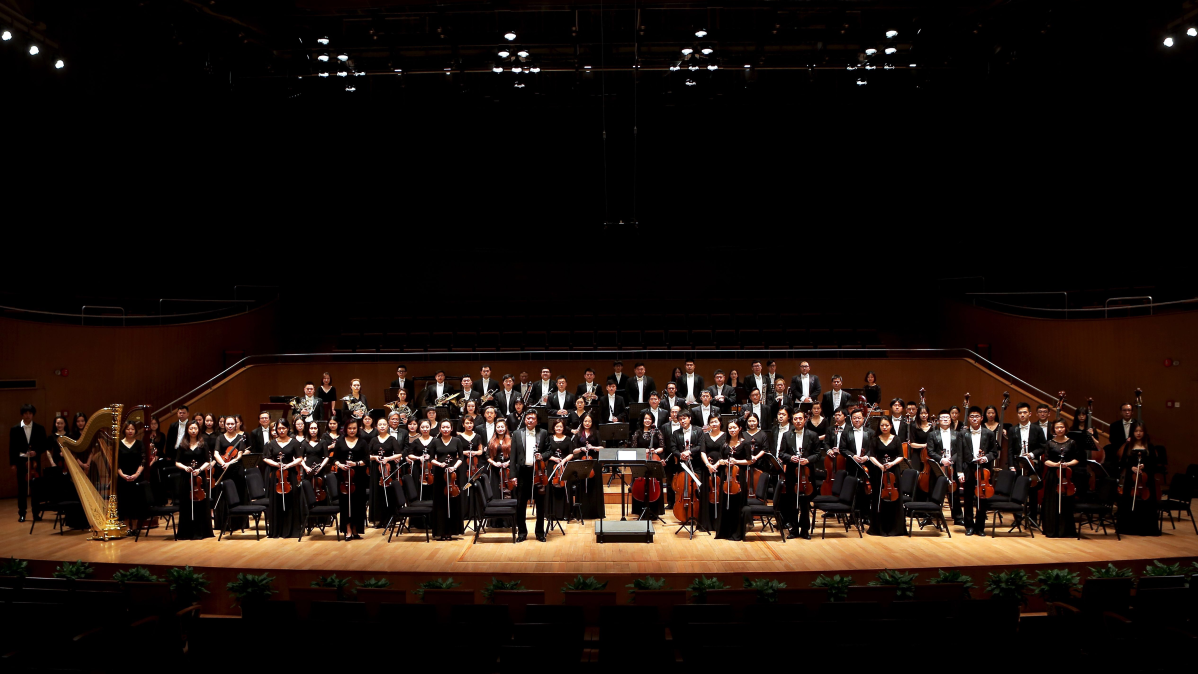 Shanghai Philharmonic Orchestra
The Shanghai Philharmonic Orchestra is a highly professional symphony orchestra developed from the Shanghai Broadcasting Symphony Orchestra. The former of Shanghai Broadcasting Symphony Orchestra is Shanghai Film Orchestra which was established in 1956 and Shanghai Broadcasting Orchestra which was established in 1950, which had both made great contributions to the development of Chinese film and broadcasting industry.
In 1996, Shanghai Film Orchestra and Shanghai Broadcasting Orchestra consolidated to form Shanghai Broadcasting Symphony Orchestra (SBSO) and it made great progress and development leading by the former music director Hu Yongyan.
The name of the orchestra was officially changed to the Shanghai Philharmonic Orchestra in April of 2004 with famous conductor Chen Zuohuang as its artistic director, adopting the world's most prevalent system of music seasons. In January of 2008, youthful conductor Zhang Liang has assumed the position of resident conductor of the orchestra. In March of 2009, the famous conductor Tang Muhai has taken over as artistic director of the orchestra. Since January of 2018, famous conductor Zhang Yi has become the artistic director of Shanghai Philharmonic Orchestra.
The Shanghai Philharmonic Orchestra pays a great deal of attention to the improvement of artistic taste and skill. The SPO has been involved in collaborations with quite a few renowned musicians both from home and abroad, such as Huang Xiaotong, Long Yu, Bian Zushan, Noorman Widjaja, Shui Lan, Lu Jia, Tan Lihua, Zhang Guoyong, Wang Yongji, Lin Yousheng, Zhu Qiyuan, Zhao Xiao'ou, Isaac Stern, Itzhak Perlman, Vladimir Ashkenazy, Peter-Lukas Graf, Luciano Pavarotti, Plácido Domingo, José Carreras, Jessye Norman, Joe Hisaishi, Peter Flor, Max Pommer, Cristian Macelaru, Thomas Sanderling, M.G. Mola, Yo-yo Ma, Támás Vásáry, Boris Berman, David Lively, Peter Frankl, Idil Biret, Oxana Yablonskaya, Chen Hung-Kuan, Paul Badura-Skoda, Robert Blocker, Alexei Volodin, Vincent Lucas, Li Jian, Tan Dun, Lang Lang, Li Yundi, Liao Changyong, Huang Ying, Shen Yang, Xu Zhong, Qin Liwei, Ning Feng, Chen Sa, Xue Wei, Huang Mengla, Wang Zhi-Jong, Song Siheng, Yu Wei, Xu Yang and Tan Xiaotang spanning a number of exciting concerts.
The Shanghai Philharmonic Orchestra pays much attention to the composition of Chinese music, especially for symphony works. Since 2012, about 17 commissioned works written by Lv Qiming, Chen Xinguang, Jin Fuzai, Ge Ganru, Julian Yu and Peng-Peng Gong have been premiered in the world, including Peng-Peng Gong's Symphony No.10 "Peking Fantasy" co-commissioned with Philadelphia Orchestra, Julian Yu's Chinese Version of the Young Person's Guide to the Orchestra and so on. The SPO not only do the world premiere for the music of different generation of Chinese composers such as Lv Qiming, Xi Qiming, Xu Shuya, Xiaogang YE, Ye Guohui, Zhou Xianglin, Ge Ganru, Liu Yuan, Wang Qiang, Qin Yi, Peng-Peng Gong, but also hold several concerts for the composers such as Lv Qiming, Huang Zhun, Yang Liqing, Chen Qigang, Tan Dun, Zhou Long, Chen Yi, Qu Wei, Wang Xilin, Jin Fuzai, Ge Ganru, Guo Zurong and Peng-Peng Gong. The SPO spares no effort to promote and spread abroad the Chinese music composition.
In March of 2016, the SPO has held concert of Lv Qiming in National Center for the Performing Arts. In October of 2017, Choral Symphony THE REVIVAL was successfully held as the Opening Ceremony Performance of the 19th China Shanghai International Arts Festival. The SPO commissioned three works including Zhao Guang's Capriccio Shi Ku Men, Xu Jingxin's Song Cycle Eternal Monument and Peng-Peng Gong's Symphony 2021.
The Shanghai Philharmonic Orchestra has attended many international music festivals and activities. In 2005, it went to Singapore, before touring Taiwan in 2006. In 2009, the orchestra toured Australia for the Friendly Week of "Queensland-Shanghai". In 2010, it successfully assisted touring concerts in Switzerland, Slovakia, and Hungary. In 2014, it went to Taiwan for three successful concerts. In 2016, it went to Suwon & Busan of Korea and Kazakhstan. In 2017 it went to Bangkok of Thailand and Tokyo of Japan for concerts. The SPO visited Hong Kong, Macau, and foreign countries like Thailand and Indonesia in 2018. In 2019 it joined the Philadelphia Orchestra to hold the first Chinese New Year's concert at the Kimmel Performing Arts Center in Philadelphia. In the same year, the Shanghai Philharmonic Orchestra also participated in the 47th Istanbul International Music Festival and the 33rd Izmir International Music Festival. The SPO won wide praise and was acclaimed as one of the Asian orchestras with the greatest potential.
Dedicated to symphony promotion, the Shanghai Philharmonic Orchestra has organized a variety of activities including "Neighborhood Concert" and "School Concert". The Shanghai Philharmonic Orchestra has become the strategic partner with the Philadelphia Orchestra, Bavarian Radio Symphony Orchestra and Melbourne Symphony Orchestra for further cooperation. The Shanghai Philharmonic Orchestra is endeavoring to make itself an all-round and widely influential orchestra, offering further contributions to the development and prosperity of China's symphony field.