Let's go...South Lamma Island Sea Kayak & Hike – Day Tour
This one day trip takes you around South Lamma Island. Hop in a sea kayak and paddle from Sok Kwu Wan (Picnic Bay) towards the middle of the island, passing around the southern tip and over to Yung Shue Ha and the Green Turtle Nesting Marine Sanctuary! Check out an ancient fishing village, get up close to a traditional Hong Kong fish farm, under towering sea cliffs, and if conditions are right, head through the Lamma Islands famous sea cave, and chill out on a remote beach and cove! Finish off the trip with a hike through the mountains with spectacular views!! Definitely a trip for the more experienced paddler!
Discover a side of Hong Kong that you never knew existed!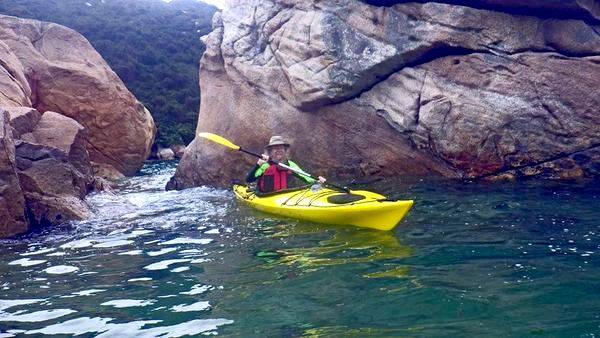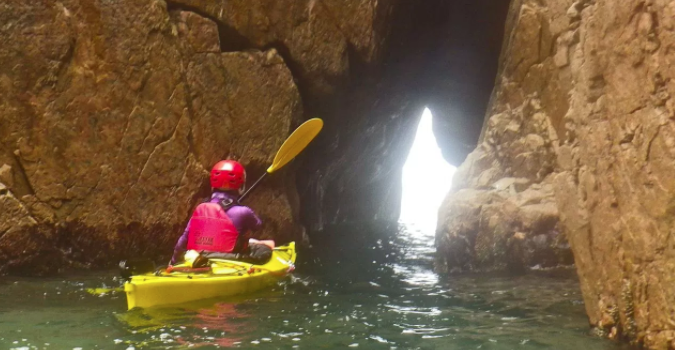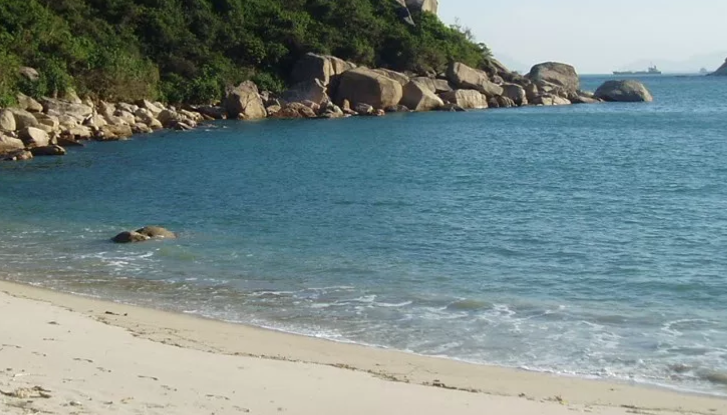 Departures every Thursday & Friday
Hop on the 8:45 am Ferry to Lamma Island from Central Pier #4 to Sok Kwu Wan. Make sure you have had a hearty breakfast as the day is very active. (HKD$22.) (30 mins)

Price : Book now for 650 RMB (or 750 HKD)
Bookings must be made at least 3 days prior to trip departure.
Includes:
Picnic lunch, drinks and snacks
Kayaking equipment, safety gear, guides, instructors
Souvenir photography of the sea kayak trip (we carry waterproof cameras)
Does not include:
Any extra food or drinks you may buy during the day
Ferry to/from Lamma Island

What you need to bring:
A set of clothes to kayak in (they will get wet)(including t-shirt, shorts, swimming costume, water shoes (or trainers-- no open toe shoes!))
Please bring good trainers and socks as the hike is hilly and will cause blisters if you are not used to walking.
A camera (if it is waterproof or in a waterproof case), water resistant sunscreen, sunglasses (preferably with strap), a wide-brimmed hat, a refillable water bottle (no single use bottles allowed), a change of clothes, toiletries (for showering), and other snacks you may want.
NOTE: Please do not bring too much with you as it all has to be carried in the kayak.
Cancellation & Disclaimer:
If the traveler decides to cancel, s/he can get a refund minus a cancellation fee of 100 HKD (approx 85 RMB) if cancellation is made 7+ days prior to departure, 50% if is less than 7 days prior to departure, and no refund if the cancellation is made 2 days prior to departure or less. Please note that if the traveler decides to reschedule a rescheduling fee will apply. The schedule, transportation may be adjusted due to weather conditions, unforeseeable events etc. For complete information please refer to www.travelers-society.com/terms-conditions. If the tour is cancelled due to unsafe wind and sea conditions then we ask that you respect this decision. In this situation, we offer an alternate route. If no alternate route is available, we will provide a full refund.
The trip entails a degree of risk, even if all safety precautions are followed and our experienced guides are used. Therefore, participants need to be reasonably fit, willing to be challenged and to listen and follow instructions and to learn. If you have any pre-existing medical or other issues, you must please disclose and ensure that participation is appropriate. You should not participate if you are suffering from a heart condition, are pregnant or under medication or influence of alcohol/drugs or otherwise not ready for strenuous physical activity.
These tours fill quite rapidly. The maximum number of kayaks per tour is 10. This means the trips can fill up overnight. To avoid disappointment, if you feel you would like to do a kayak trip, please make a booking ASAP.
FAQs
What If I have a medical condition? Can I still participate?
If you have any pre-existing medical or other issues, you must disclose them and ensure that participation is appropriate. You should not participate if you are suffering from a heart condition, are pregnant or under medication or influence of alcohol/drugs or otherwise not ready for strenuous physical activity.
All Participants are required to complete the Medical declaration at the Kayaking site and recognize that the Company will relay on information thereby provided for any treatment and/or addressing of special needs.
What if the weather is bad? Will I get a refund?
Every tour is affected by the weather, especially wind and tides. Also, Hong Kong lies in the tropical typhoon zone, so several safety aspects need to be managed. We make trip-specific judgments, based on expected weather conditions and other circumstances, including group dynamic and ability for that day. If we think the trip is not safe, we will postpone or cancel it.
If we decide not to proceed with a tour due to weather conditions or safety considerations being an issue, please respect that decision, it is for your safety.
We will offer either a delayed start (weather permitting) or a rescheduling of your trip. Depending on the circumstances on the day, we will consider how best to appropriately manage such a situation.
Once a trip has set off there will not be refunds for delays or changes of route or curtailments due to weather conditions or safety considerations (including limited capabilities of participant(s)).
What is the minimum age for this trip?
Minimum age for an unaccompanied person is 14 years unless in a school or other youth group accompanied by 1 or more supervising adults.
For participants under 18 years old-- it is the responsibility of the parent or guardian to make such decisions on behalf of their child or ward.
How much kayaking experience do I need for this trip?
This trip is more preferable for those who are more experienced with sea kayaking and possess a good level of fitness, since we will be kayaking for at least 13 km, and also hiking for an hour.
More about Kayaking Etiquette:
You are a guest – bring a quiet voice and leave behind your radios and portable speakers– your fellow participants will appreciate it and you will be rewarded by seeing more of the natural environment and its tranquility. Tread lightly, paddle slowly and enjoy nature. This is particularly relevant in the habitats of the endangered Chinese White dolphin. Persistent disturbance of their habitat has interfered with breeding, feeding and care of their young. Please join with us and carry out all your litter and any other trash. Don't remove rocks, logs, driftwood, wildflowers or plants – Take only photos, leave only footprints.
Kayak to a turtle nesting sanctuary, fish farms, sea cliffs, and sea caves!

Have a question?
email us: info@travelers-society.com
or add our individual Wechat account: ID: travelers-society