Price:
Early bird price: 6499 RMB
Regular price: 6999 RMB
1000 RMB deposit (included in the price) is required upon signing up. The full payment must be made by the 15th of January.

In case of a cancellation, the amount paid is not refundable after the 15th of January, unless a replacement is found.

A MINIMUM of 5 participants is required to organize this trip. Should the trip be cancelled due to a low number of participants, changing weather conditions or other unforeseeable factors, all guests receive a full refund.
Included
1. ALL MEALS
Meals consist of typical Nepalese cuisine. Vegetarian options avaialble.
- 8x Breakfasts
- 9x Lunches
- 9x Dinners

2. ALL TRANSPORTATION
- Private car to Nagarkot
- Private car to Bhaktapur
- Private car from Kathmandu to the start of the trek
- Private car from the end point of the trek back to Kathmandu

3. ALL ACCOMMODATION
- One night in a mountain resort in Nagarkot
shared double/triple occupancy
- Two nights in a 3-star hotel in Kathmandu
shared double occupancy
- Five nights in mountain lodges during the trek
simple double/triple shared accommodation

Single supplement during our stay in Kathmandu: 150 RMB
*private rooms are not available in Nagarkot or during the trek

4. ENTRANCE FEE TO LANGTANG NATIONAL PARK

5. MOUNTAIN GUIDE

6. ORGANIZATION COST

7. ENGLISH SPEAKING TOUR LEADER

8. AIRPORT PICK-UP

9. TRIP VIDEO

Not Included
1. FLIGHTS
Saturday the 2nd of February is the start of our adventure.
Your flight must reach Kathmandu International Airport no later than 12:00 pm (noon), otherwise you should arrive one day before - Friday the 1st. Please refer to the suggested flights section at the bottom.
*** the extra night at the hotel is not included.

2. INSURANCE
Insurance is obligatory for this trip. You are responsible to aquire your own insurance for the whole length of the trip and send us a proof of it. We recommend World Nomads Travel Insurance.

3. DRINKS

4. NEPALESE VISA (25 USD)

5. AIRPORT DROP OFF
FLIGHTS (NOT INCLUDED):
Please keep in mind that your flight should reach Kathmandu no later than 12:00 PM on the 2nd of February.

Otherwise fly in on the day before - February 1st

Here are suggested flight connections to Kathmandu from:
1) GUANGZHOU

2) SHENZHEN
The connections from Shenzhen aren't very convenient. You can either take the below flight on February 1st or fly out from Guangzhou/Hong Kong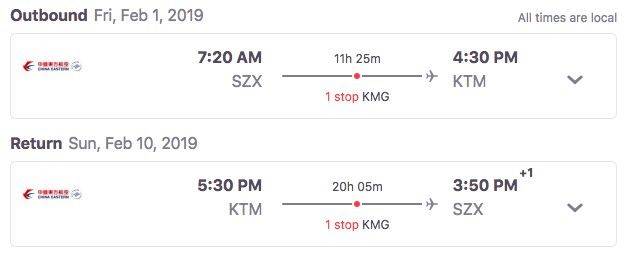 3) HONG KONG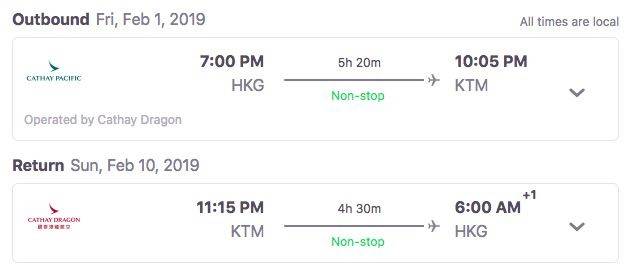 Q&A
1. I'm not very fit, can I still join the trek?
This is a high-intensity trek, spread over 5 days of hiking 5 to 6 hours each day and reaching altitudes of over 4000 m. If you don't have any previous hiking experience or a good fitness level, this trip isn't for you.
We will have two high-intensity day hikes as a training where you can test yourself and see you could potentially be fit for the adventure.

2. What's the highest point we will reach and should I be concerned about the altitude sickness?
The highest point we will reach is pass at 4700 m and then we will spend one night at 4380 m. Altitude sickness can affect people in different ways, regardless of their fitness level. Most common symptoms might be head-aches, difficulty with breathing, lack of apetite. Alititude sickness pills can weaken the symptoms and help you deal with the altitude better.

3. How will be the weather like?
February is a good time to hike in the Himalayas since it's off-season and trails aren't as crowded. During the day the temperature will stay around 10 degrees so very pleasant for hiking. However the temperature can drop down to zero or below during the night, especially when we reach our destination at 4300 m.

4. What should I bring with me?
Once you sign up for the trip we will send you a checklist of items you should obtain. Overpacking is not an option. Your backpack should not be heavier than 10 kg.
The weather in the mountains can change rapidly, therefore, proper mountain equipment is necessary.

5. How do I apply for the visa?
Most nationalities are able to obtain the visa upon arrival, however, please verify what is the specific policy regarding your country of nationality.

If you have any other questions, please let us know.