👉 Receive E-ticket via Email
👉 Show Your E-ticket @ Venue
👉 No Cancellation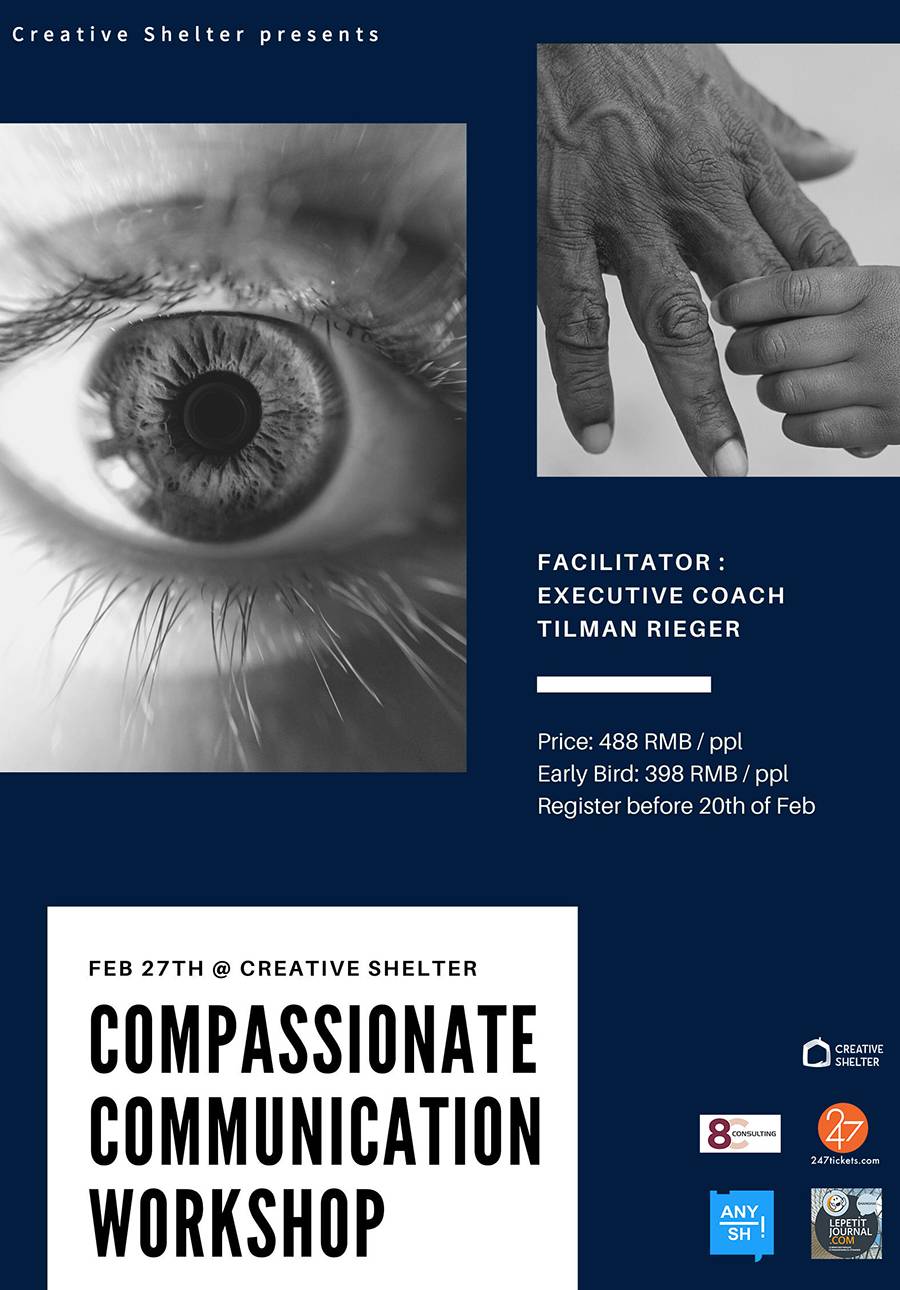 Communication is a basic human activity that is learned throughout life and is applied on a daily basis, but unfortunately not always in the most effective way. This Compassionate Communication workshop introduces you to a simple, yet powerful four step process that will serve you to resolve conflicts and empathically connect with each other, helping you to acquire more fulfilling professional and private lives.
The purpose of Compassionate Communication (also known as NVC: Nonviolent Communication) is to respect the individual's autonomy/ freedom of choice while at the same time ensuring an empathic connection. This sets the conditions under which contributing to one another's well-being is enjoyable. This is especially helpful when we request someone to change their behavior for our benefit.
Compassionate Communication was developed and successfully applied by the US-American Psychologist Dr. Marshall B. Rosenberg between the 1960's and 1990's. It has been spread across the world since the publication of his book "Nonviolent communication. A language of Life." and has now become a well-recognized approach in the field of conflict resolution, coaching and consulting.
What participants can expect from this workshop:
Experience how to effectively calm down when you are upset, disappointed or experience other unpleasant emotions
Understand how to best express yourself honestly but with compassion to resolve or avoid conflicts.
Learn how to better communicate in challenging situations and provide real empathy to those who are in emotional pain
Target group:
Everyone who wants to become a more compassionate communicator and is interested in personal growth, personal development, psychology and generally wants to increase their self-awareness.
About the facilitator:
Certified Executive Coach
Leadership Workshop Facilitator
Interpersonal Communication Consultant
CEO & Founder of 8C Consulting 8C Consulting
With two decades of HR leadership, consulting, facilitation & coaching experience Tilman Rieger founded 8C Consulting in order to help his clients reach more effective communication, leadership and collaboration. In his former role as HR Director of General Motors Europe Tilman was overseeing 3000 employees across Europe and driving major corporate changes and restructurings.
Today, Tilman works as a certified executive coach, with particular expertise in transactional analysis, compassionate communication and cross-cultural management. He also passionately designs, conducts, and facilitates leadership training and workshops for both managers and associates across different business fields and cultural backgrounds.
He is the President of the Shanghai Coaching Circle, and served the executive committee of China's strongest public speaking club, Shanghai Leadership Toastmasters Club, for five terms. Tilman holds degrees in Personnel Management & Economy as well as a Master's in Educational Science, Psychology and Sociology. He is of German and U.S. nationality, and has lived in Chicago, Frankfurt, London, Paris, Madrid, Zürich and now Shanghai. He is fluent in German, English, and conversational in Spanish, French and Mandarin.