⚠ Ticket Delivery in 7 Days
⚠ Please book at least 1 week in advance
⚠ Non-refundable
---
By creating contemporary chamber music of different genres and combinations, we will present a "concert in a room" by taking advantage of the excellent soundstage and warm environment of the Shangin Opera House. Starting in September, we will present a series of three jazz concerts, the first of which will feature the renowned young and handsome contemporary jazz guitarist and jazz composer Zhang Xiongguan. The first concert will feature a number of his original compositions and classical adaptations. With the jazz live atmosphere, the lighting will be upgraded and the performance will be immersive, with the jazz band as the centrepiece and and the jazz players' tacit cooperation will be felt from a 270° perspective. Come and rock out with your friends at the Shangin Opera House for a weekend of fun!
Track List
Autumn Leaves
Composed by Joseph Kosma
September in the Rain
Composed by Harry Warren
How High the Moon
Composed by Morgan Lewis
Moon River
Composed by Henry Mancini
Hey Its Me You're Talking to
Composed by Victor Lewis
Waltz for Debby
Composed by Bill Evans
Minuet
Composer: J.S. Bach
Arranger: Liu Zihao
The Pursuer
Composer: Liu Pei-kun
One is Too Many
Composer: Zhang Xiongguan
*Performances, order and lineup are subject to the live performance on the day
Performer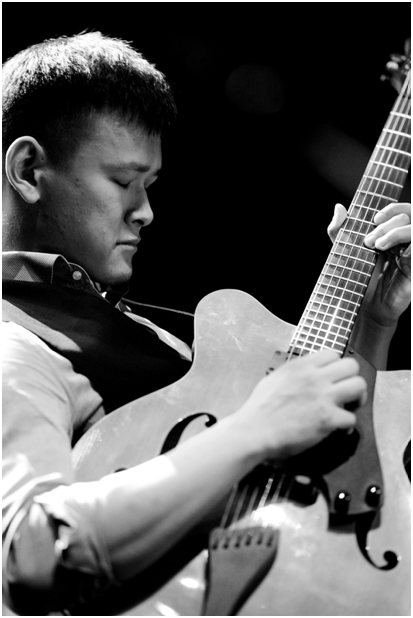 Zhang Xiongguan
He is one of the most influential jazz guitarists and composers in China at the moment. He graduated from the Shanghai Conservatory of Music and the New England Conservatory of Music, where he studied with Taiwanese jazz guitarist Jiwen Liao, Grammy-nominated jazz piano virtuoso Fred Hersch, jazz saxophonist Jerry Bergonzi, and MacArthur Genius Award winners Miguel Zenon and Jason Moran, among others. Since returning to China with his master's degree in 2015, Zhang Xiongguan has been teaching at the Shanghai Conservatory of Music, where he teaches jazz harmony, jazz music history, jazz composition, and jazz guitar solos. He has given solo concerts at Shanghai Concert Hall, Shanghai Symphony Orchestra, Shanghai Oriental Art Center, JZ Club, Blue Note, and Lincoln Jazz Shanghai Center, and has appeared at festivals in Shanghai, Taiwan, Russia, Bulgaria, Germany, Serbia, and the United States. Zhang Xiongguan is also a signed artist with JZ Music, D'Angelico Guitars, Vox Speakers, Magic Effects. He has also led a number of bands in different styles such as "About" Jazz Chamber Orchestra, The Soundbase and New England Quartet.